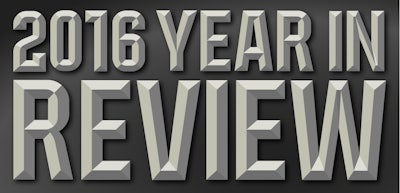 While everyone has their sights on ConExpo in March, it might be easy to overlook what a busy year 2016 turned out to be. Here's an quick overview, plus a timeline, of what happened in the construction equipment industry last year. Bonus: check out our editors' quick predictions for 2017 on page 30. (Note: In order to meet our print date, we had to cut off entries in mid-December, so this report won't include events after that point.)
Two biggest auction players become one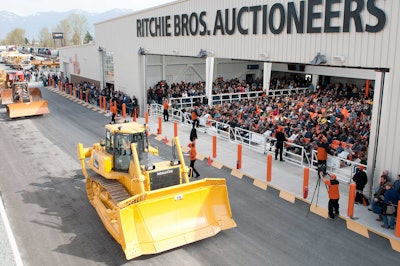 Ritchie Bros. bought the online heavy equipment auction company Iron Planet for $758.5 million, and combined, the two companies are expected to generate online sales of $3 billion in assets annually. Ritchie Bros. also formed an alliance with Caterpillar, becoming Caterpillar's preferred global partner for live onsite and online auctions once the IronPlanet acquisition becomes final.
GPS goes mast-free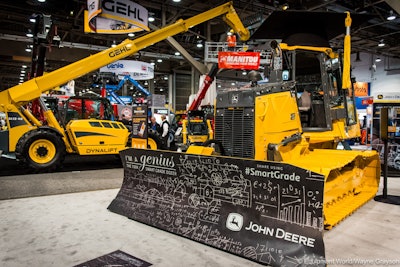 Both John Deere and Topcon introduced "mast-free" dozer GPS systems at the World of Concrete in February. Topcon also announced that it would be offering its mast free system on select Caterpillar dozers. In May, Komatsu boosted its lineup of mast-free Intelligent Machine Control Dozers to seven. These systems vary in details but they all use some form of inertial measurement units (IMU) to eliminate the traditional GPS mast antennae.
Equipment stocks surge higher
While the Dow Jones and S&P 500 booked gains of around 20 percent this year, heavy equipment manufacturing stocks soared much higher.
• Caterpillar started out 2016 just below $60 a share and despite a spate of corporate trimmings and warnings on earnings, climbed up above $90 by December for a 66 percent improvement.
• Deere hit bottom in January at around $74 a share but had climbed to over $90 a share in November and then spiked up over $100 just before Thanksgiving.
• In terms of percentage gain, Komatsu shot up 65 percent this year, starting out around $15 a share in January and hitting $23 in December.
• Cummins also saw huge share gains, rising 57 percent as it climbed up from $80 a share early in the year to $140.

Terex divests
It was a busy year for Terex, under new leadership after long-time CEO Ron DeFeo left in 2015. Following discussions with Finnish manufacturer Konecranes, Terex walked away from a merger in May, but is still selling its Material Handling and Port Solutions (MHPS) business to the former suitor. Then China-based Zoomlion came calling with an all-cash offer, a deal that eventually died because of the Konecrane MHPS segment buy. In June, Terex announced the sale of part of its compact equipment line to Yanmar. And in December, it sold its UK-based compact construction business to Groupe Mecalac. The moves consolidated Terex's corporate structure from five segments to three: aerial work platforms (Genie), cranes (Demag and Terex) and materials processing (Powerscreen, Finley, Evoquip).
Hertz becomes Herc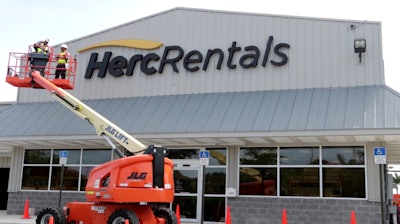 Separating from its car rental parent, Hertz Equipment Rental morphed into Herc Rentals on July 1. Earthmoving equipment makes up 19 percent of the publicly-traded company's fleet mix, while aerial equipment represents 27 percent of its total fleet. The company has approximately 270 company-owned branches in North America.
Changing of the guard
Both Caterpillar and Case Construction Equipment announced new presidents. Jim Umpleby is succeeding current Cat president Doug Oberhelman on March 31. In September, CNH Industrial, parent company of Case and New Holland, named Carl Gustaf Göransson president of both brands.

Cat enters outdoor power market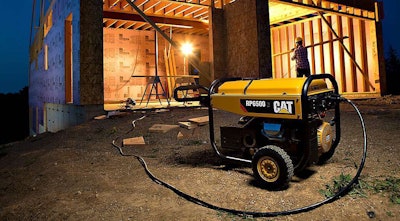 In a move that marked a departure from its traditional product and distribution, Cat announced that it would build a 4-model lineup of portable generators. In addition to using its dealer network, Cat is opting for an omni-channel distribution plan that uses big box retailers, e-retailers, specialty retailers and authorized sales and service agents. And, Cat says, generators are just the start of the products coming out of its new Home & Outdoor Power division.
Hyundai builds CNH compact excavators
Under a 10-year agreement, Hyundai will build 5-ton-and-above compact excavators for CNH Industrial's Case and New Holland brands. CNH will still produce compact excavators below 5 tons. Hyundai said it expects the partnership to double its compact excavator sales.
Rental equipment reaches record revenues
The American Rental Association, projecting 2016 revenues, said the equipment rental industry grew 4.3 percent during the year, rising to $47.3 billion in revenues. By 2020, the association estimates rental revenues to reach $55.5 billion.
Peer-to-peer rentals pick up steam
More firms are eyeing ways to connect contractors and their surplus fleets. This fall, Canadian firm Dozr announced its peer-to-peer equipment sharing startup, joining space already occupied by EquipmentShare and the Caterpillar-backed Yard Club. Dozr is adding built-in insurance as part of its platform, and estimates it will be 40 percent cheaper than retail rental rates.
Chinese-made machinery goes direct
Staffed with U.S. industry veterans, IronDirect took on the distribution conundrum experienced by Chinese equipment firms wanting to sell here. The company's solution: sell online and service locally, either through a customer's preferred dealer or the company's network of service providers. Also selling on IronDirect's site: Paladin attachments, Berco undercarriages and Magni tele handlers.
Attention, drivers and operators
Making sure drivers and operators are alert—and safe—when behind the controls is now being addressed with technology. Cat's Fitbit-like Smartband, worn on the wrist, measures motion with an internal 3D accelerometer. When you stop moving, it assumes you're asleep. SmartCap, on the other hand, integrates a fatigue monitoring band into a worker's headwear of choice. The Australian company monitors fatigue by looking at brain waves, a technique it claims can catch nod-offs before they happen. And by using a smartphone app, users can analyze information from the head band, and receive alertness alarms.
Artics get bigger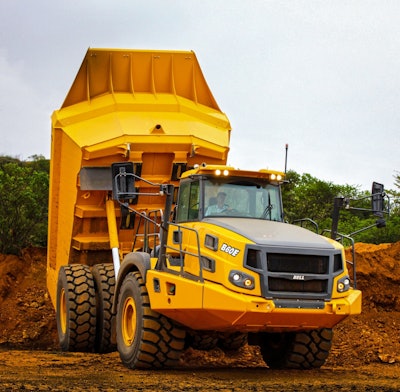 Two manufacturers used the Bauma show in Munich, Germany, to intro 60-ton articulated haulers, a significant jump in size for these machines. The Volvo A60H can haul up to 40 percent more than the company's next machine size down, the 43-ton A40G. There's less of a size jump for the Bell Equipment B60E, since Bell has produced the 50-ton B50 for several years. The Bell machine also features a 4×4 configuration, rather than a typical 6×6, with the manufacturer opting for a tighter turning radius.

Drone popularity heats up
With the Federal Aviation Administration (FAA) releasing its final regulations on the commercial use of drones (officially Unmanned Aerial Systems) in June, construction's use of drones continues its steep upward adoption path.
In September, Kespry announced a drone system that, after initial setup through a tablet app, will automatically fly a route drawn by a user and then create a 3D map of the terrain in the cloud. Also in September, Caterpillar drone partner Redbird was acquired by Airware, a San Francisco-based company that hopes to integrate Redird's hardware and mapping software with its own flight planning software to create a full drone solution for construction and mining companies.
Under the new regs, commercial drones must weigh 55 pounds or less and be flown at speeds less than 100 miles per hour, within sight of the operator and not above 400 feet.
Overall, with a clear set of rules for commercial pilots to follow, the FAA and the U.S. Department of Transportation say the regulations open "pathways towards fully integrating UASs into the nation's airspace," adding that the drone industry is expected to generate 100,000 jobs and $82 billion for the U.S. economy over the next 10 years.

Chevy partners with Navistar
General Motors and Navistar reached a long-term agreement in October to develop and assemble medium-duty, conventional cab Class 4 and 5 commercial vehicles. There will be two versions of the trucks—one Navistar-International branded line and one GM/Chevy-branded line. The vehicles will be jointly developed using Navistar's rolling chassis configurations and manufacturing capabilities and GM's commercial components and engines. The vehicles will begin production in 2018.
Kobelco equipment, cranes merge
Kobelco Cranes North America merged with Kobelco Construction Machinery USA in December, joining the two subsidiaries in a move that mirrored the April merger of the global construction machinery excavator and crane companies. Kobelco says the merger will not affect the companies' two North American dealer networks.
Cat consolidates
Less than a year after announcing plans to more fully commit to the business by building its own trucks, Caterpillar announced in February it would scrap its on-highway vocational truck lineup entirely. The company ceased taking orders immediately but said it would continue to offer customer support for trucks already on the road. In August, Caterpillar announced that it would stop making track drills and sell off its lineup of room and pillar equipment for underground soft rock mining. It also ended its compact excavator deal with Wacker Neuson, opting the make less-than-3-ton units itself.

Electromobility gains momentum
This fall, Volvo offered an intriguing look at how it envisioned the future, with a heavy emphasis on electromobility. The concept HX1 autonomous battery-electric 15-ton hauler, for example, is designed to replace heavier diesel artics in an electric-centric quarry. Managed by a fleet control system, the carrier doesn't have to back up or be repositioned since it's functional at both ends. In other developments, Alabama Cat dealer Thompson Machinery signed on to carry the 1,000-horsepower Nikola One Class 8 hydrogen electric-powered truck. Thompson will also carry the Nikola Motor's Zero all-electric side-by-side off-road vehicle. And Wacker Neuson intro'd its "E" lineup at Bauma, showcasing electric wheel loaders, compact excavators, dumpers and rammers. (These machines aren't destined for North America just yet, though.)

Komatsu buys Joy Global for $3 billion
Despite a still-limping mining industry, Komatsu announced in July that it would acquire Wisconsin-based surface and underground mining equipment manufacturer Joy Global for $2.9 billion. Joy Global, founded in 1884, manufactures the P&H, Joy and Montabert brands of equipment. Komatsu expects a long-term rebound in the mining industry driven by population growth and rapid urbanization around the world. The deal is expected to close by mid-2017.

New emissions rules for heavy trucks
In August, the U.S. Environmental Protection Agency and the U.S. Department of Transportation's National Highway Traffic Safety Administration finalized new emissions and fuel economy standards for medium- and heavy-duty vehicles. The final Phase 2 standards follow immediately Phase 1 greenhouse gas and fuel efficiency standards that won't be fully implemented until next year. By model year 2027—when the Phase 2 standards are fully phased in—tractors in a tractor-trailer combination must achieve up to 25 percent lower CO2 emissions and fuel consumption than an equivalent tractor in 2018.
Anniversaries
There was much to celebrate this past year, including:
• 100th: The Georgia and Mississippi Departments of Transportation both began after the 1916 Federal Aid Road Act
• 60th: President Eisenhower's signing of the law which established
the Interstate Highway System.
• 50th: Volvo's Gravel Charlie is built, and the articulated hauler is born
• 50th: Genie—a name derived from the "magic in a bottle" theme around the compressed air used in the company's rst aerial lifts—gets its start.
• 30th: Komatsu America's rst U.S. plant is established in Chattanooga, Tennessee
VW invests in Navistar
Volkswagen bought a 16.6-percent stake in Navistar, investing $256 million in the company and appointing two directors to the Navistar board of directors. The deal represents a chance for VW to break into the North American heavy truck market. The technology partnership will focus on powertrain solutions and explore collaborations in commercial vehicle development, including advanced driver assistance systems, connected vehicle solutions, platooning and autonomous technologies, electric vehicles and cab and chassis components.
New lube oils
It's been 10 years since the industry upgraded its heavy duty diesel engine lube oil standards. In December, oil companies started marketing a new, split standard: CK-4 for off road equipment and most on-highway diesel trucks, and FA-4 for new on-highway trucks seeking better fuel efficiency with lower viscosity grades.
CTL reign continues
Compact track loaders continue to gain market share, usually at the expense of skid steers and backhoes. CTL financed unit sales rose a projected 41 percent in 2016, compared to 2007. Backhoes and skid steers have not fared so well, with financed unit sales hovering around half of what they were in 2007. As of press time, the Kubota SVL75-2 was shaping up to be the most popular machine financed in 2016 in terms of number of units sold.
Interchange design shift
U.S. interchanges are undergoing a design shift; from the stale, split-phase, head-to-head configuration to high-volume, semi-continuous designs such as diverging diamond interchanges (DDI) and roundabouts. These moves are prompted in part by the need to accommodate expanding numbers of motorists. DDIs eliminate conflicting left turns needed to clear opposing traffic, a feature that inherently improves safety and keeps traffic flowing.
Bertha makes progress… finally
In October, Bertha, the largest tunnel-boring machine in the world, made it past the halfway point of its 9,270-foot journey beneath Seattle to create a tunnel for State Route 99. The tunnel will replace the Alaskan Way Viaduct and is expected to open to traffic in early 2019, according to the Washington State Department of Transportation. This is roughly three years later than the original projected completion date, as the project has been slowed in part due to mechanical issues with Bertha.
And now for 2017…
Here are some quick takes on what our editors see ahead:
Tom Jackson
Equipment prices rise, demand skyrockets and inventories shrink in anticipation of a big infrastructure bill and more pipeline work. Get your orders in now.
Chris Hill
Trump unveils a major infrastructure initia- tive that will focus on roads, bridges and airports, but dismissive of mass transit. The proposal will include a heavy emphasis on public-private partnerships for funding.
Marcia Doyle
Rental purchase options will continue to experience rapid growth. Even if America becomes an infrastructure cornucopia in 2017, the impact of the Great Recession will still linger in the minds of contractors.
Wayne Grayson
Drone use among con- tractors and DOTs will continue to grow, as will the introduction of more drone hardware, software and services designed with construction in mind.