There are now two types of diesel engine oil. Selecting the right one will depend on engine manufacturer and type of application.
As of December 1, most of the major oil companies are now selling a new heavy-duty diesel engine oil formulation for off- and on-road engines.
What's noteworthy about the new oil standard is that for the first time there are two different formulas: one for off-road and some on-road engines, and one that will only be recommended for specific on-road engines seeking fuel efficiency gains. It is what the American Petroleum Institute terms a "split category."
For the last decade, the API designated CJ-4 diesel engine was used in both highway trucks and off-road equipment. Going forward, off-road engines will use API CK-4 oils and the on-highway trucks will use either API CK-4 or API FA-4 oils. In the months past you may have heard these oils referred to as PC-11, which stands for Proposed Category 11. That was a temporary group designation, and as of December the official API licensing nomenclature will be CK-4 and FA-4.
We asked three experts in the industry to tell us what this means for you. Here's what they said:
WHY THE SPLIT?
On-road engine manufacturers are looking at tightening fuel economy and greenhouse gas emissions requirements in 2017. To meet these goals, they needed help from a low-viscosity oil. The lower the viscosity, the less energy the engine spends moving the oil around the engine to the pistons and crankshaft, etc. So the oil industry came up with the FA-4 standard to provide this low viscosity – and still be able to protect the engine from wear and maintain or extend drain intervals. Road tests indicate that the FA-4 oils can improve on-highway fuel economy by 2 to 4 percent.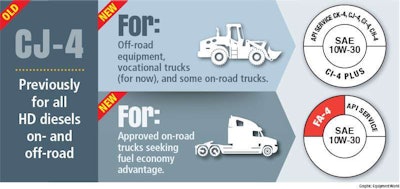 The off-road engine manufacturers also wanted a new oil formulation, but for different reasons. Newer off-road engines run hotter, so OEMs asked for an oil that provided better oxidation control, among other things (See "What are the main benefits to using the new oils?" on page 36). But fuel economy is less important to the off-road market and off-road manufacturers were not sure lower viscosities could provide the kind of wear protection they needed in severe service applications, so they got a separate oil category, CK-4, with the same performance improvements, just different viscosity specs.
CAN I STILL BUY THE OLD CJ-4 OILS I'VE BEEN USING?
For a while, yes, but don't expect them to be around much longer than three to six months. Historically, diesel lube oil category transitions happen rapidly since most of the oil companies and most of their customers don't want to stock two types of oil.
DO THE NEW OILS WORK IN OLD TRUCKS AND EQUIPMENT?
The new CK-4 oils for off-road and on-road equipment are backward compatible with almost all other off-road and on-road diesel engines, regardless of age. They can also be used in any current or older on-highway engines. As in the past, fleets should select the recommended viscosity grade for their anticipated ambient temperature and operating conditions.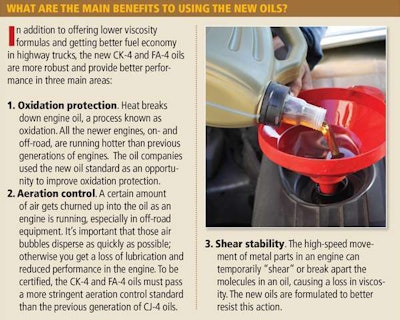 The FA-4 oils were designed specifically for fuel economy in newer on-road engines and will not be available in XW-40-weight viscosity grades. This may limit their backward compatibility for some older trucks. In cases where FA-4 oil is not recommended, on-highway fleets can use the CK-4 formulations. There is no detriment to using CK-4 oils in older truck engines. The only difference is that you don't get the fuel economy benefit with XW-40 grade CK-4. Ultimately the engine OEMs will determine which of their older on-highway engines are suitable for FA-4 oils.
CAN I USE FA-4 OIL IN MY OFF-ROAD EQUIPMENT?

As of right now, no OEM has approved the use of FA-4 for off-road engines. But our experts are guardedly optimistic that as time, additional testing and field trials progress there may be some FA-4 approvals for off-road equipment, including the lower viscosity formulas. Check with your equipment or engine OEM for updates if you're interested.
WHICH OIL DO I USE IN MY VOCATIONAL TRUCKS?
Although vocational trucks run on and off the road, right now there are no engine OEMs who recommend using low viscosity FA-4 oils in vocational trucks. Dumps, mixers and other vocational trucks engines are built for severe duty applications, much like the engines for dozers, excavators and backhoes, and require higher viscosity. CK-4 will be the oil to use in vocational trucks for the time being, however our experts express optimism that as more OEMs complete their tests, FA-4 oils may get approved for some models of vocational trucks.
WHAT VISCOSITY GRADES WILL BE AVAILABLE?
For CK-4 oils, all the viscosity grades available in the old CJ-4 formulations will be available. FA-4 oils will only be available in XW-30-weight oils.
DO THE NEW OILS COME IN SYNTHETIC FORMULATIONS?
Yes. As with today's CJ-4 oils, the new CK-4 and FA-4 oils will be offered in mineral oil, semi-synthetic and full-synthetic formulas.
HOW DOES THIS AFFECT OIL SAMPLING AND ANALYSIS?
The new oils will have a different chemical signatures and performance attributes than the old CJ-4 formulations. If you are using oil analysis in your preventive maintenance, make sure your oil analysis lab knows about the change to the new oil.
ARE THE NEW OILS RECOMMENDED FOR AUTOMOTIVE AND PICKUP TRUCK DIESELS?
Diesel engines such as those found in larger pickups (e.g. Ford Power Stroke, Chevy Duramax and Ram's Cummins turbo diesel) typically conform to the same API CJ-4 standard today and are expected to require CK-4 oils as the new specification takes effect. Smaller diesel engines (less than 4 liter), such as those found in passenger cars, generally come from Europe or Asia and have their own specifications requiring specialty oils.