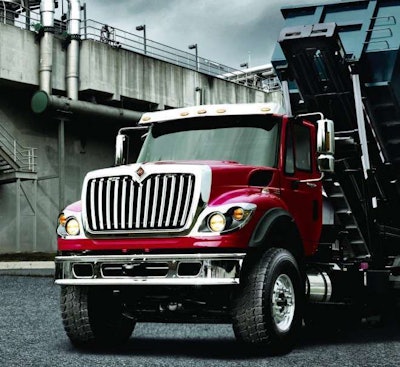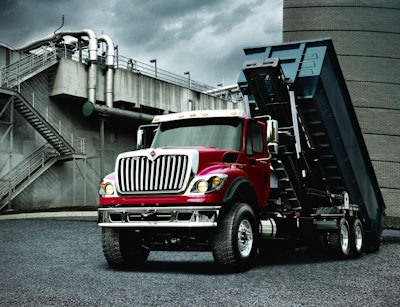 By James Jaillet
General Motors and Navistar have reached a long-term agreement to develop and assemble medium-duty, conventional cab Class 4 and 5 commercial vehicles, confirming rumors of late that the two were set to strike a deal on medium-duty vehicles.
There will be two versions of the trucks produced in the partnership—one Navistar-International branded line and one GM/Chevy-branded line. There will be some cosmetic differences between the two, but the trucks will be the same at their core.
GM will not comment on engine availability yet.
The vehicles will be jointly developed using Navistar's rolling chassis configurations and manufacturing capabilities and GM's commercial components and engines. The vehicles will begin production in 2018, the companies said, and will be manufactured at Navistar's facility in Springfield, Ohio. Navistar plans to add 300 jobs and invest more than $12 million in facility upgrades and state-of-the-art equipment to produce the new vehicles, the company said.
Specific terms of the agreement were not disclosed. Additional product information will be announced later.
The move comes four months after GM announced that it would re-badge and distribute Isuzu-built medium-duty trucks under the Chevy brand, beginning in 2016. The Chevrolet 3500, 3500HD, 4500, 4500HD, 5500 and 5500 HD are based on Isuzu's N-Series.
Why the return?
By Jack Roberts
My Dad was always a GM guy.
He drives a Hyundai now, and he loves it. But back in the day, the bigger, heavier and more powerful the General Motors car, the more he loved it. Our family entered the OPEC oil embargo in the mid '70s with an Oldsmobile Vista Cruiser and a Pontiac Bonneville parked in the garage. There are Russian tanks that get better fuel efficiency than those cars.
A bloated business structure and incredible inefficiencies nearly killed GM back around 2008, when our entire economy was teetering on the edge of disaster. Drastic measures were needed to survive.
So, goodbye, my beloved Pontiac.
Farewell, Oldsmobile.
Hasta la vista, Hummer.
Saturn—we barely knew ya! Don't forget to write!
Things were equally grim on the truck side of the equation. Chevy and GM wound down its long and profitable partnership with Isuzu. And in a move that showed just how serious things really were, it slit the throat of its entire medium-duty, vocational truck business, essentially surrendering the field to Ford and Dodge.
That was roughly five years ago. Today, trucks are big business. And not having a robust vocational product in the market is a handicap no car dealer likes to take the field with.
For one thing, vocational trucks are very good for marketshare numbers. For another, if you've got a customer who loves Silverados and his wife loves Tahoes, you really don't want that guy poking around on the Ford lot when he needs new service trucks for his business. Finally, if you're running ads on TV talking about how tough your trucks are, it's really a good idea to have some out there working hard in the real world to back that claim up.
So I'm happy to report that GM and, most notably, Chevrolet, are getting back into the vocational truck market here in North America.
Things have turned around to such an extent that General Motors once again has the cash to invest in vocational trucks – although the company is going to go about things a little differently this time.
Today, the development costs associated with new vehicles are so staggeringly high, that bringing everything in-house is simply not an option for many auto manufacturers today. Volkswagen, for example, markets its Transporter vocational van in Europe. The van is a Mercedes Sprinter, built on the line in Stuttgart, with the only difference being the badging and grillwork on the vehicle.
Chevy is already offering the Nissan-built City Express compact van. And in June, it announced that it would renew its long-time relationship with Isuzu, in a deal that would revive joint engine development projects between the two companies and return GMC- and Chevy-badged cabover work trucks to dealer lots around the country in the near future.
On the heels of these efforts we now hear that General Motors has inked a new deal with Navistar to develop and market a new series of conventional, Class 5 and 6 vocational trucks. The new trucks, with a Navistar-designed and built body and GM-designed powertrains, should be a welcome shot in the arm for both Chevrolet and Navistar, which will both sell differently badged versions of the new truck.
Between its popular PowerStroke diesel engine, which was the heart of Ford's SuperDuty line for many years, and its own successful line of medium-duty trucks, Navistar held a virtual chokehold on the North American medium-duty market in the same way that Mack is basically the Alabama Crimson Tide of the dump truck world today.
Ford eventually decided to bring its diesel engine design and production in-house. And fallout from the Navistar's emissions technology battles with the EPA has emboldened competitors, who would love to take medium-duty marketshare away from Navistar. So a fresh lineup of conventional trucks would be a definite positive step forward for Navistar. And the underlying message—that General Motors trusts Navistar design, engineering and quality—isn't a bad one to have out in the marketplace, either.
It's always fun to see new truck models hit the market. And given the current state of technology today, we could see some very interesting features and systems appear as well. So anyway you look at it, this should prove to be a very positive move for both Navistar and General Motors.
What to expect
By Jason Cannon
In a conference call with the media, Bill Kozek, Navistar truck and parts president, said the new trucks will definately feature a diesel engine. So, there's that. But he didn't say it wouldn't feature a gas engine.
GM won't comment on the engine(s) or other specs that will be offered, so it's up to the general public to speculate. So let's speculate.
In the early 2000s Chevy's C4500 and C5500 featured the same Duramax 6.6 liter turbo-diesel offered in the HD Sierras and Silverados. An 8.1-liter gasoline V-8 was also available.
I think it's reasonable to expect that a current geneation Duramax 6.6 liter diesel will be one of the available engines for this truck.
GM's 8.1L Vortec was the last of the company's big block engines and was eventually phased out in favor of the small block 6L, which is available in the company's Sierra and Silverado HDs and Express 4500 commercial van.
The previous generation of heavy GM trucks offered a five-speed Allison transmission. Today, an Allison six-speed automatic transmission handles the shifting for the 6.6L Duramax in Chevy's 3500 HD. I would expect that to carry forward.
A little trickier to predict are cab configurations. Regular and crew are likely to be offered depending on spec and class.
Kozek says the International-branded version of this truck will replace the TerraStar, so it's pretty clear they will target the construction segment with upfitter-friendly options. That much was probably obvious before he confirmed it, although phasing out the TerraStar was somewhat of a surprise to me.
Of the two companies Chevy is more likely to offer a pickup bed, but I see it unlikely that you won't be able to get a bow-tied dump body spec if you want one.
Of course, we're more than 3 years from these trucks ever hitting a dealership lot. Chevy and Navistar have plenty of time to roll out a new engine, powertrain and just about everything else.