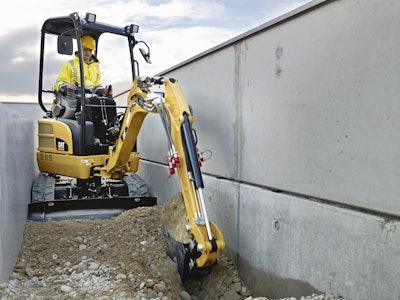 While much of Caterpillar's focus over the course of the last year or so has been cost reduction through the elimination of some machine production and the consolidation of company divisions and facilities, growth in demand for its mini excavator lineup has convinced the company to bring manufacturing of these less-than-three-ton machines in-house, ending a six-year partnership with Wacker Neuson.
The two companies worked together in the development of Cat's smallest hydraulic excavators and the machines were manufactured by Wacker Neuson at its facility in Hörsching, Austria.
The partnership will terminate May 31, 2018, though current mini excavator models will be phased out in a process that could stretch past 2019.
Cat says its Building Construction Products Division will design and manufacture future mini excavators.
"The market for these products has grown, and we believe that internally designing, manufacturing and distributing these excavators will provide an even higher value to our customers, dealers and shareholders," says Korey Coon, general manager of Cat's mini hydraulic excavators and small track-type tractors, adding that Wacker Neuson "has been an excellent alliance partner."
Five of Cat's current mini excavator models—the 301.4C, 301.7D, 301.7D CR, 302.2D and 302.4D—will be phased out in mid-2018, while the 302.7D CR will phase out by the end of 2019. Some negotiation remains on the 300.9D, which will phase out by the end of 2019 or later upon mutual agreement by the two companies.
Cat says it will continue working with Wacker Neuson to support current models through spare parts availability, technical support and warranty coverage. Other products sold and serviced by Wacker Neuson at Cat dealers and rental stores will not be affected by the termination of the partnership.
Wacker Neuson issued the following in a statement:
For several years, Wacker Neuson and Caterpillar have enjoyed a successful and collaborative relationship which has been beneficial to both parties. The alliance has provided positive brand enhancements for both parties in the competitive market segment of mini excavators. Caterpillar customers have benefited from the high quality products, expertise and focus provided by Wacker Neuson in this product range. …
The Wacker Neuson Group will continue its international growth strategy, distributing its extensive product range of excavators from 0.8 to 14.5 tons operating weight via its global sales channels. Wacker Neuson will continue to focus on delivering innovative products that provide customers with even more value added. Caterpillar will continue to purchase selected products made by Wacker Neuson to complement their own product offering in the future beyond the end of the alliance in 2018.
Last week, Cat announced that it would stop making track drills and announced its intent to sell off its lineup of room and pillar equipment for underground soft rock mining.
Those production changes, along with the consolidation of the company's technology and product research efforts also announced last week, are part of Cat's ongoing cost reduction program. Announced in September, the company hopes to save $1.5 billion over the next few years through the reduction of thousands of jobs from its global workforce and the closing and consolidation of up to 20 facilities.