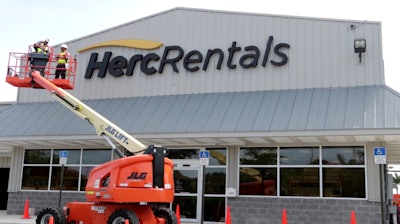 Hertz Equipment Rental Corporation said it expected to complete its metamorphosis into Herc Rentals today, July 1st, officially separating from Hertz Global Holdings.
In materials prepared for investors and available on its website, hercrentals.com, Herc Rentals estimates its 2015 North American market share was 4 percent, compared with United Rentals at 13 percent and Sunbelt Rentals at 7 percent. Construction market customers make up 38 percent of its business mix by rental revenue.
Herc Rentals estimates its customer mix for all divisions is 50 percent national accounts and 50 percent local customers. Earthmoving equipment makes up 19 percent of its fleet mix by average fleet original equipment cost (OEC), while aerial equipment represents 27 percent OEC. The company says its total OEC is $3.5 billion.
According to its website, the company now has 4,600 employees and approximately 270 company-owned branches in North America. It is headed by Larry Silber, president and CEO, and will act as a standalone public company, and be traded on the New York Stock Exchange under the symbol HRI.
Three of the company's six-member executive team, including Silber, have backgrounds that include former positions at Ingersoll Rand.