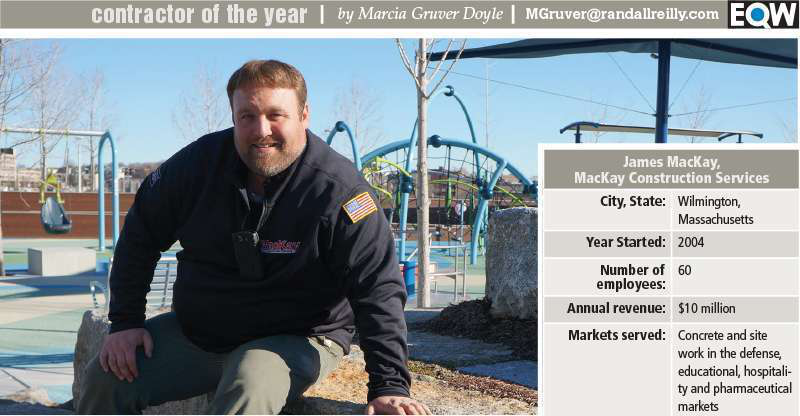 When asked to describe how he started in construction, James MacKay laughs. "I got into a little bit a trouble when I was in high school," he says.
His father, a construction veteran, promptly dropped James off at a friend's paving job…and that contractor, just as promptly, put him on a jackhammer. But rather than view it as punishment, James now says: "I instantly loved it."
That introduction set him on his course, and today he oversees a $10 million firm with 60 employees…at the age of 30. And now his father, Tom MacKay, who taught him that lesson about hard work all those years ago, runs his concrete division.
MacKay Construction Services works in Boston and the surrounding suburbs, concentrating on defense construction, colleges and universities, and hospitality jobs, doing concrete, earthmoving, site development…anything his clients want. "I don't want to turn down work from them," MacKay says. "Everyone digs dirt or pours concrete, so my clients have to know I give service, that they can call me anytime; It's how I separate myself from the pack." It's a mindset that usually has him on the road by 5 a.m.
MacKay realizes that things would be different if he didn't have a solid base of clients, including Raytheon Integrated Defense Systems and Columbia Construction. "They helped us through the recession," MacKay says. "We jump through hoops for them." Another invaluable help: Tom Evangelista with E. J, Paving – the contractor who put him on a jackhammer as 'punishment'. "When I told him I was going out on my own, he set me up on some jobs, and connected me with the right people," he adds.
This attitude resonates with clients. "They are one of our go-to guys; they want to do things the right way," says Daniel Thompson with Raytheon Integrated Defense Systems. "In fact, one of our project supers told us, 'any job I'm doing from now forward, I want use these guys for my site and concrete.'"
Tricky jobs
"I like the tricky jobs," MacKay says. "I want the jobs that no one else wants." One such job called for underpinning an existing building; a project that had only one other bidder. "You get into the exciting unknown, and it forces you to problem solve," he comments.
This firm is also enjoying Boston's booming construction economy right now, but not for the obvious reasons. "It takes my bigger competitors away and opens up things for me that they would normally be bidding on," MacKay says.
While his company is signatory to several unions, MacKay likes to run composite crews. "I can keep guys busy year round," he says. Since Boston's Big Dig project wound down just as he was starting up, he was able to snag quality crew members. "When I hire someone, I hire them for the long term. I want people to know they make a difference to us."
"The word I would associate with Jim is 'value,'" says Peter Martin with Hilti North America. "He recognizes that productivity is one of the key elements to his success, and providing proper equipment training and support to his people is integral in achieving good productivity, especially in a metro market. If you're not productive there, you're losing a lot of money."
Because he attained success at a relatively young age, MacKay makes it a point to lean on the experience of others. "You need to surround yourself with people with real life experience," he says. "You have to have guys who've seen it before."
For example, MacKay hired Chris Pedrick, a construction business veteran, as his office manager four years ago. "Sometimes he has to slap me around a bit," MacKay says with a laugh. "When he started, I still had checks in my back pocket. Now, I think our books are the neatest they've ever been."
MacKay says he gets assistance in the human relations department from his mother, Vicki MacKay, who works in the firm's office. "She's kind of like the defense lawyer for the guys," he says with a grin. "She has the insight and helps me fix problems. Your customers see what your guys are feeling, so we want them well paid and taken care of, and looking professional."
Steam clean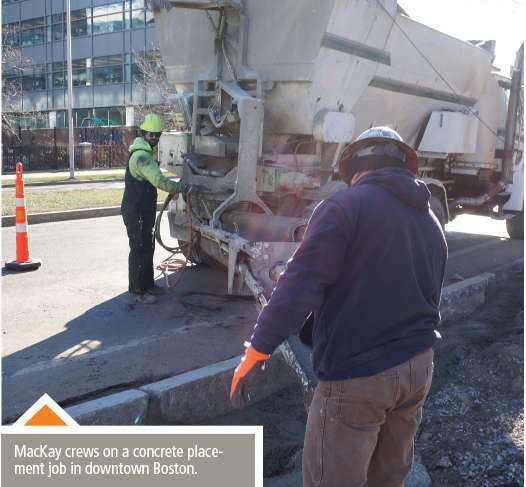 All MacKay trucks and equipment gets steam cleaned every other Sunday, or more if the salt build-up in the winter time calls for it. This isn't just an effort to create a professional appearance: "We find problems when they're small, such as loose items, and it's also better for safety," MacKay says.
MacKay employs three mechanics and basically sticks to three brands: Cat for equipment, Mack for heavy trucks and Ford for pickups. Compact excavators and skid steers form the majority of his fleet, which also includes excavators and Class 8 trucks.
"He's so knowledgeable about what he buys, he'll know more about it than I do," says Mark Bruno, a sales rep with Milton Cat. And, sure enough, during his time with us, MacKay went into the fine points of his 318F wheeled excavator. "It just cruises down the road at 25 mph, and the side camera is so important when you're driving down the street. The split boom with a thumb quick coupler is great for underpinning work. I've been using wheeled excavators for six years and I can't live without them."
MacKay's equipment philosophy is simple: buy new equipment for every day needs and rent most of the rest. "I definitely rely on rental, especially for large equipment above the 322 size," he says. For example, he needed the reach of a Cat 374 excavator for a coffer dam job. "The fact that you're getting a new machine when you rent is worth volumes," he says. "Rental is huge for me."
"He's got a combination of business savvy and street smarts that's very rare," says Bruno. "I think a lot of his employees would take a bullet for him, and if they'd take a bullet, you can bet the concrete is going to be poured right."
"Having those relationships separates you," MacKay says. "The businesses I see fail are the ones that are isolated. You've got to be out there. Even with your competitors, communication is huge."