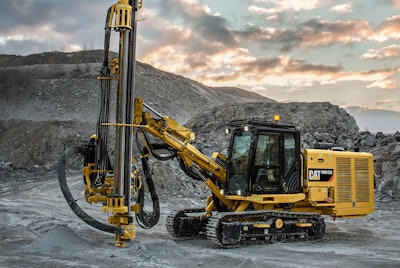 Following the announcement of another in a string of division consolidations within the company in the last year, Caterpillar said it would stop making track drills and announced its intent to sell off its lineup of room and pillar equipment for underground soft rock mining.
The moves will lead to the elimination of nearly 200 jobs across two facilities and come during what Cat Resource Industries group president Denise Johnson called "the longest down-cycle [in mining] in our history."
Track drill production, which includes the MD5150C and the MD5075C will end, the company says, and no new orders will be taken. Cat is also in the process of reviewing the following room and pillar equipment for divestiture:
Continuous miners
Feeder breakers
Coal haulage systems
Highwall miners
Roof bolters
Utility vehicles and diesel vehicles
Cat has stopped taking orders on these machines while they are under review. Though Cat intends to sell off the room and pillar business, the company says it is also considering other options, including a closure of the Houston, Pennsylvania, facility where they are produced.
The company says its dealers will continue to support those track drills and room and pillar machines already in the field.
The changes are part of Cat's ongoing cost reduction program. Announced in September, the company hopes to save $1.5 billion over the next few years through the reduction of thousands of jobs from its global workforce and the closing and consolidation of up to 20 facilities.
"Caterpillar remains committed to an extensive mining product portfolio. We firmly believe mining is an attractive long-term industry, and we continue to invest in a broad range of products, both surface and underground. We are targeting our investments within the mining product portfolio to concentrate on those areas with the highest profitability potential," said Johnson. "At the same time, we continue to manage through the longest down-cycle in our history. We know these ongoing restructuring actions are not easy on our workforce; I'm grateful for our team's ongoing dedication."
Cat expects to reduce up to 155 jobs associated with the room and pillar machines, with some cuts occurring immediately. Approximately 40 positions associated with track drill production will be cut in Denison, Texas.
Facing continued downturns in the oil, gas and mining industries coupled with sluggish economic conditions in developing countries, Caterpillar sales and revenues fell 16 percent in the second quarter to $12.3 billion while operating profit dropped 41 percent to $785 million. In the last year, the company has cut more than 14,000 employees from its global workforce.
The company expects 2016 to deliver a fourth consecutive year of down sales.
Winston-Salem facility to be re-purposed
In addition to these moves, Cat announced that it plans to re-purpose its Winston-Salem, North Carolina, facility from a mining to a rail facility beginning later this year. Cat will transfer operations to Progress Rail, a wholly owned Cat subsidiary.
As a result, the company will relocate the manufacturing of some components used in large mining trucks from its facility in Winston-Salem to its existing facility in Decatur, Illinois.