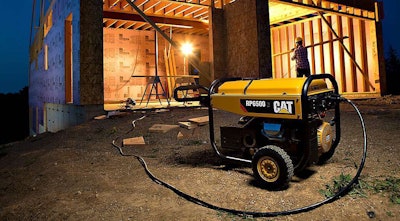 Dubbed the RP Series, Cat has introduced a new lineup of generators aimed at the home and outdoor power market. However, the company says the 4-model lineup isn't necessarily limited to use by consumers.
RP Series generators range in power from 3.6 kilowatts to 7.5 kW, and are designed to provide backup or recreational power to home users but also enough juice for contractors to power tools and lights on the jobsite.
Cat lists eight available models on its website, but as you can see in the listing below, each model appears in duplicate. That's because Cat is offering one version of each model for use in 49 states and another that is CARB-compliant for use in California.
Cat says the eight RP Series generators will be available for purchase through a new multi-channel distribution approach. Cat Home & Power Authorized Sales and Service Centers will include Cat dealers, local retailers and will eventually expand to include national retailers and wholesalers.
"This is about providing a new customer base with the right solutions for their home and outdoor power needs that reflect the reliability, rugged capabilities and quality with which Cat products are known," said George Taylor, vice president of Cat's Marketing & Digital Division and the company's chief marketing officer.
Cat will initially limit the launch of the new generator lineup to the U.S. and Canada, with generator models rolling out to distributors "over the remainder of 2016." The lineup will launch in Europe in 2017. You can find more information on the new lineup at the Cat Home and Outdoor power website.