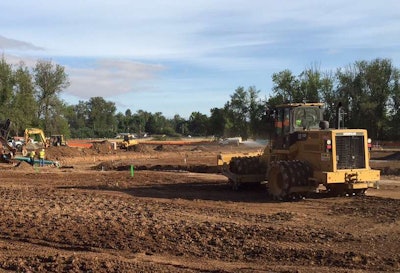 The U.S. construction industry has reached a level of employment not seen since December 2008 as spending remains strong despite a sizable decrease in home starts, according to the latest government data available.
According to preliminary data from the Labor Department, the construction industry added 19,000 jobs in November and now employs 6.704 million Americans. The 8-year high represents a 2-percent increase over November 2015.
The industry's unemployment rate was flat in November at 5.7 percent.
As we reported earlier this month, construction spending rose 0.5 percent in October to $1.172 trillion, according to the most recent data available from the Commerce Department. That total is 3.4 percent above the October 2015 total.
Meanwhile, U.S. home starts plunged 19 percent during November to a seasonally adjusted annual rate of 1.1 million due to a huge decline in multi-family starts. Total home starts are now down 7 percent year over year.
During November, single-family starts fell 4.1 percent to a rate of 828,000, but remain up 5.3 percent over the November 2015 total. Multi-family starts dove 44 percent during the month to a rate of 259,000. The drastic November change to the multi-family rate washed away a huge, 80-percent jump in October, bringing the rate down 32 percent from the same month last year.
Building permits, a good barometer of how the homebuilding industry is trending, were down for the month, falling 4.7 percent during November to a rate of 1.201 million. Permits are down 6.6 percent from the November 2015 estimate.
"Though rising mortgage rates could be a headwind for housing, we expect single-family production to continue on a long-run, gradual growth trend," National Association of Home Builders chief economist Robert Dietz says in a statement. "Meanwhile, the multifamily sector, which has been volatile in recent months, is expected to level off at a solid rate as that market finds balance between supply and demand."
Builder confidence in the market, as measured by the December NAHB/Wells Fargo Housing Market Index, jumped seven points to a reading of 70. Any reading above a 50 indicates most home builders believe market conditions are good. This is the index's highest reading since July 2005.
"This notable rise in builder sentiment is largely attributable to a post-election bounce, as builders are hopeful that President-elect Trump will follow through on his pledge to cut burdensome regulations that are harming small businesses and housing affordability," said NAHB chairman Ed Brady. "This is particularly important, given that a recent NAHB study shows that regulatory costs for home building have increased 29 percent in the past five years."
"Though this significant increase in builder confidence could be considered an outlier, the fact remains that the economic fundamentals continue to look good for housing," added Dietz. "The rise in the HMI is consistent with recent gains for the stock market and consumer confidence. At the same time, builders remain sensitive to rising mortgage rates and continue to deal with shortages of lots and labor."