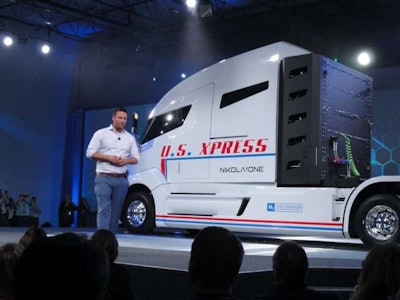 Caterpillar dealer Thompson Machinery has signed on to carry the Nikola One electric Class 8 truck. The announcement follows Nikola Motor Company's unveiling of the production model of its semi truck that claims a range of 800 to 1,200 miles with an estimated 15 mpg under full load, 1,000 horsepower and 2,000 lb.-ft. of torque.
The truck's electricity is supplied on-the-go by a hydrogen fuel cell and regenerative braking. The One was originally introduced in May as a 2,000-hp prototype with a compressed natural gas (CNG) turbine. That turbine was officially dropped in favor of the hydrogen fuel cell in September.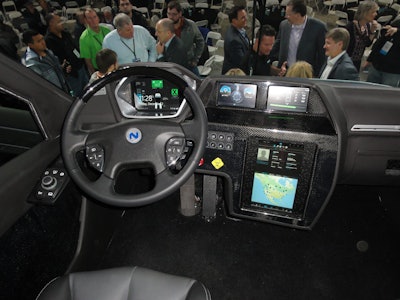 With its electronic drive train, Nikola One can apply power and braking to wheels 15 times faster than diesel-powered trucks and is 2,000 pounds lighter. Steering and handling is improved by a torque vectoring system that controls the speed of every wheel. The vehicle reduces the possibility of injury with a low, mid-cab entry. Its center of gravity is nearly three feet lower than a conventional diesel and the lithium batteries are built into the frame rail, reducing the risk of rollovers.
The vehicle is expected to retail for roughly $400,000, with a monthly lease payment ranging from $5,000 to $7,000 for a 72-month lease. Part of the agreement will include unlimited hydrogen fueling that will be available via a 364-location fuel network to be constructed beginning in 2019.
In November, net orders for Class 8 trucks increased 41 percent from October to 19,300 units, a boost that signals a potential trend in backlog orders that would spur production of the vehicles.
Thompson sees the Nikola as an opportunity to fill the void left after Caterpillar announced in February it was discontinuing its on-highway vocational truck line as part of a cost reduction plan.
"It's amazing what our team can do when presented with a challenge," says De Thompson V, President and CEO of Thompson Machinery. "Within a few months, our team had identified a new partner in Trevor Milton, the CEO of Nikola Motor Company. As an entrepreneur and leader, Trevor has an unmatched passion and work ethic to create change."
The dealer network joins Ryder System as the only two authorized sales, service and warranty dealer.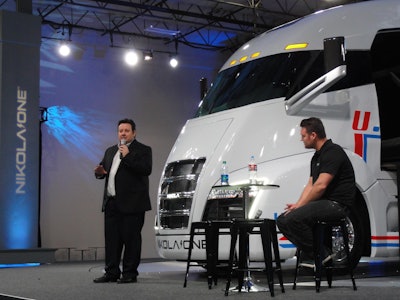 "Thompson Machinery has committed a tremendous amount of capital on the infrastructure needed to service class 8 trucks and we are excited to have a partner that understands the benefits of clean technology and is ready to serve Nikola drivers," says Nikola CET Trevor Milton.
In addition to the Nikola One, Thompson Machinery will also offer the Nikola Zero all-electric side-by-side off road vehicle. It has 500 horsepower and 476 lb.-ft. of torque and is expected to be available at the locations in December 2017.
"Even with a change in administration and possible adjustment to EPA's transportation regulation, we think the growing acceptability and popularity of all electric cars suggest that the market wants cleaner, more environmentally friendly transportation options," says Steve Lainhart, vice president of Energy and Transportation at Thompson Machinery. "We believe the on-highway truck industry will follow suit as soon as a truck manufacturer can bring an affordable solution to the heavy haul market. We feel Nikola is going to provide that solution and remain the innovation leader in this industry, and we are very excited to be a dealer for the Nikola Motor Company."
CCJ editor Aaron Huff contributed to this report