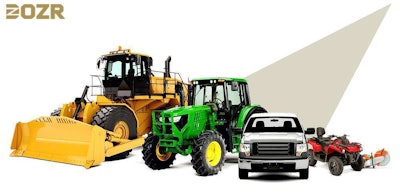 The burgeoning online heavy equipment rental/sharing marketplace is about to get a bit more crowded thanks to a recent round of funding raised by Canadian startup Dozr.
Founded by former contractor Kevin Forestell, his wife Erin Stephenson and his brother Tim in June 2015, the company has already amassed more than 2,200 customers in its home country. The fast growth impressed Toronto's FairVentures Inc. which recently agreed to a $2.5 million CAD ($1.9 million USD) equity financing round.
According to a company release, Kevin Forestell was inspired to start the company in order to give equipment owners a way to earn money with equipment that would otherwise be sitting idle between jobs. But Dozr will be far from alone in the marketplace, since that's pretty much the same idea behind EquipmentShare and Caterpillar-backed startup Yard Club. Another company, Getable, doesn't facilitate equipment sharing, but does seek to expedite the process of renting heavy equipment by making it as easy as opening an app and ordering an Uber.
The Dozr founders say the FairVentures investment will help them with their plans of eventually expanding the company into the U.S. Plus, the deal has added a new feature to Dozr rentals that will provide a major element of differentiation for the company as it embarks on such an expansion.
Federated Insurance Company of Canada, a subsidiary of Fairfax Financial Holdings Limited which also owns FairVentures, has developed a coverage plan that will be built into all future Dozr rentals. Whereas other services require contractors to provide their own insurance, Dozr says it is now the first company in the heavy equipment market to provide insurance as part of the platform.
"Now we can give equipment owners comfort that they are protected if something goes wrong while someone is using their equipment," said Kevin Forestell, Dozr director and co-founder, in a statement. "Until now, they just had to keep their fingers crossed because no one else offered insurance, and it was nearly impossible to get through a broker."
Beyond the ease of online renting, built-in insurance coverage and the ability to rent from fellow contractors, Dozr says its rates tend to be about 40 percent cheaper than retail rental rates while offering a great variety of equipment. The site currently offers construction, forestry, aggregate and agriculture equipment along with trailers, tools and storage options.
You can check out the Dozr site here and we'll keep you updated as far as a U.S. expansion.