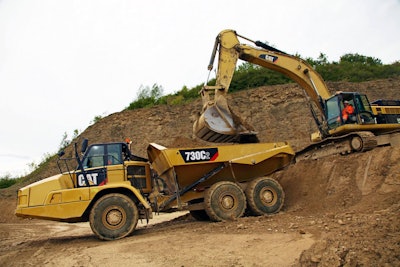 Caterpillar chairman and chief executive officer Doug Oberhelman has announced that he will retire next year, bringing an end to a 41-year career with the company. Caterpillar has announced successors for both the CEO post and Oberhelman's role at the head of the board.
Oberhelman will oversee the company and its board until March 31, 2017. At that point, Cat President of Energy & Transportation Jim Umpleby will take over as CEO, and current board member Dave Calhoun will become the board's non-executive chairman.
"Our people have heard me say many times that my greatest responsibility as chairman and CEO is to manage Caterpillar for today and position the company and its future leaders for long-term success," Oberhelman said in a statement. "It has been an honor and a privilege to lead this company, and I am confident in the choice of my successor, Jim Umpleby."
Caterpillar's next CEO Umpleby is also a company veteran, having spent 35 years with the company. He joined Solar Turbines Incorporated, a San Diego-based, wholly owned subsidiary of Caterpillar that manufactures industrial gas turbine systems, in 1980. In 2010 he was elected as a Caterpillar vice president and the president of Solar Turbines. In 2013 he became a Caterpillar group president and a member of Caterpillar's Executive Office.
Umpleby's replacement as president of Energy & Transportation will be named at a later date.
"I have been privileged to work with Caterpillar employees and dealers in supporting our customers as they develop the world's infrastructure and improve standards of living and quality of life," Umpleby said in a statement. "I look forward to leading our dedicated team as we build upon the accomplishments of those that have come before us."
Calhoun, a member of the Caterpillar board since 2011, is senior managing director and head of private equity portfolio operations of The Blackstone Group L.P. He previously served as the executive chair of Nielsen Holdings N.V. (2014-2015), chairman of the executive board and CEO of The Nielsen Company B.V. (2006-2013), vice chairman of General Electric Company and president and CEO of GE Infrastructure (2005-2006).
"I am honored to take on these new responsibilities with Caterpillar, an iconic and global leader," Calhoun said. "Following a deliberate succession process, the Board confidently elected Jim as Caterpillar's next CEO. He reflects the best attributes of Caterpillar's culture and leadership. I also want to compliment Doug for his outstanding leadership as chairman and CEO, as the capstone to more than four decades of service. His leadership in the last four years has been remarkable as the company has successfully navigated an incredibly difficult cycle while positioning Caterpillar to take full advantage of the next upturn."
Ed Rust, former chairman and CEO of State Farm Mutual Automobile Insurance Company, and currently presiding director of the Caterpillar board, will remain on the board, the company says, but will no longer hold the title of presiding director once Calhoun assumes the role of non-executive chairman.
Oberhelman becomes the fourth member of Caterpillar's leadership team to retire in the last 13 months. Gwenne Henricks, vice president for the Caterpillar Product Development & Global Technology Division, announced her retirement in August. Mining VP Chris Curfman announced his retirement in September 2015, and Electric Power Division VP Steve Niehaus announced his own in February.
After being named CEO in 2010, Oberhelman led Caterpillar to its highest sales and revenue peak in its 91-year history in 2012. He can also be credited in ushering in the "Age of Analytics" at Caterpillar, which has seen the company embrace telematics and cloud-based technology in order to create a network out of the millions of Cat machines around the world, diagnose potential problems with machines and alert owners and operators before they happen.
However, a global mining slowdown coupled with a large decrease in oil prices have led to three consecutive years of sales declines for the company, with 2016 expected to add a fourth.
Caterpillar sales and revenues fell 16 percent in the second quarter to $12.3 billion while operating profit dropped 41 percent to $785 million. In the last year, the company has cut more than 14,000 employees from its global workforce and ended track drill production as part of an ongoing cost reduction program. Announced in September 2015, the company hopes to save $1.5 billion over the next few years through the reduction of thousands of jobs from its global workforce and the closing and consolidation of up to 20 facilities.
In the midst of the mining and energy difficulties, Oberhelman has made it clear that he sees the company's recent technology efforts, which include research and development in fields like virtual/augmented reality and drones, as the best way to win the future. The company recently reiterated its confidence in the long-term success of the mining business at MINExpo and last year, while on stage at an event for Chicago Ideas Week, Oberhelman called the company's work in predictive maintenance "the most exciting thing I've seen in a long, long time."
"Our business runs on uptime for our customers," Oberhelman said. "If we do it at a lower cost than our competitors, we win."