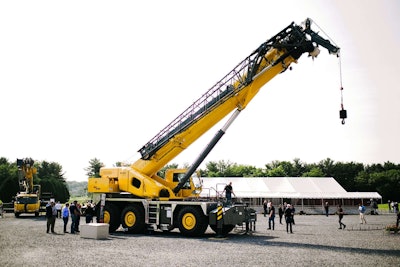 Freightliner Goes Electric: Truck maker unveils battery-powered eCascadia, eM2 models
Freightliner Trucks tossed its hat into the electric heavy truck ring, debuting two fully electric commercial trucks during the Daimler Trucks Capital Market and Technology Day in Portland, Oregon.
The Freightliner eCascadia features up to 730 peak horsepower. Its batteries provide 550 kilowatt hours (kWh) of usable capacity, which translates to a range of up to 250 miles with the ability to charge up to 80 percent – providing a range of 200 miles – in about 90 minutes. The Class 8 tractor is designed for local and regional distribution and drayage.
The smaller eM2 features up to 480 peak horsepower. The batteries provide 325 kWh of usable capacity, giving it a range of up to 230 miles. A 60-minute charge will get the batteries up to about an 80 percent charge and deliver a range of 184 miles. The eM2 targets local distribution, pickup and delivery, food and beverage delivery and final-mile logistics applications.
To read more, click here.
---
Mack Anthem now available with more efficient MP8HE engine, HE+ aero package
Mack Trucks is adding a high-efficiency 13-liter engine and its Mack HE+ package as available options on Mack Anthem models, the truck maker announced Thursday.
Anthems equipped with the MP8HE engine and HE+ package deliver up to a 9.5 percent fuel efficiency improvement compared to a base MP8-equipped Anthem model, and Mack Trucks Director of Product Strategy Roy Horton says the combination is SmartWay certified by the U.S. Environmental Protection Agency.
The 13-liter Mack MP8HE engine uses waste energy from the engine's exhaust system and converts it to mechanical energy that is delivered back to the engine crankshaft as added torque – a process Mack dubs "Mack Energy Recovery Technology."
To read more, click here.
---
Manitowoc debuts NBT50L Series boom trucks with truck crane hybrid models
Manitowoc's latest National Crane boom truck lineup made its world premiere at a recent media event in Shady Grove, Pennsylvania. The company says the new NBT50L series of cranes offers a longer reach than the NBT50 series it replaces.
On hand at the media event was the new NBT55L, one of four total models in the new crane lineup which also includes the NBT50L, NTC50L and the NTC55L.
Each of the new cranes offer a 46m (151-foot) boom and a maximum tip height of 48m (158 ft.). The cranes also offer a class-leading working capacity of 10,000 pounds when the boom is fully extended at a 10.7m (35-ft.) radius.
To read more, click here.
---
Potain's 10t MR 160 C luffing jib tower crane makes North American debut
Alongside new crawler, rough-terrain and truck cranes, and a new boom truck, Manitowoc showed a new Potain tower crane at its latest media event.
The Potain MR 160 C luffing jib tower crane made its North American debut at the event, hosted in Shady Grove, Pennsylvania. The crane has a capacity of 10t (11 U.S. tons) and a tip load of 2.4t (2.6 U.S. tons) and a maximum jib length of 50m (165 feet).
Manitowoc says the MR 160 C is an easily transportable machine with a small footprint designed for work on congested jobsites. The crane can be luffed to a nearly vertical position of 86 degrees, "while attaining excellent underhook heights and avoiding obstacles," the company says.
To read more, click here.
---
Manitowoc unveils Grove GRT9165, its strongest and longest rough-terrain crane, alongside 40t TMS500-2 truck crane
With 149 t (165 U.S. tons) of capacity and a 62.5 m (205-ft.), six-section, pinned boom, Manitowoc unveiled its latest and highest performing Grove rough-terrain crane yet.
The new GRT9165 made its debut last week during a media event in Pennsylvania along with several other new cranes, including the new Grove TMS500-2.
Manitowoc says the GRT9165 has the longest reach and highest capacity of any Grove rough-terrain crane, noting that its boom is 5 feet longer than the closest competing model.
To read more, click here.