Alongside new crawler, rough-terrain and truck cranes, and a new boom truck, Manitowoc showed a new Potain tower crane at its latest media event.
The Potain MR 160 C luffing jib tower crane made its North American debut at the event, hosted in Shady Grove, Pennsylvania. The crane has a capacity of 10t (11 U.S. tons) and a tip load of 2.4t (2.6 U.S. tons) and a maximum jib length of 50m (165 feet).
Manitowoc says the MR 160 C is an easily transportable machine with a small footprint designed for work on congested jobsites. The crane can be luffed to a nearly vertical position of 86 degrees, "while attaining excellent underhook heights and avoiding obstacles," the company says.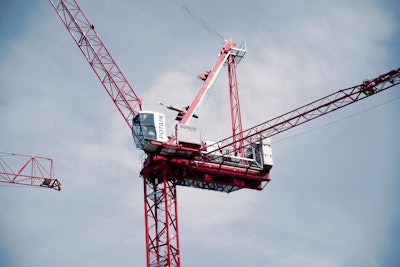 A rapid-pin connection on the equipped counter jib, secured by anti-chute devices, simplifies erection of the machine, the company says. Meanwhile, the jib foot can be fit to the crane by inserting into the notches of the slewing tower head. Both the hoisting and luffing winches operate by way of a rope reeving system for pinning the jib tie-bar line.
The MR 160 C on display at the event was equipped with a new 75 HPL 25 high-performance winch, which the company says has a winding capacity of 965m (3,136 feet) and a maximum lfiting speed of 705 ft./min. Beyond delivering high speed lifting, Manitowoc says the winch offers greater control over lifting speed.