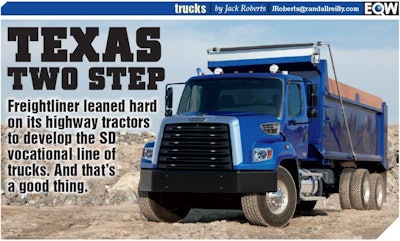 What do you do if you're Freightliner and your OTR market share numbers are in the stratosphere? You turn your attention to the vocational truck market, of course.
Freightliner has always had a vocational presence. But about four years ago, the company decided it was time to update its work truck lineup to take advantage of numerous powertrain and ergonomic upgrades found on the Cascadia tractor.
The result was the Freightliner SD series—a 108-inch BBC truck, a 114-inch BBC version and the 122-inch BBC model. All three models are configurable to accept an array of bodies. Significantly, the trucks are also highly adaptable in terms of fuel choices as well, with body and frame design parameters allowing for the easy addition of both compressed and liquid natural gas tanks, fuel systems and engines.
Freightliner's new vocational product manager, Mark Howerton, offered me the chance to compare the 108 and 114 BBC models on a recent test drive based out of Freightliner of Austin with a long haul through the Texas hill country. My two test trucks offered a good look at the different ways Freightliner customers can trick out an SD model.
The 114 BBC truck was outfitted with a roll-off body and powered by an all-Daimler powertrain: a 475-horsepower DD13 diesel engine mated to an Allison 4000 RDS transmission. In contrast, the 108-BBC dump truck featured a 9-liter Cummins ISL diesel with an Eaton-Fuller 10-speed manual gearbox.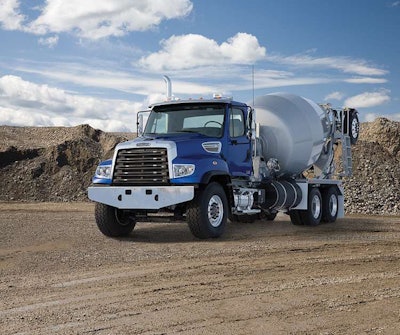 An automotive feel
Both trucks feature the SD's bold new styling—a departure from the highly refined aerodynamic lines found on Freightliner long-haul tractors. Howerton told me that good fuel economy remains a priority for Freightliner on its vocational line. But given the decidedly un-aerodynamic bodies these trucks are fitted with, and the unusual cargos they often haul, the emphasis for vocational fuel economy targets the SD's powertrain since any aggressive aerodynamic styling can be negated pretty quickly once said bodies and cargo are added to the equation.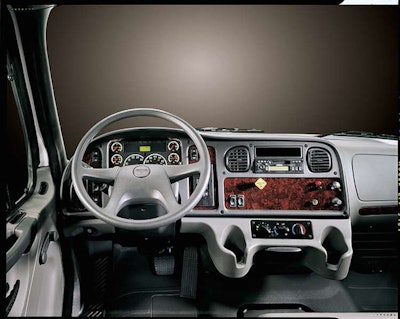 Pre-trip inspections on both trucks were straightforward: The SD's hood pivots forward easily and all inspection points on both the Cummins and Detroit engines are easily accessible from ground level.
Freightliner of Austin specializes in vocational trucks. So the interiors on both of my test drive models were fairly standard. But vocational drivers routinely spend as many hours in the cab as long-haul drivers do. So Freightliner engineers paid particular attention to cab ergonomics as well as driver comfort and productivity.
The SD cab itself is wide and our test truck featured air ride seats, which are an available option. The instrument and control layout borrows heavily from lessons learned during the design of the Cascadia. As a result, sight lines to all instrument clusters is excellent and the steering wheel is designed in a way that allows you to check primary gauges at a glance, without ducking your head to see around the steering wheel spokes.
Similarly, all switches on the center panel were within easy arm's reach. Grouping switches logically is a detail that all OEMs struggle with. And Howerton noted that Freightliner has been pondering tweaking a few details in that regard. But I found everything to be well situated once the drive was under way and would be hard-pressed to recommend any changes.
I mentally awarded the SD model serious points for overall visibility from the driver's seat once I was settled in behind the steering wheel. Visibility is always critical in any truck. This is particularly true for vocational models, which routinely deal with ever-shifting and highly dynamic landscapes of obstacles, people and equipment. Needless to say, Freightliner engineers are aware of this problem and responded with excellent sightlines out of the cab—particularly downward and over the sloped nose of the truck. Views to the rear are outstanding as well. And the rear-view mirror design is both tough enough to take a whack from a passing wheel loader and still remain remarkably vibration free at highway speeds.
Out in the rolling Texas hills, both trucks proved to be nimble in tight construction zones. I've said before that I find Freightliner trucks to have the most automobile-like feel on the highway. This is a combination of traits—mainly handling, visibility and sound levels inside the cab. But it culminates in the feeling that you're not really driving a Class 8 truck. In many respects, you can easily imagine you're behind the wheel of a Class 5 pickup truck.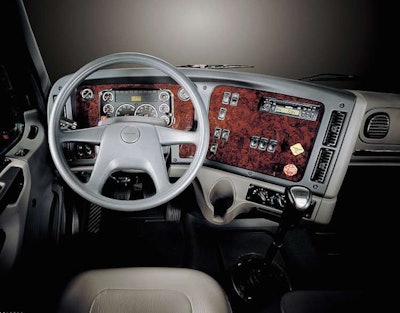 Both powertrains performed exceedingly well on the road. The 114SD was not hauling a container, so the DD13 seemed particularly aggressive both starting from a dead stop and when a burst of throttle was required at highway speeds. Testing a truck with a full payload is always preferable. But in this case, I found the unloaded ride to be much smoother than I anticipated. Credit here goes to Freightliner's proprietary TuffTrac rear suspension system. A key TuffTrac design point was to ensure a smooth ride, whether the truck is loaded or not. And the suspension works remarkably well in that regard.
In contrast, the 108SD was fully loaded with gravel in the dump body. And I wondered if the 9-liter Cummins ISL would strain under that load. But there was no need to worry: The ISL performed seamlessly and delivered plenty of power regardless of terrain or traffic. And while the preponderance of AMTs in my test drives these days means I've gotten pretty rusty on my manual shifting skills, the Eaton-Fuller transmission proved to be as dependable and effortless to shift as always.
After a long day spent comparing the two trucks, I realized that Freightliner has nicely blended serious vocational power with handling and finesse that would be right at home on a much smaller vehicle. It's quite a feat and a real credit to the planning and attention to detail that went into this design: Tough trucks that can take a pounding without beating their drivers half to death. That's a win-win combination on any jobsite.