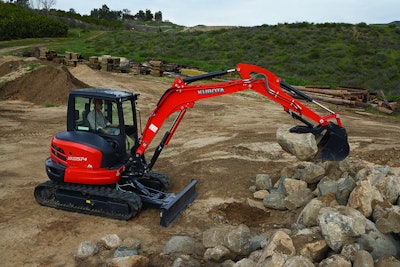 Kubota has been buying land in Texas and Kansas to expand its operations and increase its service to dealers.
The company just bought 318 acres in Ponder, Texas, for its future Kubota Ranch, designed to improve its relationship with its dealers and expand the company's research and development.
The ranch will be used for testing, operating, demonstrating and training on the company's equipment, as well as unveiling new products to dealers there.
The same week as the ranch announcement, the company said it had just completed the purchase of 200 acres in Edgerton, Kansas, to add two logistics facilities of 1 million square feet each at a cost of $87 million. Kubota says the new North American Distribution Center will allow it to expand distribution capacity and streamline logistics for the speedier delivery of its parts and equipment in the United States, as well as be a source for the company's global exports.
Kubota Ranch designed for dealers
The land for Kubota Ranch is 30 miles northwest of Kubota's North American headquarters in Grapevine, Texas, which is in the Dallas-Fort Worth area.
"Kubota has considered a land purchase of this nature for quite some time, and with our Grapevine headquarters in such close proximity, the opportunity to expand our operations and research and development capabilities here in the greater Dallas-Fort Worth region makes solid business sense," said Masato Yoshikawa, Kubota president and CEO. "With this land, we will now be able to expand our physical footprint and build out our vision for the ranch to evaluate and test our equipment. Best of all, we can bring our dealers to Dallas to unveil and operate our new products, versus creating the experience for them in various cities around the country."
The company says it plans to build additional amenities at the ranch to make it a "dealer destination and testing ground to preview and unveil Kubota equipment to its dealers." That includes the possibility of a hay farm for demonstrating and testing its equipment's growing, mowing and baling capabilities.
Kubota says it has no plans at this time for building on the property.
New, expanded distribution center
Kubota has leased a 765,000-square-foot facility for logistics since 2015 in Edgerton, Kansas, and that facility will remain in operation until the new center is built, the company says.
Along with distribution and exports, the new center will allow the company to continue to receive and process shipments from Asia and Europe, in addition to goods from suppliers in North America. The new campus will also house Kubota's newest Midwest Division office, an extension of its divisional operation structure that provides regional support to Kubota dealers from division offices in Suwanee, Georgia; Fort Worth, Texas; Columbus, Ohio; and Lodi, California.
Kubota employs 150 workers in Edgerton and plans to add more jobs in the area, including expanding its 1,500-employee Great Plains operations in Salina, according to Governor Jeff Colyer.
"Increasing the capacity of our parts and logistics operations in Kansas will enable us to achieve even greater operational efficiencies to make Kubota's business stronger and more competitive to meet our growing customer demand," Yoshikawa said.