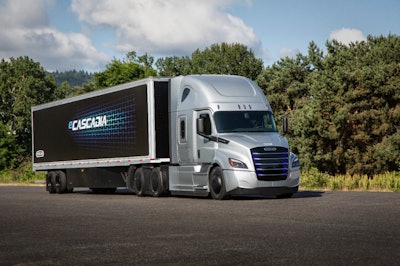 Freightliner Trucks tossed its hat into the electric heavy truck ring, debuting two fully electric commercial trucks during the Daimler Trucks Capital Market and Technology Day in Portland, Oregon.
The Freightliner eCascadia features up to 730 peak horsepower. Its batteries provide 550 kilowatt hours (kWh) of usable capacity, which translates to a range of up to 250 miles with the ability to charge up to 80 percent – providing a range of 200 miles – in about 90 minutes. The Class 8 tractor is designed for local and regional distribution and drayage.
The smaller eM2 features up to 480 peak horsepower. The batteries provide 325 kWh of usable capacity, giving it a range of up to 230 miles. A 60-minute charge will get the batteries up to about an 80 percent charge and deliver a range of 184 miles. The eM2 targets local distribution, pickup and delivery, food and beverage delivery and final-mile logistics applications.
"It's easy to find use cases for the eM2 today," Daimler Trucks North America President Roger Nielsen says. "We expect high customer demand for this truck when we make it available for series production sometime in the next two to three years."
Nielsen says both the eCascadia and eM2 are designed for dedicated, predictable routes where most daily runs fall between 45 and 150 miles.
"Payload can be a compromise to guys hauling steel coils over the Rocky Mountains," he says.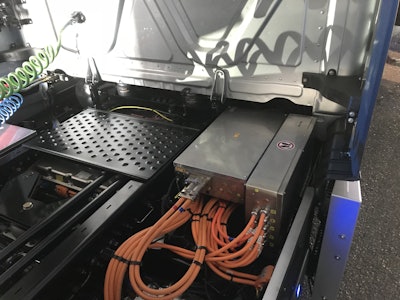 The Freightliner eCascadia, with 80,000 lb. gross combined weight rating (GCWR), and the 26,000 lb. GCWR eM2 are part of Daimler Trucks' global electrified truck initiative, joining the Mercedes-Benz eActros and the eFuso Vision One.
"Heavy-duty electric vehicles present the greatest engineering challenges, but they also are the best learning laboratories," Nielsen says.
The eActros, with a range up to 124 miles and a 55,000 lb. GCWR, is now entering testing for distribution applications with customers in Europe. The light-duty Fuso eCanter is already available in series model production as a fully electric truck.
Nielsen credits the Jouley, Thomas Built's electric school bus that debuted in November, as a form of on-the-job training for the development of future electric efforts.
"We're learning how to troubleshoot electric vehicles," Neilson says of the Saf-T-Liner Jouley C2 bus that features a range of 120 miles and is slated for production next year. "We're learning about parasitic losses."
Neilson acknowledged that e-mobility is still fraught with challenges that include a weak charging infrastructure and service network. DTNA parent Daimler AG is a founding member of the Charging Interface Initiative (CharIN) – an effort to develop a standard charging system for battery-powered vehicles. DTNA is also heading a CharIN taskforce to develop a new electric commercial vehicle charging standard globally, collaborating with utilities and service providers to foster a supportive environment for high-voltage charging networks and serve as a trusted consultant for customers.
"We are all-in for tackling the electrification challenge for North America," Neilson says. "Our path to e-Mobility is designed to set the tone for the next generation of environmentally friendly propulsion systems now and for our future … Without an infrastructure to support and charge these vehicles, there will be no eTrucks on the road. We have the responsibility to give our customers support on the infrastructure side."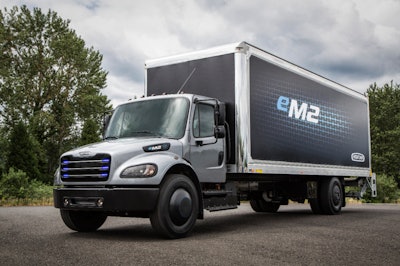 The eCascadia and eM2 are both slated for production in 2021. In the interim, Freightliner plans to deliver an Electric Innovation Fleet of 30 vehicles to select customers later this year for testing under real-world conditions.
Martin Daum, member of the Daimler Board of Management for Trucks and Buses, says the company will take a consultive approach with customers as they seek ways to implement electrification into their fleets, even if that means finding an electric isn't a fit for a given application.
"Customers aren't interested in an e-truck," he says. "They're interested in the best possible solution."
Daum adds the company seeks to offer an "end-to-end solution" that will include a charging infrastructure and support after the sale.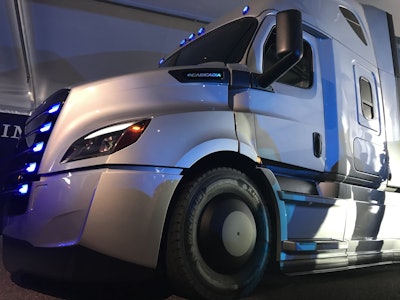 With its sights set on becoming the global market leaders for electric trucks and buses, Daimler also announced on Wednesday the formation of a new organization for e-mobility: the E-Mobility Group (EMG).
With over 130 years of combined experience in the truck and bus segment, Daum says the unit will define the strategy for everything from electrical components to completely electric vehicles for all brands and all business divisions, while also working to create a single global electric architecture. EMG is globally structured, he says, with employees working cross-functionally in various locations throughout the U.S., Germany and Japan.
Daum says Daimler's focus on electric mobility isn't in response to upstarts like Tesla emerging in the space, noting that the company has been working on electric projects dating back to 2010 with its first Fuso eCanter prototype.
"By establishing our new global E-Mobility Group we can maximize the effectiveness of our investments in this strategic key technology," Daum says. "This will enable us to provide our customers with the best solutions in battery systems, charging systems or energy management. E-mobility is one important part of our company for the future."