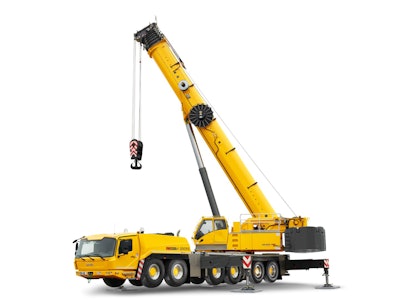 Manitowoc has introduced the successor to a Grove crane the company said was a "worldwide hit."
The new Grove GMK6300L-1 is a 300-tonne (350 U.S. tons) all-terrain crane that will replace the GMK6300L, which was launched in 2010. Manitowoc says several improvements have been made to the crane's structural strength giving this new Dash-1 model better load charts than the previous model.
Specifically, the GMK6300L-1 boasts increased capacity when working at height, with 16 percent more capacity when boom length is placed between 70 and 80 meters (226-263 feet).
The new crane has a maximum tip height of 120m (394 ft.) when working with the 80m (263 ft.) main boom and 37m (121 ft.) jib. The main boom can lift up to 14t (15.4 USt) at full height and within a 14-28m (45-90 ft.) working radius. Manitowoc says this radius offers a flexible range for applications such as tower crane rigging.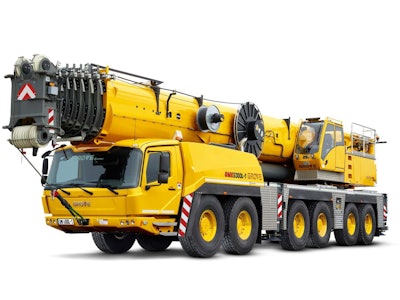 The crane carrier is powered by a 580-horsepower Mercedes-Benz Tier 4 Final engine paired with an Allison torque converter transmission. The superstructure is powered by another Mercedes-Benz Tier 4 Final engine delivering 280 hp.
The new crane features the same Megatrak suspension as its predecessor and all-wheel steering comes standard. The GMK6300L-1's counterweight slabs and auxiliary hoist are interchangeable with the Grove GMK5180-1, GMK5200-1, GMK5250L and GMK6300L.
"The GMK6300L, along with the GMK6400, effectively kick-started a new era of Grove all-terrain cranes, setting unprecedented industry standards in terms of reach, capacity and mobility," said Manitowoc all-terrain crane director Andreas Cremer. "The GMK6300L raced to sales of 100 units in just two years and to date more than 400 have been delivered. With its significantly improved load charts and specifications, we expect the GMK6300L-1 to prove just as popular."