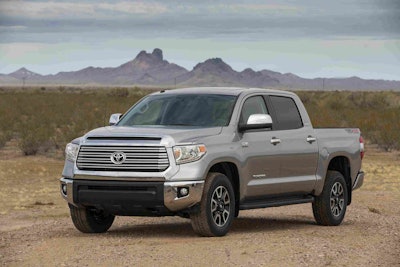 UPDATE: This story was updated with a quote hinting that the report is true from Toyota VP Bob Carter.
Apparently, Nissan isn't the only automaker working with Cummins to rejuvenate its truck lineup with a diesel option.
With Ram, GM and Nissan all having announced diesel pickups, Toyota is likely to join the fray with the 2016 Tundra, according to a report from WardsAuto. and another from Automotive News quoting a Toyota with a positive hint.
Citing an unnamed source, Wards says the engine in the 2016 Tundra will be "a version" of the same 5.0-liter Cummins V-8 that will power the next generation Nissan Titan.
Two more unnamed sources told Automotive News the same thing and asked Toyota's Bob Carter, the senior vice president for automotive operations, to confirm or deny. In a bit of a wink Carter told AN, "You have good sources but I won't confirm or deny that today."
Wards doesn't know exactly how the engine will differ from the one that goes in the Titan, which is said to push more than 300 horsepower and 550 lb-ft of torque.
The Wards source said the Cummins partnership is likely "a placeholder" for Toyota while it works on an in-house diesel engine. Like Ford, Toyota was working on such an engine in 2008 before abandoning the project due to the likelihood of low demand during the economic downturn, the site says.
The recent excitement around diesel is hard to ignore for truck makers. With rave reviews and the best fuel economy rating ever given to a pickup, Ram is worried whether it will have enough inventory to match demand with the 2014 1500 EcoDiesel hits dealerships later this month.
Nissan announced its next-gen diesel Titan in August and just last week announced its gauging interest with the midsize Frontier Diesel Runner concept pickup which has a 2.8L Cummins.
In November and January, respectively, GM announced a 2.8L diesel option for the 2016 Chevrolet Colorado and GMC Canyon midsize pickups.
The madness has even spread to Ford which, though very confident in its EcoBoost V-6, is rumored to be working on a diesel for the F-150.