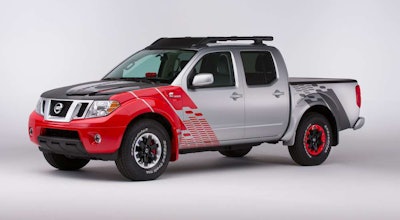 Big news from the Chicago Auto Show today where Nissan and Cummins expanded upon their recent partnership with an exciting midsize concept pickup designed to gauge customer opinion.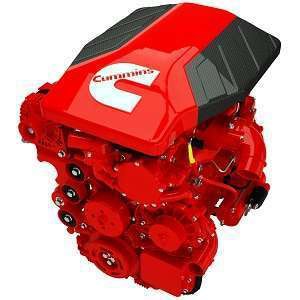 Nissan Frontier Diesel Runner is a 2WD pickup powered by a 2.8-liter Cummins turbo diesel Nissan says produces nearly 200 horsepower and more than 350 lb-ft. of torque. The diesel is paired with an 8-speed automatic transmission.
Perhaps more importantly, the turbo diesel increases fuel economy by 35 percent over the 2014 Frontier.
In terms of exterior looks, the concept truck's most notable feature is its transparent acrylic hood to show off that 2.8-liter Cummins. There's also a special red carbon fiber engine cover with black carbon sides and some LED accents for a cool illumination effect.
The truck also features a chin spoiler, mesh grille, roof rack a full-bed tonneau cover and tailgate spoiler—all are carbon film-coated. The 16-inch wheel are borrowed from a Frontier PRO-4X.
Nissan says it will decide whether or not to build the pickup based on customer reaction and demand after seeing the concept.
In August, Nissan and Cummins announced the development of a 5.0-liter V-8 for the next generation Titan half-ton. Specs there are expected to be around 300 hp and 550 lb.-ft. of torque. Click here to read our feature that goes behind the design of that engine. We also took the V-8 for a test drive which you can read about here.
Don't miss photos of the Frontier Diesel Runner in the gallery below.