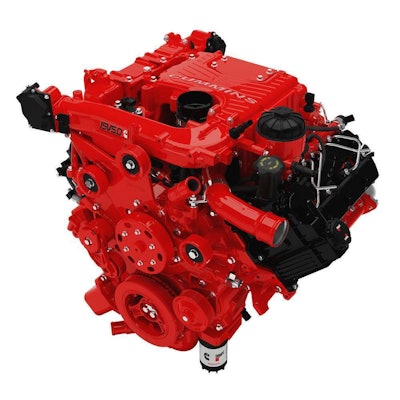 Cummins on Thursday unveiled its much anticipated ISV5.0 diesel engine, a compact V-8 model destined for numerous medium-and light-duty applications including, in the near future, Nissan's half-ton Titan.
The ISV5.0 uses all the bells and whistles of the diesel emissions era including cooled EGR, a DPF/DOC and SCR, but the technology story here is how Cummins managed to parlay advanced engineering into an exceptionally quiet engine.
Noise reduction comes from several design elements. First, piezo electric fuel injectors can initiate up to seven injection events per combustion cycle. balancing out the ignition sequence for a very smooth effect. "This gives us very good control of combustion noise," says Jim Katzenmeyer, executive engineer.
As for the details: the five-liter engine sports a 90-degree V configuration with a forged steel crank, a compact graphite iron block and aluminum head. The CGI block allows Cummins to reduce the engine weight and improve strength and rigidity, having almost twice the tensile strength of traditional cast iron, says Katzenmeyer.
The lube and fuel pumps are chain driven (further reducing engine noise). Dual overhead cams allow for four valves per cylinder and centered injectors, which improves response at high speed. For precise boost control, Cummins used the same basic variable geometry turbo design found on its bigger engines, just scaled down for the 5L size.
Bosch high pressure common rail injectors pump out fuel at up to 29,000 psi for better emissions control and power density. To get these eight cylinders cranking in cold weather, Cummins opted for an advanced glow plug system. The ceramic glow plug offers a long life and low current draw making it less taxing on the electrical system. At -25 degrees Fahrenheit it was able to consistently start the engine in under two seconds, Katzenmeyer says.
Interest in this new diesel was fanned by the announcement a few weeks ago that Nissan and Cummins had inked an agreement to put this engine in the half-ton Titan pickup. Alas, no such Titans were available to view or drive at the press event in Columbus, Indiana, although a few were seen scurrying away and out of sight as the press bus arrived. (I kid.) But the deal is going to happen, probably for Nissan's 2015 models.
The Cummins-Nissan deal is significant in that it leaves Ford, Chevrolet and Toyota, in so far as we know, as the OEMs which distinctively do not have a diesel option for their half-ton pickups. And with Nissan's build quality, and reliability, the odds are good that they're going to take market share away from these holdouts.
Conventional wisdom a few years ago had it that American truck buyers wouldn't spring for the extra cost of a diesel in a half-ton pickup, which could add anywhere from $3,000 to $6,000 to the cost of a truck.  We're about to find out if that's true, with Ram putting an Italian-made diesel option into it's 1500 trucks for 2014 and the Cummins powered Nissan soon to follow. If the half-ton diesels prove a hit, Ford, Chevrolet and Toyota will certainly have to play catch up.
But either way the half-ton market goes, Cummins is positioning the new ISV5.0 engine as more than just a light truck powerplant. On hand for the ride-and-drive for the press  were a school bus, delivery van, a flatbed truck and additional medium-duty trucks. Cummins wants this engine engine to be a contender anywhere you have an eight or ten cylinder gasoline engine and the miserable fuel economy that results from those big block gas burners.
If the past is predictive of the future, Cummins may have a pretty sure bet on its hands. Dave Crompton,  engine business vice president noted that many people thought that the in-line six cylinder engine Cummins developed for the Dodge 2500 would only sell maybe 2,000 units a year, But today that engine, the Dodge Ram Cummins Turbo Diesel, sells 100,000 units a year.