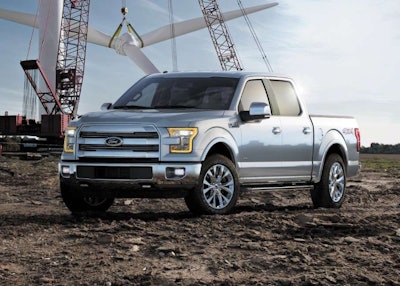 Even though the 2015 F-150 first appeared to the world from under a silk sheet, Ford's unveiling of what could be its most important vehicle in quite some time didn't hold much in the way of surprises.
After all, much of the half-ton truck's new look had been toured around the country as a concept truck called "Atlas" during 2013. Happy with the customer feedback to the Atlas, Ford brought many of its design elements over to the new F-150.
But even Ford's biggest move with the 2015 F-150 was highly anticipated. Around the spring of 2013 reports started picking up over the buzz that Ford would be using an aluminum body in the next F-150. In December, a Bloomberg report said it would definitely happen and sure enough, when the truck was unveiled at the Detroit Auto Show in January it had an aluminum body.
The main word used by Wall Street analysts and even a few auto industry pundits in response to the move was "risky." They associated aluminum with "beer cans," and wondered whether or not Ford's move would spell an end to the stronghold the F-150 has had on the title of best-selling vehicle in America for the past 32 years.
The customers who arguably could be impacted most by the move to aluminum are those in the construction industry.
If a truck has durability issues, that's obviously no good for trucks that must take as much abuse as a jobsite doles out. On the other hand, the benefit of Ford shaving 732 pounds off the weight of the previous generation F-150 with this new lightweight body could save contractors quite a bit of money in fuel costs.
We wanted to know what construction industry truck buyers thought of aluminum pickups so we posted a poll on the Equipment World website and talked to a few professionals from around the U.S. to get their thoughts. The result? Overwhelming optimism toward Ford's new aluminum truck.
The poll asked readers whether they thought an aluminum pickup could stand up to the abuse of construction work. As of this writing, 51 percent of the 121 respondents had answered "Yes. I can't wait to get one," with 19 percent saying they don't think the material is strong enough. Nearly 11 percent said the fuel savings overrides any concerns they may have over durability while 19 percent said they're undecided on the issue.
Questions over aluminum's durability and repair cost have floated around since the new truck's debut. For starters, many have worried just how many repair shops around the U.S. will be equipped to repair aluminum panels. Shortly after the truck's unveiling only 10 percent of shops were so equipped though Ford is working to up that number considerably before the truck's fall launch. Beyond that, the material has been criticized as "resisting straightening attempts" and thus will likely have to be replaced when it comes time for a repair. And aluminum costs much more than steel to replace: $2.20 per pound versis 75 cents per pound, according to an Automotive News report.
Ford has answered these questions through a pretty effective marketing push, revealing 10 torture tests they put the truck through as well as the fact that aluminum F-150 prototypes have been secretly embedded on construction sites and mines for the last three years and have stood up to the rigors of those jobs well.
Guy Gordon is the director of asset management at Aegion Corporation in St. Louis. The company's fleet includes about 700 pickups, most of which are Ford. He said he has known about the move to aluminum since the Spring of 2012.
"There's some of us that have larger fleets that were preempted to the fact that Ford was going with aluminum. They didn't identify body or frame they just said a substantial move to aluminum," Gordon recalled.
Gordon said he doesn't have any concern whatsoever with aluminum. "When it's that big of a product launch for that large of a company, with something that critical I'm pretty confident they're going to do a lot of the due diligence and market research to make sure that what they're going to do is relevant to the marketplace," he said.
"I think the whole thing is almost a non-issue … I don't have reservations on repair cost. I don't have reservations on durability. I'm actually looking forward to it and seeing how it's going to perform for us."
However, both contractors we spoke with noted concern over repair cost. "I believe that the repair costs are going to be significantly more," said Jeremy Hiltz, owner of Hiltz Excavating in Ashland, New Hampshire. Despite that concern, Hiltz and Brian Winkler, president of Wm. Winkler Co. in Spokane, Washingtion, said they find the weight and fuel savings more compelling.
"Before this, we had actually looked at building our own boxes out of aluminum with lumber racks for our F-450s at half the weight of the beds we use now," Winkler said. "So, the payback comes in less weight on the truck which means less heat and that increases the life of the vehicle and mileage."
Hiltz said he hopes the weight savings translates to increased capability.
"I think it's around 700 pounds? That's a lot more payload we can haul around. That means a half-ton truck will be even more versatile. We may not even have to buy a full-ton anymore," he said.
As far as durability goes, both Hiltz and Winkler said they've seen how resilient the material can be in dump truck boxes.
"We've had aluminum boxes on dump trucks hauling gravel since they first started coming out so I don't see the issue with pickups being aluminum," Winkler said. "Besides, we all get on airplanes made out of aluminum and they seem pretty durable."
"I haven't seen anything that Ford has done that hasn't made sense so I guess we just need to embrace it," Hiltz said. "I'm sure they'll be engineered well like everything else Ford builds."
Gordon, Hiltz and Winkler each said their companies will likely purchase a 2015 F-150 soon after it becomes available. Gordon and Winkler said they're eager to see if the new truck are actually more durable than their steel predecessors.
"Hopefully we'll get some of the fuel economy but from what I'm reading it will be heavier gauge aluminum so maybe we'll see some dent resistance that we're not seeing in the steel body," Gordon said.
"The lack of corrosion and rust is what I'm looking forward to with the aluminum," Winkler said. "With the road salts that we see in this part of the country we're hoping the lack of corrosion will increase the longevity of the truck."