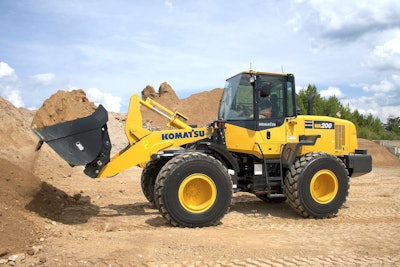 Komatsu America has launched the new WA200-7 wheel loader, which provides a 3-percent reduction in fuel usage compared to the previous model, the WA200-6. The 126-horsepower loader, which weighs between 25,342 and 26,070 pounds, replaces both the WA200-6 and WA200PZ-6.
The loader has a Tier 4 Interim SAA4D107E-2 Komatsu engine that lowers emissions while better managing air-flow rate, fuel injection, combustion and exhaust after-treatment. An electronically actuated variable flow turbocharger and exhaust gas recirculation valve simplifies air management and lengthens component life.
A diesel oxidation catalyst is good for the life of the engine, and is a 100 percent passive regeneration system. Komatsu's SmartLoader Logic system ensures the correct engine torque is used for every job, and the torque is decreased in applications when the loader needs less power.
To promote efficiency and responsiveness, the WA200-7 has a hydrostatic drivetrain with large pump capacity and a dynamic braking effect to minimize wear while enhancing control. The traction control system includes MAX, Traction Control and S-Mode, and variable speed controls allow the operator to set the speed between 3.2 and 8.9 mph.
Using Komatsu's Parallel Z-bar loader linkage, the WA200-7 has high tilt forces to accommodate large attachments and high breakout and lift force to speed bucket filling and boost digging performance.
The loader's cab has low, sloped front glass so the operator can easily view the front wheels. New cab features include redesigned operator controls that simplify selecting a working mode, a redesigned right hand console with a multi-function mono-lever with proportional control for third spool, two 12-volt ports and an auxiliary input to connect MP3 players.
To improve serviceability, the WA200-7 has increased cooling capacity, wider cooler fin spacing and an auto-reversing fan. Komatsu's Equipment Management Monitoring System enables both operators and technicians to not only monitor machine functions, but troubleshoot, as well. The loader is also equipped with Komatsu's fleet monitoring system, KOMTRAX, and has 3 years or 2,000 hours of complimentary scheduled maintenance through Komatsu CARE.