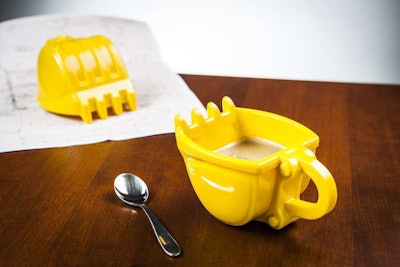 For the past few years a photo has been passed around on the Internet of a coffee mug shaped like an excavator bucket. It's a great idea and somehow, up until now, it hadn't actually existed.
Martin Egger says his creation, dubbed the Digger-Mug, is the first mug with the excavator bucket design to hit the market. But the mug doesn't just look tough. Because it's crafted from a high-quality plastic rather than glass, it's fairly durable. Egger told website TrendFever the mug was designed to "withstand extreme conditions at construction sites."
The mug can handle liquids up to 194 degrees Fahrenheit and is dishwasher safe.
Since the mug is made in small batches and shipped from Germany, it's a bit pricey running €28.61 or $38.24. The price includes tax and shipping and you can buy it directly through digger-mug.com. But given how awesome the mug looks and how durable it is , it might be the last one you ever need.