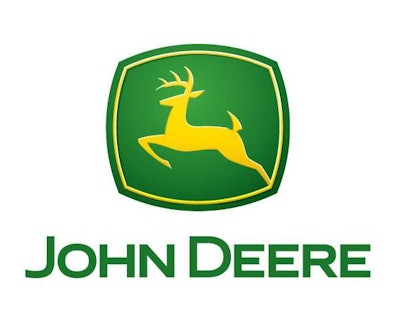 Despite improving performance from its construction and forestry equipment division, John Deere reported a second-straight quarter of declines in profit and sales as the company continues to deal with a lower demand for farm equipment.
Construction and forestry equipment sales shot up 19 percent to $1.75 billion with operating profit soaring 81 percent to $194 million, during the third quarter, which ended July 31.
Those gains were more than offset by an 11 percent decline in agriculture and turf equipment sales to $6.9 billion with operating profit in that segment falling 30 percent to $941 million.
Deere announced total sales of $9.5 billion for the quarter. That's a drop of 5 percent from the third quarter of 2013. For the first nine months of its fiscal year, Deere sales are down 4 percent year-over-year to $27.102.
The company's profit was down 14.6 percent during the quarter to $850.7 million, or $2.33 per share. For the first nine months, profit is down 9 percent to $2.513 billion, or $6.79 per share.
Deere's second quarter of this year broke a streak of 15 consecutive quarters of record earnings.
In a prepared statement, John Deere chairman and CEO Samuel R. Allen called the quarter a "solid performance" that "reflected moderating conditions in the global farm sector."
With these results Deere cut its outlook, forecasting a decline in sales of 6 percent for the fiscal year and a decline of 8 percent for the fourth quarter. Previously the company expected a sales decline of 4 percent for the year. In addition, the company now expects a profit of $3.1 billion for for the year, down from the $3.3 billion forecast in the second quarter earnings report.
Construction and forestry equipment sales are forecast to be up 10 percent at the end of the fiscal year primarily due to further economic recovery and higher housing starts in the U.S.
The company expects sales of farm and turf equipment to finish at a decline of 10 percent for fiscal year 2014, citing lower demand for farm equipment, particularly large models. However, the company still considers the ag economy to be "healthy" and says the livestock sector is supporting demand for mid- and smaller-size tractors.
The equipment operations unit at Deere saw sales fall 6 percent during the third quarter to $8.7 billion. Sales in the U.S. and Canada fell 8 percent during the quarter. Outside the U.S. and Canada, sales were down 4 percent.
Equipment operations saw profit during the third quarter fall 20 percent from last year to $680 million. Deere attributed the loss to the effects of foreign currency exchange, lower shipment volumes higher production costs primarily related to engine emission requirements.
The company's financial services division reported sales of $656 million, up 12 percent year-over-year with operating profit up 6 percent to $249 million.