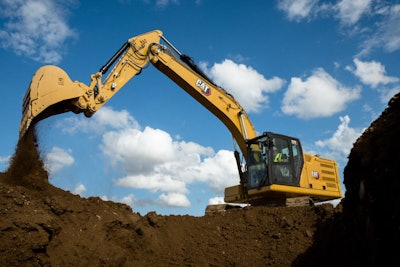 Caterpillar
Editor's Note: This article, which was originally published Nov. 18, 2022, was updated May 1, 2023, with additional electric construction equipment that has been announced. It was originally published as Part Two of an eight-part series on the evolution of construction equipment and the diesel fuel alternatives manufacturers are introducing, including hybrid machines, electric and battery-powered equipment, and hydrogen combustion and hydrogen fuel cell technology. You can read Part One in the series by clicking here.
Over the past few years, manufacturers have made several announcements of new electric or hybrid-electric machines. Most of the offerings fall within the compact equipment category.
To date, only a handful of fully electric models have made it from general announcement or prototype to full production. But at ConExpo in March, many major OEMs were displaying battery-powered equipment in various stages of development.
The onset of electrification has opened the door for numerous collaborations as well. Green Machine Equipment and Moog Inc. have both worked with several OEMs on the development of electrification on their respective machines.
According to the manufacturers, depending on the application, much of the battery-powered equipment provides enough power to work through a full 8-hour day on one charge with intermittent use. Generally, the battery will last anywhere from 4 to 6 hours if operated continuously.
Heavy-dig cycles are probably the most energy-consuming applications that put a lot of power into the drive motors. Comparably, a lift-and-carry application with a set of forks would be considered light duty.
Recent data from manufacturers suggests that most machines operating on a jobsite are only used 3-4 hours of an 8-hour shift. Nearly one-third of that ends up being idle time.
Unlike their diesel counterparts, the electric machines only consume energy when they're at work. When they're not running, the battery power is not being used. There is no idle time that adds to the overall runtime of the machine.
Here, you'll find some of the battery-powered/electric machines construction equipment manufacturers have announced or are produced. This list does not include aerial work platforms, industrial forklifts or other platform units. In addition, hybrid machine options such as diesel-electric or hydrogen fuel cell have been excluded.
Ausa
Ausa marked the North American introduction of the manufacturer's electric range line at ConExpo/Con-Agg 2023.
First unveiled at Bauma 2022, Ausa introduced the D151AEG, an electric model of its dumpers. Complying with increasing environmental and noise regulations in urban areas, it pairs well with a mini excavator to efficiently remove material on a jobsite.
The new 1.18-cubic-yard, 3,300-pound D151AEG is powered by lithium-ion batteries and can work an entire shift on a single charge. An integrated quick charger can charge the battery from 20 percent to 80 percent in two hours.
In addition, Ausa has also released its T164E electric telehandler.
The unit features a 13-foot maximum lift and a 3,500 payload. Like the dumper, it operates with lithium-ion batteries and is designed with the capacity to operate for a complete day of work without needing to be recharged.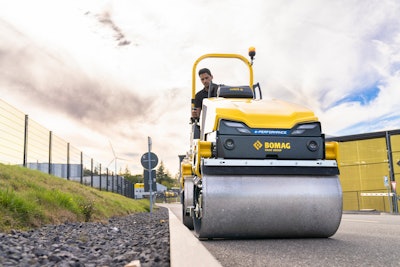 BOMAG
BOMAG's BW 100 AD e-5 and BW 120 AD e-5 tandem rollers are powered by a 48-volt electrical system to power the two electric motors that independently control vibration and travel.
In travel mode, only one electric motor is required, reducing energy consumption. In addition, when braking, mechanical energy is converted back into electrical energy.
The electric roller is geared toward night work or urban jobsites where noise and emissions are concerns. Its drums are 39.4 inches wide and operate at 3,900/3,336 vibrations per minute and 0.020-inch amplitude.
Charging can be done with 230 or 400 V, whether it's a household socket, wall box, or CEE plug. Corresponding charging cable adapters are all available from BOMAG.
According to the company, the electric tandem rollers are ideal for use on all types of construction sites, particularly ideal for road construction, all related repair and finishing work, and landscaping.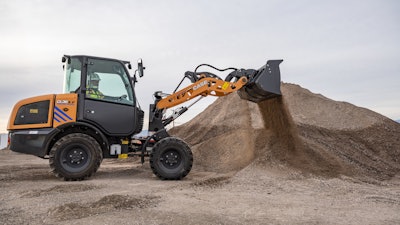 Case
Case Construction Equipment first made a splash in the electric market with the 580 EV electric backhoe at the 2020 ConExpo-Con/Agg.
The 580 EV is powered by a 480-volt, 90 kWh lithium-ion battery pack, which separately powers the drivetrain and hydraullic motors.
In 2022, Case teased the launch of its next foray into electrification, the CX15 EV a 3,186-pound mini excavator powered by a 21-horsepower/16 kW electric motor.
Additional electric machines were launched at ConExpo 2023.
Case's CX25EV, a 4,828-pound mini excavator runs off a a 27-horsepower/20 kW electric motor.
The lithium-ion battery featured in both mini excavators can be charged by either a 110V or 220V on-board charger in 10 hours, or via an external rapid charger that can charge the machines within 90 minutes.
Case says the mini excavators can be operated in a variety of settings, including indoors, in tight spaces, and jobs with noise restrictions. The CX15EV is available now and the CX25EV is expected to be available by the end of 2023.
Also slated to be released sometime in 2023 or 2024 is the SL22EV an electric small articulated loader. It is one of seven models in a line designed and built by Tobroco-Giant, a Netherlands-based manufacturer.
Moving up a size, the CL36EV, Case CE's 3.6-ton electrified compact wheel loader has a hinge pin height of over 10 feet, which the company says makes it ideal for use in supply yards, large-scale building renovations and projects where less noise, no emissions, and indoor operation are required.
Case maintains that its battery-powered equipment delivers the same power and performance as comparably sized diesel-powered machines. Depending on the application, the company says the battery provides enough power for the machines to work through a full 8-hour day on one charge.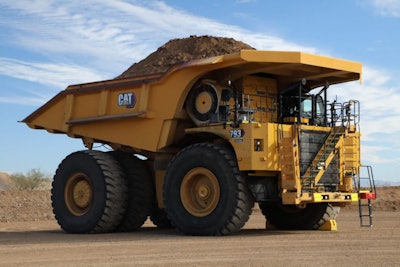 Caterpillar
Four new Caterpillar prototype battery electric machines were on display at Bauma 2022 and ConExpo 2023.
Models included the 320 medium electric excavators, the 950 GC medium electric wheel loader, the 301.9 electric compact excavators, and the 906 electric compact wheel loader. The 320 Electric excavators will be powered by a Cat 600-volt, 256 kWh battery with a runtime of up to eight hours on a single charge.
Capable of running up to eight hours on a single charge, or up to four to five hours of continuous trenching, the 301.9 Electric mini excavators will be powered by a Cat 48 volt, 32kWh battery. And the 906 electric compact wheel loader will be equipped with a Cat 300-volt, 64 kWh battery that enables the operator to work up to six hours on a single charge.
According to Cat, runtimes for battery-powered machines are based on average, moderate applications.
The 301.9 and 906 will be the first machines commercially available units in Europe and North America, with the 950 GC and 320 to follow in the coming years.
In late 2022, Cat demonstrated its first battery-powered mining truck.
The prototype 793 rigid-frame dump truck performed its first live demonstration on a 4.3-mile course while it was fully loaded. No specs have been released but the diesel counterpart has a payload of 265 tons and weighs approximately 89,000 pounds.
In addition, it is capable of regenerative braking, in which energy lost when applying the brakes or taking pressure taking pressure off the accelerator pedal is captured and used to recharge the battery.
The development of the electric 793 is the product of Caterpillar's agreements with private companies to develop and deploy zero-emissions mining trucks.
Develon (formerly Doosan)
Powered by an in-house developed 20.4 kWh lithium-ion battery the first mass-produced electric-powered excavator from Develon, formerly known as Doosan, is the DX20ZE-7 mini excavator. The electric motor is rated at 18.4 horsepower.
The 2-metric ton machine combines low noise and zero emissions with the advanced features found on the company's -7 Series of mini excavators.
Basic specs include a maximum dig depth of 92.5 in., a digging reach of 152.6 in., and a loading height of 103.3 in.
Develon says the new excavator has retractable tracks to allow the machine to pass through narrow passages and entrances/exits, making it ideal for working in confined spaces or indoor applications. The tracks can be expanded again upon reaching the work area for better stability and lifting capacity.
A quick-charger system restores 80% of the battery power after only one hour of charging, while the onboard charger restores the maximum charge after six hours of charging.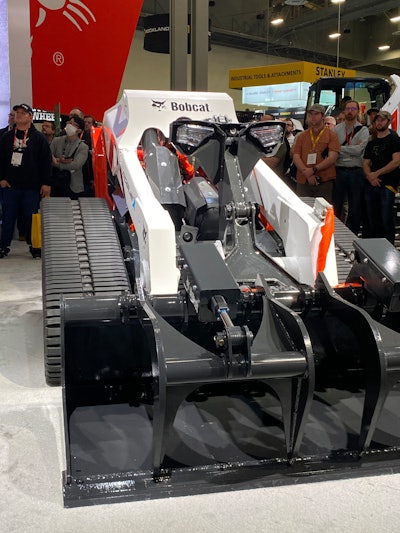 Doosan Bobcat
Since 2016, when Doosan Bobcat unveiled its first concept of an electric mini excavator, the idea of electric machines within its fleet of products has only continued to expand.
The first machine on the market was the 1-ton E10e which arrived in 2019. Two additional mini excavators have since joined it on the market, the 2-ton E19e and a 3.9-ton machine, the E32e. Each is battery-powered and maintains hydraulics for operation. Batteries on the excavators are said to have an approximate 4-hour run time of continuous operation.
At the start of 2022, the trio of excavators was joined within Bobcat's electric portfolio by the T7X, the world's first all-electric compact track loader.
Its skid steer cousin, the prototype S7X, with about 95% of the same parts as the T7X, was unveiled at ConExpo 2023.
Developed in collaboration with Moog Inc. and Viridi, both machines are powered by a 60.5-kWh, lithium-ion battery, replacing the traditional hydraulic work group with an electrical drive system and using ball screw actuators for lift and tilt functions.
Bobcat says the T7X can provide up to four hours of continuous runtime and due to efficiencies gained from turning four tires versus tracks, the S7X offers a full eight hours. The machines can be charged overnight in 10 hours.
Sunbelt Rentals took the first delivery of the T7X machines in September 2022. Presented as a prototype the S7X is expected to be moving toward full production soon, but no official timeline has been revealed.
Bobcat's next step in the evolution of compact equipment also was unveiled in Las Vegas.
Resembling a track loader, the RogueX is an all-electric and autonomous concept machine that explores the capabilities of electric power, autonomous operation, and dual lift-arm geometry.
Like the T7X and S7X machines, it is powered by electric-drive motors and devoid of hydraulics. However, it's the difference between any traditional loader and the RogueX is the lack of an operator station or cab.
The geometry allowed through the removal of the cab gives the machine the unique status of having both a radial and vertical path with its rocking H lift arm. It can raise 12 inches higher and has an additional 24 inches of reach compared to current Bobcat machines.
Bobcat says the RogueX is in the early research and development stage. No details on future commercialization were available.
For all its electric machines, Bobcat asserts that any of them can work a full 8-hour day on a single charge with intermittent use.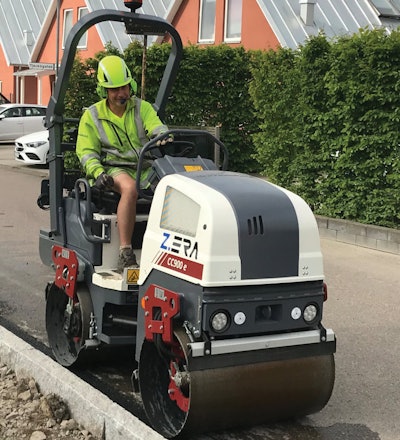 Dynapac
Dynapac's Z.Era program is accelerating the company's push toward an emission-free workplace in construction. The preliminary phase has introduced a product portfolio that is optimally suited for inner-city environment applications.
Currently, the portfolio included the SD1800W e city paver and the Z.ERA CC900 e and CC1000 e rollers. Customers should now start seeing the compactors at dealers in the U.S. The SD1800W e is available by special request in North America and is currently under review to determine if that will be a strong market for the product.
The CC900 e and CC1000 e tandem-drum vibratory asphalt compactors are based on their diesel counterparts of the same model, minus the "e." The models' numbers represent drum width in millimeters. They are designed for repair work, sidewalks, and bike lanes and can follow a small paver.
Dynapac says it has seen the same performance as its 24-horsepower diesel-powered hydraulic machines and no adverse effects to the batteries from vibration. These models feature a 15kWh lithium-ion battery that powers a 10kW electric motor for driving and steering and another 8,5kW motor for vibration. Battery runtime has also allowed for a full day's work without recharging.
The compactors have two charging options. A one-phase 120- or 230-volt charger is used for overnight charging, about 6 hours, to charge the battery. The fast option is a three-phase 400-volt charger, which would not be available in the U.S.
The rollers are so identical to their diesel variants that there is almost no learning curve required for the operator.
As with other electric equipment, there are significant savings, such as no diesel fuel costs, no oil or fuel filters to replace, and no oil, coolants, or other fluids to change. The rollers will have hydraulic oil and filters to switch out from time to time. The company estimates savings of 60% to 70% on costs versus diesel.
Dynapac says the SD1800W e features a 98kWh lithium-ion water-cooled battery pack that drives a highly effective 55 kW electric motor directly coupled to the hydraulic system without an additional gearbox.
Depending on the type of job, application, and intensity of the work cycle, the SD1800W e offers up to four hours of rugged performance with one single charge. Built like its diesel-powered cousin, the electric model delivers a paving capacity of up to 350 t/h and can pave up to 4,1m with the screed extended.
In addition, it includes a water-cooling system connected to the electric motor that consists of a bi-directional heat pump with a high-voltage compressor. This helps ensure the SD1800W e can work even in the most demanding of conditions.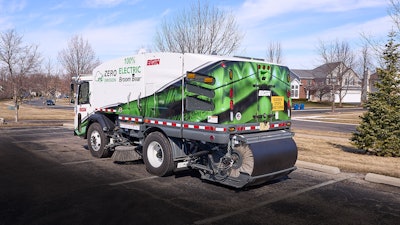 Elgin
Elgin's truck-mounted Electric Broom Bear uses an all-electric chassis to deliver the same performance as the standard Broom Bear models.
The Electric Broom Bear has enough lithium-ion battery capacity (396-kilowatt hours, 700 volts) to handle extended shifts. The unit was introduced during ConExpo-Con/Agg 2023.
Using a standard SAE J1772 CCS charging port, the unit is compatible with Level 2 or Level 3 chargers. Level 2 AC charging can be accomplished overnight; Level 3 enables fast charging.
The unit is specifically designed for vocational use, the electric chassis offers the same payload capacity as the standard Broom Bear.
Using the main broom and two side brooms, the Electric Broom Bear has a maximum 120-inch sweep path. It is designed to pick up the same debris and have the same loading rate as diesel models.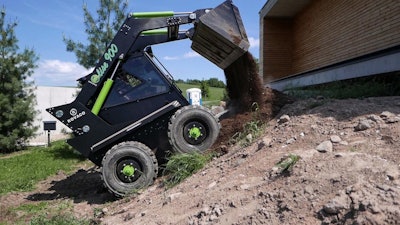 First Green Industries
First Green Industries (formerly Kovaco Electric), offers the Elise 900 skid steer and MiniZ 400 compact utility loader.
The Elise 900 is marketed by the company as the first full-sized electric skid steer loader. It offers a standard attachment plate, 17.17 GPM hydraulic oil flow, a lift capacity of 2,646 pounds, and a run time of up to 8 hours (with a 400Ah battery).
In addition, the MiniZ 400 is a utility loader that offers fully remote operation with a run time of up to 8-hours.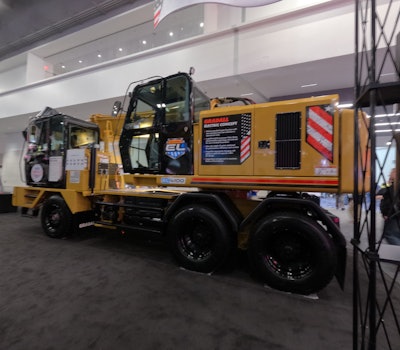 Gradall
In partnership with Volvo Penta, Gradall has introduced a highway-speed, electric-wheeled excavator concept, the EL4100.
The zero-emissions concept machine is modeled after Gradall's XL 4100 V. It is designed for municipalities and highway work.
Appearing at ConExpo 2023, the concept machine uses battery power from two Volvo Penta batteries that fit into the existing engine bay to transport its excavator.
The electric driveline system from Volvo Penta also includes the complete high voltage system — electric motors, converters, junction boxes, and cabling. It also has a hydraulic system powered by a Volvo Penta
Gradall says the system will deliver 94 kWh of energy, and it can reach full capacity in under 45 minutes from a 150-kW charger.
Following its appearance at ConExpo, the EL 4100 is expected to undergo extensive testing and verification to optimize it for the application.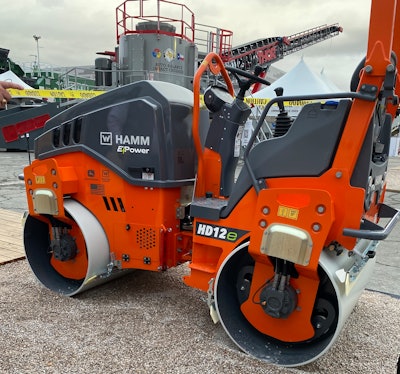 Hamm
Hamm rolled out the premier of its battery-powered compact rollers at the 2022 Bauma show in Germany.
The launch included eight fully electric tandem asphalt compactors for the company's HD CompactLine series. Also, the company unveiled the world's first electric rollers with oscillation. The combination enables the roller to compact more quietly and with less vibration while emitting no pollutants.
Hamm says the new battery-powered rollers have the same operation and compaction performance as the coinciding diesel-powered models. In addition, the models' lithium-ion batteries will also be able to run on a single charge "for an entire typical workday."
The 23-kWh battery is designed to be maintenance-free and delivers 48 volts of onboard power. The company adds that energy released from the drive engine and vibration motors when braking is recuperated.
Initially only available in the European market, the rollers are expected to be available in North America by the end of 2023.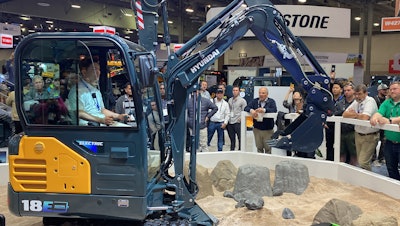 HD Hyundai Infracore/Hyundai Construction Equipment
The Hyundai Construction Equipment R18E is a 1.8-ton excavator designed for use both indoors and in urban settings. In place of a diesel engine to supply power to the hydraulic system, the unit has an electric motor that operates by utilizing the batteries on board.
The company says a single charge on the battery system will last through an 8-hour workday.
In addition, using the supplied 220-volt high voltage charging system, the machine can be recharged in 3 hours.
The unit is a second-generation prototype of an electric mini excavator created by Hyundai. Preliminary efforts in development of the machine began prior to ConExpo 2020.
Hyundai says the current model of the prototype is nearing a phase of customer testing at the end of 2023 or early 2024. Once feedback is gathered and any alterations are made, the machine and other-sized models such as a 1.9-, 2.7 and 3.5-ton are expected to become available to customers.
Hevi Equipment
Chinese transmission and drivetrain manufacturer Greenland Technologies jumped into the electric construction equipment race with its line of all-electric, lithium-ion powered machines released under the moniker Hevi Equipment.
The launch in mid-2022 served as a rebranding of the company's Greenland Machinery division and includes the GEL-1800 and GEL-5000 electric wheel loaders and the GEX-8000 electric excavator.
Currently, the company is solely focused on North America, specifically the U.S. market through a direct sales model.
The 8-ton GEX-8000 reportedly has a run time of nine hours on its LiFePo4 lithium-ion battery pack and can be charged to full capacity in two hours from an optional 90 kW output charging facility.
According to Hevi Equipment, the excavator has a maximum digging force of 36,878 pound-feet and a maximum digging depth of 7 feet 7 inches, and a maximum travel speed of 9.3 mph when unloaded.
Two models of electric wheel loaders are available from Hevi, the 1.8-ton capacity GEL-1800 or the 5-ton capacity GEL-5000. A 1.31-cubic-yard bucket comes standard on the GEL-1800. The GEL-500 has a 3.9-cubic-yard bucket.
Like the GEX-8000, the two loaders offer eight to nine hours of run time.
Both machines are powered by LiFePo4 lithium-ion batteries offering motor power of 102 hp s (GEL-1800) or 160.9 hp (GEL-500). 0 kilowatts
The maximum dumping height of the GEL-1800 is 8 feet. The GEL-5000 has a maximum dump height of 11 feet 9 inches.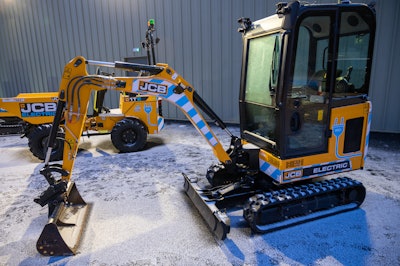 JCB
JCB has introduced multiple machines within its E-Tech range of electrical construction and industrial machines.
The machines share the same basic structure as their diesel counterparts and perform in the same way. The only change is that the power pack changes from diesel to electric.
Within the company's E-Tech range, the machines are powered by lithium-ion batteries that can provide sufficient power for what JCB defines as a full typical day on a single charge. They have varying options of 110V, 230V, or 415V charging capabilities.
As part of its line, JCB offers its Universal Fast Charger, designed to provide recharging power to the company's range of electric machines. The unit is portable and free-standing and is designed for easy maneuverability between sites. The HTD-5E dumpster and TLT66-40E Teletruk are not compatible with the charger.
According to JCB, the Universal Fast Charger can charge machines within 2.5 hours and is ideal for customers with demanding workloads and the need for quicker charging turnaround times. Otherwise, charging time varies from 8 to 12 hours depending on the connection.
The company's first foray into electric machines was the 19C-1E mini excavator which debuted in 2018. The machine's 4 battery pack provides approximately 5 hours of work on a standard application, which JCB says is equivalent to a full day. It is fitted with a blue light indicator to show the machine is running.
Other machines in the JCB line include the 505-20E compact telehandler, the HTD-5E electric dumpster, and the ITE electric site dumper. The company says each is an electric version of its diesel counterpart.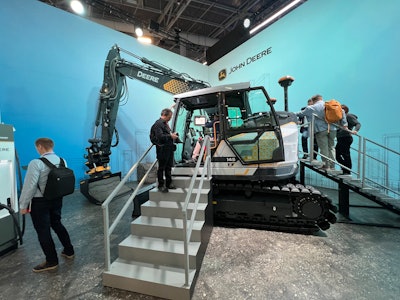 John Deere
John Deere began its electric journey by showcasing its prototype 310 X-Tier electric backhoe at the 2021 Utility Expo.
It was the first in what the company hopes to offer under its E-Power designation utilizing battery solutions from Kreisel Electric.
All E-Power machines will use common automotive-style charging connections, which may help simplify the recharge process.
As part of its investment into electrification, John Deere is also developing electrification charging infrastructure solutions, including a range of options for overnight and fast charging.
Before the unveiling of the 310 X-Tier backhoes, the company had released hybrid diesel-electric wheel loaders.
Under the company's naming strategy that debuted in 2021, all the electric or hybrid machines will have the X-Tier designation being the company's most advanced models.
The 310 X-tier is positioned in direct comparison with the Deere 310L. Basic specs are in line with the diesel machine as the X-tier has a 14-foot 1-inch max dig depth, 6,602-pound loader lifting capacity, 6,992-pound crowd cylinder digging force, and 22.8 mph max travel speed.
Battery-powered, the machine's outside decibel level is reduced from 89 decibels to 75.
Deere knows the electric unit will be compared with the runtime of the diesel unit, which has a 34-gallon tank and typically provides more than a day's worth of work. Deere says the goal is to offer an eight-to-10-hour composite runtime.
Currently, the 310 X-tier is still going through further testing and is expected to be one of the company's first electric vehicles commercialized in the next five years.
At the 2023 Consumer Electronics Show, John Deere unveiled its first excavator with the X-Tier designation, the prototype mid-sized excavator, the 145 X-Tier.
No specifications were made available about the machine, although the "145" designation suggests a mid-sized excavator.
A few months later, at ConExpo 2023, the company revealed the battery electric 244 X-Tier compact wheel loader.
According to John Deere, all products in the company's portfolio, such as turf equipment, compact utility tractors, small tractors, compact construction equipment, and some roadbuilding equipment, could eventually rely solely on batteries as a primary power source.
Other new features related to the electric machines will include an Operations Center to help customers monitor usage remotely and manage work while charging equipment.
Komatsu
Since the 1950s, Komatsu has been pursuing the development of more sustainable alternative fuel options.
One of the first machines was a hybrid mining wheel loader. In response to more recent climate change awareness, Komatsu has set a goal of achieving carbon neutrality by 2050.
To achieve its goal, the company is working on several solutions, including the continued advancement of its hybrid technology and the development of battery-powered electric construction equipment.
At both Bauma 2022 and ConExpo 2023, Komatsu showcased the first look at some of its zero-emission, battery-powered machine concepts, and prototypes.
The machines ranged from an electric micro excavator, the PC01E to a full-size 20-ton PC210E prototype.
In 2021, through a collaboration with Honda, Komatsu revealed its PC01E micro excavator. The machine is an electrified version of the 3.5-horsepower, 661-pound base PC01 micro excavator, incorporating a Honda Mobile Power Pack and a Honda eGX electric power unit.
Komatsu envisions these machines being utilized in extremely close quarters such as near people, trees, and plants while doing work such as installing utilities, putting in landscaping, and doing agricultural tasks. With no exhaust, it can also work indoors.
One of the base unit's distinctive features – at least to North American eyes – is that the operator straddles the machine much like a snowmobile or a personal watercraft. It has no cab or canopy.
According to Komatsu, the PC01E performs equivalent to or better than its conventional counterpart at low revolutions. The batteries are swappable so work can continue by simply changing the battery.
The PC30E is a 36KWh electric battery-powered utility excavator capable of running upwards of four hours, depending on the application. Komatsu says the machine can be charged in approximately two hours using the mobile 20KWh charger that is part of the development of the new machines.
Many applications such as indoor operations and residential areas are opened for the 3.5-ton machine due to the lack of emissions and reduced noise. The company says from a performance and functionality perspective, the machine is equivalent to its diesel counterpart.
Komatsu also unveiled its first 20-ton class lithium-ion battery electric machine, the PC210E. It uses a 123-KWh lithium-ion battery pack developed by Proterra and will operate for up to 8 hours on a single charge, the company says.
The company said both the PC30E and PC210LCE will be brought to market in a pilot (testing) form in Europe and Japan in 2023. No dates were set as to when the machines would be commercially available.
A fully electric concept machine based on the chassis of a WA70 wheel loader was also featured at both trade shows. Developed in collaboration with Moog Inc., the fully electric wheel loader is both battery-operated and has electric cylinders in place of hydraulics.
For now, the electric WA70 unit is a prototype and was showcased to demonstrate to customers where the technology is headed.
The company also is developing multiple charging solutions.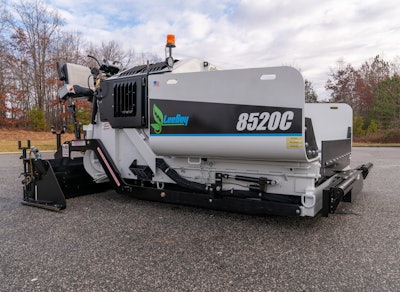 LeeBoy
LeeBoy unveiled a prototype of its first commercial-class electric asphalt paver, the 8520C E-Paver.
The company says that aside from the Powertrain Control System components, everything else on the paver is the same as the diesel model, including the hydraulics, the control panels, and the screed.
Based on the company's best-selling 11-ton heavy-commercial 8520C paver, the 125-horsepower Kubota diesel engine in the machine has been replaced with a General Motors electric drive system. Engineering support was provided in collaboration with both GM and Powertrain Control Solutions.
The paver runs on a 48-kilowatt-hour battery pack and a 150-kilowatt electric-drive motor. It can be charged by a 120- or 240-volt AC onboard charger, with rapid charging available.
Although the paver has been tested, details about runtime and charging time are still being determined. Anticipation is that the paver won't need to run a full eight hours because there are times when the machine is not paving during a job.
There were no details yet as to when 8520C E-Paver will come to market, although there appears to be interest within the industry according to LeeBoy.
Link-Belt
Link-Belt unveiled a concept compact excavator at ConExpo 2023. No date was set on when or if it would go to market.
It is part of the company's demonstration of its strategy to reduce its carbon footprint by 30% by 2030 compared to its 2010 emissions. according to Link-Belt.
The concept excavator, which was strictly identified as only a concept and not even a prototype, has undergone extensive testing, but the company is not ready yet to release test results.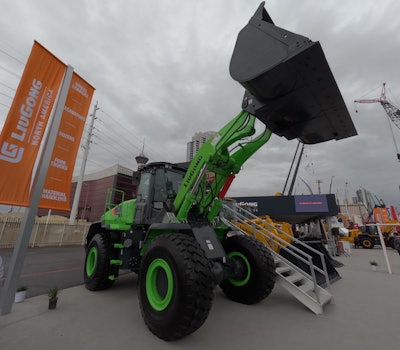 LiuGong
LiuGong used ConExpo 2023 to showcase what it says is the world's first commercially available mid-sized battery electric wheel loader, the 856H-E Max.
While ConExpo marked the North American debut of the machine, the company already had more than 2,000 electric wheel loaders operating across the world as of October 2022.
The company launched its first electric machines at the 2019 Beijing International Construction Machinery Exhibition & Seminar.
In addition to the loaders, LiuGong has at least three electric excavator models that have been released in China and Europe. These include the 906E-EV, the 922F-E, and the 924FTN-E.
LiuGong North America sold its first 856H-E MAX to the Los Angeles County Sanitation Districts, with the agency taking the keys to the machine at ConExpo.
Powering the 856H-E Max is a 432-kWh large-capacity lithium-ion phosphate battery from battery manufacturer CATL. The machine can work 10 hours for light applications and 8 hours for heavy applications.
The 856H-E MAX features intelligent controls and an operator-focused design, including load-sensing hydraulics, an EAT700 transmission with an electro-proportional valve for fast, smooth shifting, and independent control of the dual-motor drive for added hydraulic lift.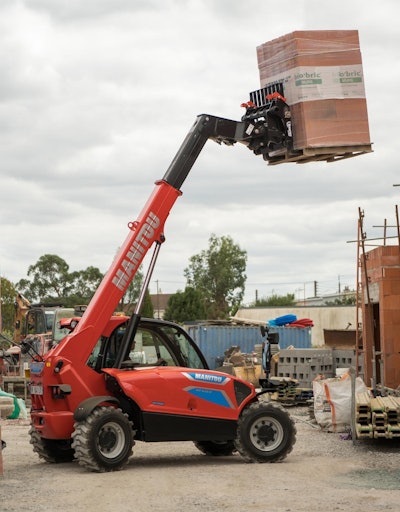 Manitou Group
Manitou Group showcased several new electric products at both Bauma 2022 and ConExpo 2023, including four new electric aerial work platforms, two electric rotating telehandlers, and a fixed electric telehandler.
The new electrified lineup includes the MRT 2260e and MRT 2660e VISION+ rotating telehandlers and the MT 625e compact electric fixed telehandler, which are all part of the manufacturer's "Oxygen" line of low emissions equipment.
Adding to its range of compact telehandlers, Manitou launched its first electric model in the product category, the MT 625e. Powered by a 25- or 33-kWh lithium-ion battery, the MT 625e has a 2.5-ton lift capacity and reaches 19.7 feet high.
Manitou says the electric telehandler offers the same performance as its diesel counterpart with 56% less maintenance. At 6 feet, 4 inches tall, and 5 feet, 11-inches wide with a 10-foot, 10-inch turn radius, the machine can work indoors and in tight spaces.
The MT 625e shares the same features as other models in Manitou's compact telehandler range, including the Safety Pack that automatically warns the operator and those on the jobsite of unsafe operations and the intuitive Harmony display that provides real-time usage and maintenance information.
In addition, the MRT 2260e and the MRT 2660e are an extension of the manufacturer's Vision+ line of rotating telehandlers. Both units deliver 13,200 pounds of maximum capacity in a 100% electric machine.
Manitou says the 700 V/65 kWh lithium-ion battery comes standard, and an optional second battery doubles the battery capacity available for work. Charging times vary based on conditions.
Sticking with the electric theme, the company rolled out its new Oxygen line of low emissions electric rough-terrain platforms. Models include the 160 ATJe, 160 ATJ+e, 180 ATJe, and 200 ATJe.
According to Manitou, they are the first manufacturer to have a range of electric rough terrain platforms from 16 meters to 20 meters.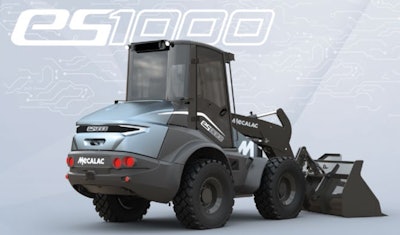 Mecalac
A full set of medium-sized electric equipment for the urban construction site was recently released by Mecalac.
The new equipment trio consists of the 11-ton e12 excavator, the 1.3-cubic-yard es1000 swing loader, and the 6-ton eD6 site dumper.
According to the company, the e12, an electric version of the 12MTX, can be charged in eight hours and lasts the same amount of time when in operation.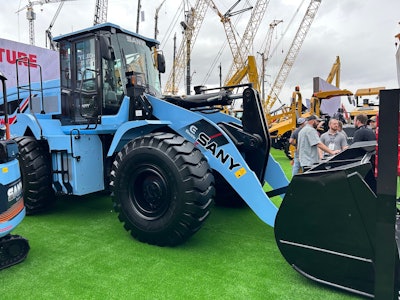 Sany
The Chinese construction machine manufacturer Sany demonstrated its ongoing commitment to sustainability and increased demand for reduced or zero-emission machines with its unveiling of new electric options.
In late 2022, the company released the SCE800TB-EV, an electric telescopic boom crawler crane developed in partnership with Danfoss.
Powered by a 282 kWh liquid-cooled lithium iron phosphate battery capable of 8 hours of the operation time, the 80-ton crane features a motor and inverter supplied by Danfoss Power Solutions' Editron division and a Danfoss Power Solutions D1P hydraulic pump.
It is the first volume model of crawler crane available on the market with a fully electric system featuring permanent magnetic synchronous motor technology, the company says.
Debuting in China and Bauma 2022, Sany introduced the SY19E electric mini excavator and the SW956E electric loader to the North American market at ConExpo 2023.
The excavator is equipped with a high-torque permanent magnet synchronous motor and a proprietary integrated electric drive system.
Sany says the SW956E electric loader is powered by a permanent magnet synchronous motor capable of delivering an instantaneous torque of 1,770 foot-pounds. The onboard intelligent system can automatically adjust power output based on load, speed, and other conditions.
Also, according to the company, the loader's 282-kilowatt-hour battery can provide eight hours of usage after one hour of charging.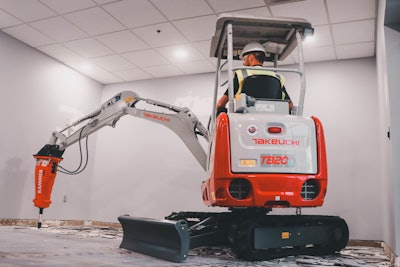 Takeuchi
Takeuchi debuted its first electric compact machine at ConExpo-Con/Agg 2017, the e240 electric excavator. The machine was more of a Frankenstein of sorts, with electric components installed by Green Machine after the diesel engine was removed.
The e210R compact excavator was launched in 2019, again with the battery and drive components retrofitted by Green Machine. And in 2020, Takeuchi came back to ConExpo-Con/Agg with the TB220e, the company's first fully electric compact excavator built to be battery-powered from the start.
Finally, in 2022, Takeuchi unveiled the TB20e UR electric excavator, which is now available at select United Rentals locations and dealers.
Similar in performance to Takeuchi's diesel-powered TB216 compact excavator, the TB20e is powered by a lithium-ion battery that offers a continuous working range from four to eight hours, depending on the application and environment.
For additional runtime, the machine can be tethered to the onboard charger and remain operational.
Takeuchi says the excavator has an operating weight of 4,255 lbs., a bucket capacity of 1.34 cubic feet, and a primary auxiliary flow of 9.0 gpm. Maximum reach is 13 ft. 4 in. and maximum digging depth is 7 ft. 10.1 in. The TB20e also features a new high-definition, 4.3 in. multi-informational color display in the cab.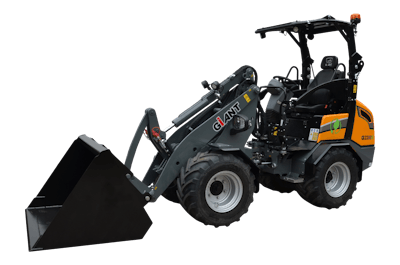 Tobroco-Giant
Tobroco-Giant introduced its first two electric wheel loaders at Bauma 2019.
The G2200E and G2200E X-TRA entered production at the end of 2019 and have proven to be a success. Designed for indoor operations or urban construction, the machines are equipped with a 48-volt lithium-ion battery that has a minimum capacity of 12.3 kilowatts.
The company offers four lithium-ion battery choices with varying charge lengths under normal conditions: 6.4-kilowatt hours for a 2-hour capacity; 12.3 kWh for 4 hours; 18.4 kWh for 6 hours; and 24.6 kWh for 8 hours.
During the next few years, the range of the company's electrically driven models will be expanded so that in the future an electric variant will be available for every model.
The first machines available will be the G2700E and G2700E X-TRA. With an operating weight of 2,595 kg, both machines operate in a class above the G2200E (X-TRA) and are capable of handling heavier work.
The G2700E is equipped with a 260 Ah, 48V LPT battery, optional batteries with 390 Ah and 520 Ah are available. With two separate electric engines, 6,5 kW for the drive and 12 kW for work hydraulics, there is always enough power to carry out work accurately. Also, there is automatic recuperation every time the machine rolls out or drives down a mountain.
Earlier this year, the company announced distribution agreements for their products in North America and Europe. Per the agreemenst, the company's compact and subcompact wheel loaders will be distributed under the Case and New Holland brands in North America. A similar agreement was reached with Develon (formerly Doosan Infracore) in January for distribution of similar products sold under the Develon name through its European dealer network.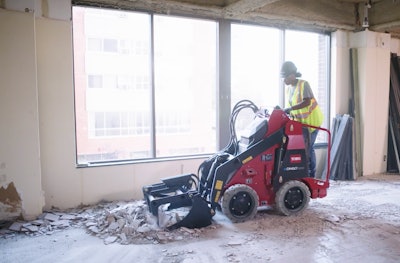 Toro
Powered by lithium-ion battery technology, the Toro eDingo 500 compact utility loader was first introduced in 2019. It was designed for tasks that require heavy and continuous operation indoors.
Lessons learned from that machine led to updates that were revealed at World of Concrete 2023.
The new eDingo 500 comes with a 13.5-kilowatt-hour HyperCell Power System. Toro says charging it overnight in a wall outlet will yield eight hours of continuous runtime.
Able to maneuver in tight spaces with zero-turn capability, the new edition is narrower and has a higher hinge pin height than its predecessor. At 30 inches wide, it can fit through doorways. Also, with an 81-inch hinge pin height, it can dump into standard Dumpsters.
Able to run other Toro attachments, the e-Dingo 500 has a rated operating capacity of 515 pounds.
Building on the success of Toro's line of Material Buggies and compact utility loaders, the company unveiled the e-2500 electric Ultra Buggy at the 2022 World of Concrete trade show. The unit was officially released in November 2022.
Like the eDingo, the electric Ultra Buggy is powered by Toro's HyperCell battery system, opening the door to new jobsite opportunities such as indoor applications.
Mirroring its gas counterparts, the electric Ultra Buggy is designed to haul up to 14 cubic feet or 2,500 pounds of material in a 3/8-inch-thick polyurethane tub.
Toro has pushed its HyperCell battery system across its entire lineup from mowers to utility loaders and is expected to continue in the future.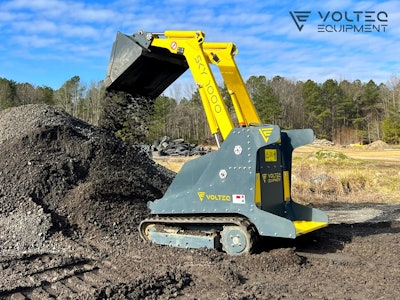 Volteq
Volteq Equipment is a U.S.-based company specializing in the design and manufacturing of electric equipment for various industries.
The company has recently unveiled the SKY 1000, a lithium battery-powered compact utility loader or mini skid steer.
According to Volteq the machine offers a run-time of up to eight hours on a single charge.
IN addition, the recharge time using the onboard charger and a standard 110V outlet is five hours.
Three electric motors give the unit a 1,000 lb. lifting capacity.
At only 33-inches wide, with a basic bucket, the SKY 1000 can maneuver in tight places and challenging terrains for effectiveness in a wide array of applications.
Up to 15 attachments are available for the machine, making it a viable option for construction, landscaping, demolition, mining, and farming.
Generating no emissions, the machine is also suitable for indoor operation.
A wireless remote-control feature allows operators to control the machine from up to 160-feet, ensuring better visibility and improved safety.
According to Volteq, the SKY 1000 is also equipped with telematics and GPS to provide insights into machine performance and location tracking.
Volvo
Volvo has also been a leader in developing electric construction equipment, with a goal of eliminating 10 diesel models of compact excavators and replacing them with all-electric models.
It was in 2019 that Volvo Construction Equipment introduced its first battery-powered machines and announced the intention to phase out the diesel versions of its compact equipment with battery-powered equivalents going forward.
Volvo's current lineup of electric equipment includes the L20 Electric and L25 Electric wheel loaders, the EC18 Electric, ECR18 Electric, and ECR25 Electric excavators, and the DD25 Electric asphalt compactor.In addition, Volvo Trucks recently delivered its first Volvo FMX electric four-axle concrete mixer.
The first North American deliveries of the ECR25 Electric compact excavator and L25 Electric compact wheel loaders were made earlier in 2022. Reservations have since opened for additional machines in Volvo's electric line for delivery in 2023 and into early 2024.
The L25 electric is an 11,618-pound wheel loader that features a 2.2-ton payload and has a 1.7 cubic yard standard bucket. Smaller than the L25, the 9,921-pound L20 Electric compact wheel loader features a 1.8-ton payload and 1.05 cubic yard bucket. and dump height of 8 feet.
The company offers two battery pack choice for the loaders: 33kWh or 40kWh.
According to Volvo, the two compact wheel loaders have two dedicated electric motors, a 29.5 hp one for the drivetrain and an 18.77 hp one for the hydraulics. The company says decoupling the subsystems has led to higher efficiency across the machines.
In 2022, both loaders were upgraded o feature a parallel-type linkage (Z-bar linkage optional) and to have a maximum speed of approximately 12.4 mph. In addition, each now includes a programable cab heater option and an ergonomic joystick control. An electric parking brake with hill-hold improves uptime and safety, Volvo says.
Like the loaders, the 1.8-ton EC18 Electric and short-swing ECR18 Electric, and 2.5-ton ECR25 Electric compact excavators deliver four hours of active work per charge depending on the environment and tasks.
The two 1.8-ton machines feature 2,900 pounds of breakout force and a maximum digging depth of 7 feet 4 inches for the short arm configuration or 8 feet for the long arm. The ECR18's ultra-short tail radius is ideal for confined spaces.
According to Volvo, the ECR25 Electric has 5,013 pounds of breakout force and a maximum digging depth of 9.9 feet.
At ConExpo 2023, Volvo CE debuted its first machine designed for the asphalt industry, the DD25 Electric.
A compact double-drum asphalt compactor, the DD25 Electric is designed for small-scale compaction projects, including street repairs and patching, parking lots, driveways, and municipal work.
By combining its asphalt compactor platform with battery power, Volvo says the DD25 offers 30% more power than the conventional DD25B. In addition, the company says the machine is more responsive in relation to speed and vibrations and performs better on grade and at higher elevations.
Each machine run on lithium-ion batteries that provide sufficient power for approximately four hours of continuous operation or what Volvo says would be equivalent to an eight-hour working shift.
All the machines have an integrated onboard charger, allowing them to charge from zero to 100% in approximately six hours using the J1772 AC Charging cable on a 240-volt outlet — the same plug and charging system on a typical electric vehicle. The machines will charge overnight via a regular household plug socket.
An 11.5 kW or 17.3 kW off-board DC fast charger also is available.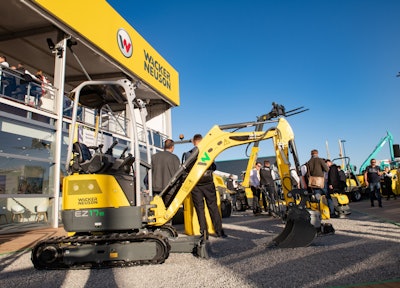 Wacker Neuson
Wacker Neuson has been quietly developing its line of electric machines for nearly five years. Its slogan at ConExpo 2023 was calling for attendees to "Meet the Future."
The current line of electric machines offered by the company includes two-wheel loaders, two excavators, three dumpers, and a pair of telehandlers.
The latest versions of many of these machines were on display at Bauma 2022. Wacker Neuson unveiled the new TH412e electric telehandler, the RD28e electric roller, a Charging Box for mobile power supply, and the very compact DT05e dumper.
In addition, the third generation of the WL20e e-wheel loader was released. Other new machines include the 5065e electric wheel loader, the successor to the 5055e, and the 1445e E-telescopic handler, which both rely on the latest lithium-ion battery technology.
Most of the electric machines made by the company are available in Europe and not North America.
However, at ConExpo 2023, the company displayed its extensive line of battery-powered compaction and concrete consolidation products powered by the Battery One modular system.
Currently, Wacker Neuson offers two vibratory rammers, five single-direction plates, and a concrete backpack vibrator that all are battery-powered.
New to the lineup at the show was what the company says is the industry's first battery-powered reversible plate.
In addition, Wacker Neuson announced that its E17e compact excavator, which has been distributed in Europe for a few years, would be coming to North America in late 2023 or early 2024.
The 1.7-ton zero tail excavator offers all-day run time and can be recharged using a common 240-volt, single-phase outlet in five to six hours. In addition, the machine can be operated in a stationary position while connected to a power source if necessary.
The company says the EZ17e offers an intuitive operating concept using a joystick, jog dial, and keypad with a 7-inch display. It has a maximum digging depth of 97.7 inches, a breakout force of 4,608 pounds, and the ability to run auxiliary attachments such as hydraulic breakers.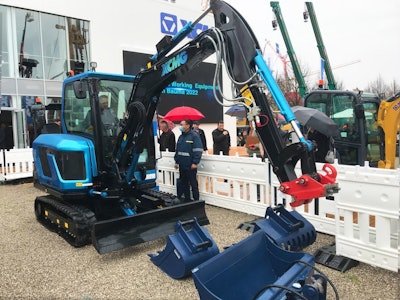 XCMG
XCMG Machinery, a Chinese construction and mining equipment manufacturer, unveiled multiple new electric/battery-powered machines at Bauma 2022.
The new products, which came under the company's show theme of "Innovation of Green," were customized for the European construction market.
No details are available if or when the machines might arrive in the North American market.
The company's new releases included two electric compact excavators, the XE27U-E and XE35U-E.
The XE35U-E XCMG excavator is a battery-powered mini excavator that has 70 kWh of system energy.
The operating weight for the mini excavator is about 9,500 pounds, and the 0.16-cubic-yard bucket has digging force of about 6.4 pounds.
The cab tilts forward for access to the main electrical device, main valve, slewing motor, and central rotary joint. Other service areas can be accessed through the fully opening rear hood.
In addition, the company unveiled the XC918-EV electric loader with a reinforced drive axle and ability to be configured with a pallet fork, grabber, and other attachments to meet application requirements.
XCMG also revealed what it says is China's first electric telescopic handler, the XC6-2506E. The unit offers 6 to 8 hours of operation from its 80V 412Ah lithium battery and a high-power dual-motor drive system.
Also labeled as a world's first, is the XCA60EV electric all-terrain crane. The unit has a maximum lifting capacity of 60 tons and a boom length of 48 meters, with a dual engine providing up to 400kw power. XCMG says that is 42% more than the industry average.
Other new machines included an electric counterbalanced forklift XCB-LW35 and ten electric aerial work platforms from XCMG's fire-fighting safety equipment.
The company also has unveiled an autonomous electric dump truck, the XDR80TE-AT. With no operating cab, the truck supports both remote control and autonomous control. It is equipped with multiple functions, including visual and acoustic sensors, laser, radar, millimeter-wave radar, and cameras.
XCMG says in full autonomous mode, the AI technology can automatically set destinations and plan routes following the mining operation's production schedule while enabling coordinated operation with other equipment regardless of autonomy.
Yanmar Compact Equipment
Yanmar
Nearly a year before Bauma 2022, Yanmar gave the press a preview of its first electric mini excavator prototype, the SV17e.
The company positions this machine as an important strategic step in the transformation for Yanmar Compact Equipment and indicative of the direction of the company.
The SV17e mini excavator is aimed at customers in the European market and plays in the 1.5- to 2-metric-ton segment. It is powered by an electric drive with 48-volt batteries and fast charging capability.
The introduction of the electric excavator is part of Yanmar's commitment to electrification and the intended introduction of a full range of electric compact equipment.
In Part Three of our series, we'll explore the pros and cons of diesel-electric hybrid machines.