BOMAG
BOMAG is planning its largest trade show display for ConExpo 2023, bringing out more than 40 machines, including an electric tandem-drum compactor and the autonomous concept Robomag 2 roller.
BOMAG's new BW 100 AD e-5 tandem roller runs on two rechargeable batteries to power the two electric motors that independently control vibration and travel. Only one motor is needed for traveling, which saves on battery life, the company says.
The electric roller is geared toward night work or urban jobsites where noise and emissions are concerns. Its drums are 39.4 inches wide and operate at 3,900/3,336 vibrations per minute and 0.020-inch amplitude.
(Click here to see more of what OEMs have in store for ConExpo 2023 on our show preview page.)
New combi-roller
For diesel-engine ride-on rollers, BOMAG will display its new BW 120 SLC-5 combination roller, which features 1.97-inch crab steering for compacting around buildings and other structures.
It also is equipped with Intelligent Vibration Control, which lets the operator know when optimum compaction has been achieved. The roller has a 47.2-inch front vibratory steel drum and four smooth rear tires.
Robomag 2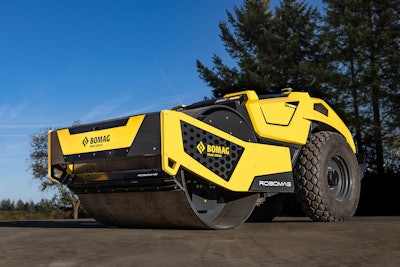 Along with its new and existing machines, BOMAG will offer a peek at the future with its Robomag 2.
The concept roller is based on the company's BW 177 D single smooth-drum compactor. With a 66.5-inch compaction width, it is equipped with GPS, LiDAR (light detection and ranging) and sensors to guide its autonomous operation. It also has a remote control for loading and unloading the roller and for completing manual movement patterns, BOMAG says.
Compaction tech
BOMAG's latest compaction technologies will be displayed on many of its rollers at the show:
BOMAP Connect is a digital network compaction control system for tracking all the compaction machines on a jobsite regardless of brand.
Asphalt Manager automatically adjusts compaction force to the asphalt mat's thickness and temperature, and automatically matches vibration direction to the roller's travel direction to prevent ripples in the mat, BOMAG says.
Asphalt Pro is a cloud-based planning program that can do such things as calculate mix requirements, communicate with the asphalt plant, determine the fastest route to the construction site, and pass process changes to plant personnel and truck drivers, the company says.
From light to heavy
Other products to be displayed include:
The new battery-powered handheld BT 60 e tamper.
The new battery-powered push BP 18/45 e single-direction plate compactor. It can be used in deep trenches, buildings or tunnels to compact up to 10-inch lifts of gravel and sand plus up to 8-inch mixed-soil lifts. It uses the same battery as the BT 60 e.
BM 2200/65 and BM 1200/35-2 cold milling machines.
BF 200, CR 820 Series and CR 1030 pavers.
BMP 8500 articulated, radio remote-controlled multipurpose compactor for trench, sewer and pipeline work.
Recyclers and stabilizers.