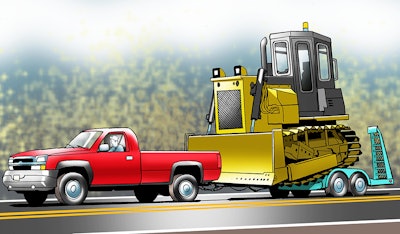 That commercial showing a pickup taking on a heavy load sure does look good. But you first need to read the small print in the manufacturer's owner manual.
Half-ton pickups have a 5,000-pound towing capacity, period.
This can be problematic when you just want to haul your compact machine to the next jobsite. The weight of the towed equipment alone – such as most 2- to 3-ton compact excavators – can be more than 5,000 pounds.
To take on extra weight, you'll need to either replace the standard ball/shank with a special weight-distributing hitch-head assembly, or on 3/4-ton pickups and up, use a gooseneck/5th wheel hitch. You'll also need to discover what the manufacturer requires to tow to the max, including the specific engine, transmission, bed, cab and axle ratio. Manufacturers call this "properly equipped."
Towing beyond the vehicle's maximum trailered weight as set by the manufacturer is driver negligence. Don't give a lawyer an easy win. Click here to learn more about towing limits.
Download the entire "How to Do Everything Better Guide" PDF
More Machine Operation tips from "How to Do Everything Better"