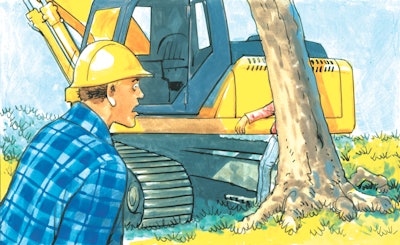 OSHA says caught-between accidents are the fourth leading cause of death on construction sites. You can help prevent these accidents by taking the following precautions:
Hazard recognition. Have your OSHA competent person do a hazard analysis and communicate the results to all crews.

Equipment functionality. Make sure all machines are in good working order, all guards are in place and that parking brakes, backup alarms and lockouts are all functional.

Make sure everybody wears PPE, especially their high-visibility vests and clothing.

Keep your distance. Train crews on how to stay a safe distance from mobile equipment and trucks, including the entire swing radius of excavators.

Install backup cameras on machines with rear or side blind spots.

Use barricades when possible to keep workers out of danger zones.

Train crews to avoid walking between machinery or trucks and structures such as trees, walls or stacks or stockpiles of material.
Download the entire "How to Do Everything Better Guide" PDF
More Safety tips from "How to Do Everything Better"