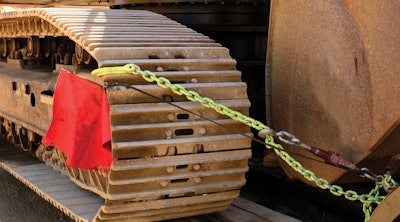 Moving heavy equipment safely is no small task. If not done properly, the results can be disastrous. During loading, keep the following in mind:
Do not operate or load equipment that you do not know how to safely operate.
When possible, place the equipment against a vehicle structure to help prevent forward movement – unless the weight distribution or securement considerations will not allow.
Be cautious when attaching securement devices over brake or hydraulic hoses or cylinders to avoid damage to those components.
Use edge protection to prevent damage to the tiedowns or to the equipment.
Whenever possible, use the equipment manufacturer's designated attachment points and follow the manufacturer's securement recommendations.
Do not use any attachment point that is of questionable strength or suitability.
Chain is the preferred tiedown for heavy equipment and machinery.
Use direct tiedowns whenever possible, but keep in mind that direct tiedowns require the use of more tiedowns than when using indirect.
Use chocks, cradles, wedges, or other means placed against the wheels to prevent rolling of wheeled vehicles. These devices need their own securement.
Click here for more tips on securing and hauling heavy equipment.
Download the entire "How to Do Everything Better Guide" PDF
More Machine Operation tips from "How to Do Everything Better"