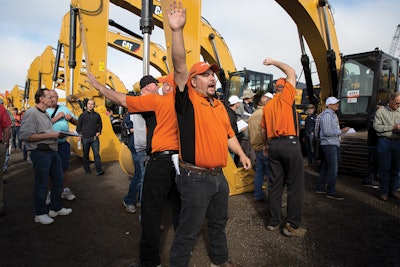 If you want to get a good deal buying heavy equipment at auction, doing your homework – hours of homework – is essential. Things happen fast at these auctions and you can miss out on great opportunities or overplay your hand if you're not ready. Here are some tips:
Identify your needs. Make a list or spreadsheet of specific machines you want to add to your fleet. If they're essential machines, you'll want low-hour, good-condition machines. For a backup or lightly used machine, you might find value in an older, less expensive model.

Determine a good price range for these machines. You can use pricing guides like Randall-Reilly's TopBid product and some auction companies keep their own databases you can research.

(Note: Equipment World is produced by Randall-Reilly.)

If possible, inspect the machine beforehand to determine its condition.

Get your ducks in a row. Register with the auction company. Have financing available or credit with the auction company. Have your insurance company phone number handy so your purchases will be covered immediately. Develop a plan for transportation so you can ship the machine to your place of business.
If you're at a live auction, keep your phone handy so if something unexpected shows up you can do some quick research.
Investigate online opportunities. Many of the major auction houses now have some sort of online bidding process. You can save a lot of time and see a lot more equipment this way, especially if the auctioneers offer alerts and other useful online services.
Whether attending a live or online auction, stick to your plan. Don't be drawn into a bidding war. There is more used equipment being sold at auction today than ever before, so additional opportunities will arise.
Download the entire "How to Do Everything Better Guide" PDF
More Maintenance/Management tips from "How to Do Everything Better"