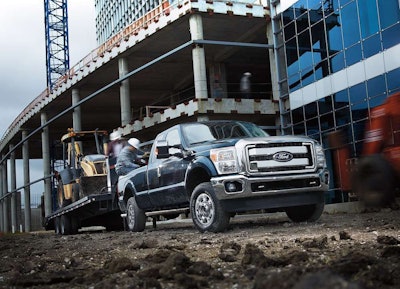 "Juries are looking for an easy solution. If you're overweight, that's an easy solution."
These scary words come from Ashley de la Cerda, partner in the Dallas law firm of Walters, Balido & Crane, addressing towing lawsuits at the recent ProPickup Truck Expo in Dallas.
Towing, particularly towing compact construction equipment behind a pickup, is a subject our ProPickup Editor Bruce Smith is passionate about. "Half-ton pickups have a 5,000-pound towing capacity, period," he says. "The weight of the towed equipment alone usually exceeds that limit."
For example, most 2- to 3-metric ton compact excavators are more than 5,000 pounds. Ditto for skid steers with more than 1,250-pounds-and-over standard operating load.
"In a court of law, towing beyond a vehicle's maximum trailered weight, as set by the manufacturer, is driver negligence," Smith says, stating he regularly sees contractors, landscapers and public entities exceeding the 5,000-pound half-ton weight limit without using a proper hitch.
Smith says you need to read the small print when it comes to all those compelling commercials showing pickups taking on heavy loads.
"They all say 'properly equipped,'" he says, as defined by the manufacturer's Owners Manual. To take on extra weight, you'll need to either replace the standard ball/shank with a special weight-distributing hitch-head assembly or, on 3/4-ton pickups and up, use a gooseneck/5th wheel hitch.
In addition, says Smith, you need to discover what the manufacturer requires to tow to the max, including the specific engine, transmission, bed, cab and axle ratio. There's a lot more involved than just hitching a trailer to a truck and taking off.
The implications of not paying attention to this can be devastating to a company, particularly if your legally overweight truck is involved in an accident. "There's no defense in saying you didn't know," said Attorney de la Cerda.
Her words got the attention of one attendee, a municipal equipment manager from Tennessee. "I'm getting with our city attorney on Monday to see how we can address this," he said. "I had no idea."