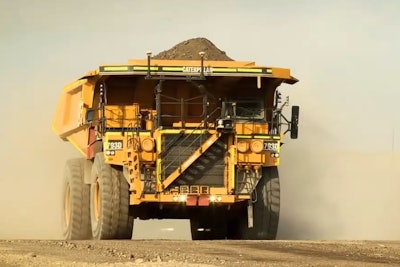 Chris Curfman, the chief mining executive at Caterpillar, will retire at the end of the year, ending a more than 20-year career at the company.
Caterpillar announced the move this week amid big changes for the company, including a massive $1.5 billion cost reduction plan and a restructuring of leadership within the Mining Sales and Support Division, which Curfman led as VP since 2004, and several other customer- and dealer-facing divisions.
"Chris leaves a lasting, customer-focused legacy at Caterpillar that is unrivaled and likely to be unmatched," said Ed Rapp, Caterpillar group president for Resource Industries in a statement. "Chris built incredibly close customer relationships and has been critical to our success in the mining industry. Under Chris' leadership we have established a global leadership position."
Curfman worked as the rental and equipment manager for Caterpillar in North America starting in 1994 and later became the managing director of Caterpillar in Australia and in the company's Asian division.
"While Chris is primarily known for his role in leading our mining business, he also laid the foundation for our entry into rental services and integrated our sales and marketing organization during his time in Asia. With his retirement from Caterpillar, it will mark the end of a remarkable run of more than 60 years of values-based Curfman leadership at the company, as Chris' father was a long-time and well respected leader with Caterpillar until his retirement in 1990 after more than 40 years with the company," Rapp added.
Despite the well wishes, Curfman's departure will come at the end of Caterpillar's third consecutive down year for sales and revenues—largely due to a lack of demand for mining equipment.
Expecting another down year in 2016—the first four-year dip in the company's history—with sales projected to drop 5 percent to $45.6 billion, Cat announced efforts to "simplify" the mining business and become "more nimble, lean and responsive"
With Curfman's retirement, his division will be integrated into the existing Global Mining machine business divisions. "Bringing product, operations, sales and marketing organizations together in both the surface and underground mining applications aligns well with our customers and will also enable a more effective cost structure in a challenging mining environment," the company said in a statement.
Here's how the mining division changes will shake out, according to the Cat announcement:
The surface mining sales and support teams will join the Hauling & Extraction Division, which will be renamed the Surface Mining & Technology Division, led by Caterpillar Vice President Tom Bluth.
The underground mining sales and support teams will join the Material Handling and Underground Division, led by Caterpillar Vice President Denise Johnson.
Apart from the leadership changes, the company will also get leaner on the manufacturing side. On Thursday the company announced that it would cut up to 10,000 jobs by 2018. The plan, which also includes consolidations or closures that could impact up to 20 manufacturing facilities, is expected to save the company $1.5 billion.
The company also announced leadership restructuring in the following divisions:
Distribution Services Divisions – the primary interface with our dealers, these divisions will remain but be reduced to two from three. The two groups will maintain sole responsibility for dealer development and performance, succession and continuity, along with portfolio management, operational excellence and Across the Table strategy execution.

Asia Pacific, CIS, Africa & Middle East Distribution Division, Vice President Raymond Chan – covers dealers in Asia-Pacific, CIS, Africa and the Middle East.
Americas & Europe Distribution Division, Vice President Phil Kelliher – covers dealers in North and South America and Europe.

Global Aftermarket Solutions Division, Vice President Nigel Lewis – new organization created to accelerate the growth of aftermarket sales and service solutions. This organization combines the aftermarket sales and marketing resources, with a focus on improving and growing aftermarket sales and service for Resource Industries, Construction Industries and Energy & Transportation, including Cat Work Tools and Cat Reman products.
Wear Components & Aftermarket Distribution Division, Vice President Doug Hoerr – new division that merges the design and manufacturing of components and aftermarket distribution into one division to enhance the company's focus on components availability and inventory improvements. This organization will be closely aligned with the Global Aftermarket Solutions Division to ensure product offerings meet or exceed customer and dealer expectations.
Marketing and Digital Division, Vice President George Taylor – newly created division that builds on the current Analytics & Innovation Division. Taylor, who has also been named Caterpillar's Chief Marketing Officer, and his team will establish a go-to-market strategy for the integration of data analytics, providing state-of the-art solutions and support for customers and dealers. In addition to the digital transformation of the dealer and customer experience, the division's functions include global brand management, marketing, rental services and retail sales development.
Sustainable, Work Tools & Industry Solutions Division, Vice President Greg Folley – new division that brings together the sustainable businesses of Cat Reman and Caterpillar Safety Services with the company's machine attachment business – Cat Work Tools (design and manufacture). The new division also includes two external sales groups, Cat OEM Solutions and Defense and Federal Products.