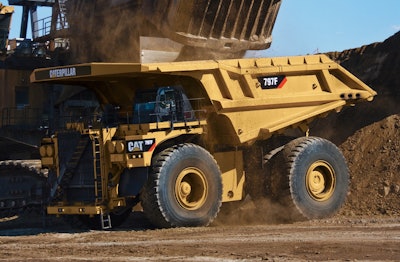 Topmost in the mining industry's mind are these two questions: "Have we hit the bottom of the mining cycle? Is it possible there will be a slight upturn in 2017?"
"While there are some definitely optimistic signs that we are at the bottom, we're still not seeing it in sales." says Denise Johnson, Caterpillar group president for resource industries, and this year's MINExpo chair.
While mining companies are indicating their capital expenditures will increase this year, it's still uncertain whether that will mean additional sales for Cat, Johnson says. It could just mean that these companies are focusing on production and extending their maintenance cycles. In addition, there is still a lot of parked fleet that these companies could put back into service.
While acknowledging recent Cat restructuring moves, including exiting track drills and the room-and-pillar underground mining business, Johnson also says Cat has been more intentional and focused in its mining efforts, including a renewed concentration on aftermarket sales and support.
"We believe in mining, and we have a long-term outlook," Johnson says. "It's an industry we want to serve for the long run, and we need to adapt with our customers." As part of this effot, Johnson announced that Cat is putting site performance managers at mine sites to partner with dealers and customers.
"With the site performance managers, we're looking at ways to help our mining customers mitigate challenges in this business, and how they can sweat their assets further," says Tom Bluth, Cat surface mining and technology. Cat has changed the metrics under which this new category of employee will be measured. Instead of parts sales, for instance, one metric might be an increase in the physical availability of a customer's fleet.
Bluth described a scenario where site managers could work like "groups of SWAT teams we can parachute in for six to eight weeks for various projects." By blending technology advancements, domain expertise, and site-specific expertise when needed, Cat hopes to create an additional value stream for its customers. The push-pull dynamic created by operators who are pressured on the cost side, coupled with lower technology costs make Cat's timing logical. "It's not technology for technology's sake," Bluth explains, "but what it can do for a customer's bottom line."
"We expect these site performance managers to be coveted positions," says Johnson. "They'll be truly able to understand the customer, and it's a way for Cat to propagate talent."
"We're pivoting to doing as much as possible the increase the operating performance of existing mining fleets, including fuel efficiency upgrades," Bluth says. "The pressure on costs opens the door for us to partner with our dealers and offer best practices throughout our customer base."
Johnson says Cat intends to be successful in the age of digital. "The largest percentage of our R&D is in technology, and it's important that we're placing bets in the right direction, and on what our customers want."
Still, the current challenges are many in mining. "This is the biggest decline we've seen in the history of mining; it's 50 to 60 percent down." says Doug Hoerr, Cat vice president, material handling and underground.