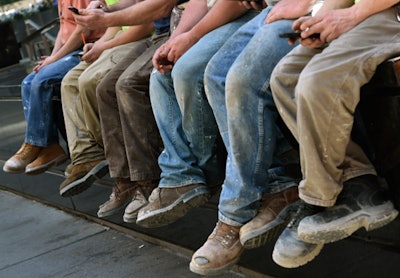 Though the construction industry's rebound is in full effect with spending at a nearly 7-year high and jobs at a six-year high, contractors across the country are still struggling to find enough skilled workers.
The latest survey on the U.S. industry's shortage from the Associated General Contractors of America found that 83 percent of construction firms can't find enough skilled workers with 30 percent having turned down work as a result. Some real estate experts have found the shortage is significantly driving up construction costs.
With demand continuing to climb, and much of the current workforce aging out, the industry is desperately working to find a way to draw young Americans in.
In Alabama, the state legislature has passed the Construction Industry Craft Training Act, which will fund construction education statewide through a new building permit fee.
According to an editorial written by Bill Caton and published by AL.com, 48 percent of Alabama contractors plan to hire at least five employees this year, with 41 percent saying they've had difficulty filling both professional and craft positions.
"So, where does one acquire the skills necessary to make the idea a reality in construction?" Caton asks. "…The industry broke with the unions 35 years ago after bitter disputes (largely over jobsite management, not wages), but never replaced the mechanism to properly recruit and educate the skilled workers all of us need if we intend to build—or work in or drive on—a building or a road. Until this year the education was mostly in the field with catch-as-catch-can classroom training."
The new law will add $1 per $1,000 of project value onto the cost of building permits in the state. It's expected to raise between $3 million and $5 million each year, money that will be dispersed in the form of grants to qualified craft education programs such as community colleges, private schools and unions Caton said.
Funding will be decided by a seven-member board of contractors and business owners.
"The Alabama AGC also has overseen the installation of the National Center for Construction Education and Research curriculum into the high school construction trade programs as well as many community colleges," Caton explains. "With a nationally recognized curriculum unifying construction skills programs, the industry is in a position to pay for employees to acquire measurable skills that benefit them and the contractors for whom they work."
Alabama isn't the only state hard at work on the issue. A few AGC state chapters have implemented websites like BuildOurNebraska.com to educate parents and kids on the benefits of the industry, and Tennessee has launched the Go Build Tennessee program to create and fund outreach strategies.
Meanwhile, state and local governments have focused efforts on establishing high school curriculums on construction skills and also reaching out to increase the number of women and minorities involved in the industry.