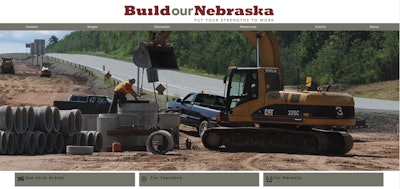 With more workers aging out of the industry than it is currently bringing in, construction professionals in Nebraska are seeing the same impacts from a shortage of skilled workers as most other states in the U.S.
According to a report from the Lincoln Journal Star, a coalition of groups, including the Associated General Contractors of Nebraska, have formed the Nebraska Construction Industry Council to address the shortfalls they're seeing and have launched a new website to lead the charge.
Like websites representing the Ohio and Colorado workforces before it, BuildOurNebraska.com allows firms to post job openings that can be applied for on the site and also reaches out to those considering a job in the industry with no experience. The site also addresses parents, asking them to remind their children of the industry when it comes time to choose a career and gives them several reasons to support any interest a child might have in it.
Industry leaders in the state hope the website and the overall initiative can help repair construction's "image problem" in the state. Wes Ostrich, the president of Lincoln-based Cheever Construction, summed up the disconnect and the opportunity the industry offers best.
"It's not appreciated or valued work," he told the paper. "If you come home with dirty jeans and muddy boots, you could aspire to better. It's such a vital part of the economy. I think people remove themselves and see only that component, the backbreaking component…We're the craftsmen who build the places everybody enjoys. The biggest battle is convincing parents. There is actually business opportunity there, if they want to learn a trade. In our local Lincoln area we have gobs of subcontractors that are one- to five-man jobs. You learn and in a few years you could be a business owner."