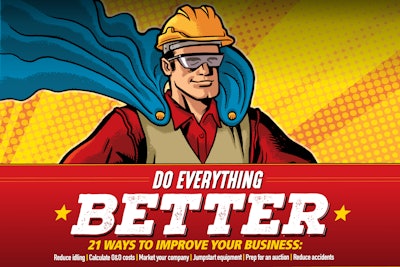 Whether you're a construction novice or veteran, you're always looking for ways to do things better.
Toward that end, the Equipment World staff has compiled this broad range of tips, instructions and advice from experts on technical, business, safety and other topics to help you grow your business or become more proficient in your current position.
From what to know before an equipment auction to how to adjust track tension – and even clues you might have a strange intruder on your jobsite—we hope this guide helps you boost performance on the job. To add some sizzle to the steak, we've also thrown in some fun stuff. Enjoy!
---
You can browse the entire collection of 21 tips via the table of contents below. Or, for offline reading, you can download a free PDF of this handy guide with a click of this big orange button:
Download the entire "How to Do Everything Better Guide" PDF