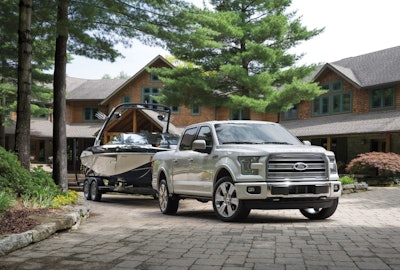 When Ford unveiled the 2015 F-150 early last year with a new all-aluminum body, the automaker was well aware of the coming beer can jokes and overall stigma surrounding the metal's strength. It assured everyone that the alloys used in the truck were high-strength and aerospace-grade.
With fears over the metal's durability having largely subsided in favor of the towing, hauling and acceleration boosts provided by the lighter body, (along with some rave reviews and even votes of confidence in the metal from the construction industry), Ford isn't standing still, opting instead to introduce the use of an aluminum alloy that is stronger and easier to mold in the very next model year F-150.
As part of a collaboration with aluminum manufacturer Alcoa, the automaker has announced that the 2016 F-150 will include multiple components made with Alcoa's Micromill technology. The F-150 will be the first vehicle to implement the new alloy.
What's interesting about this new Micromill alloy is that it increases metal's malleability by 40 percent while also increasing strength. Ford says the new alloy makes aluminum "easier to shape into intricate forms, such as the inside panels of automobile doors and external fenders." Plus, Ford will now be able to manufacture aluminum parts that used to require multiple pieces as a single piece.
Ford adds that Micromill aluminum will allow the automaker to light-weight the F-150 even further through the use of thinner aluminum sheet without compromising dent resistance.
The new alloy is the latest of several features and upgrades in the 2016 F-150 that Ford has announced over the last few months. Others include the new Pro Trailer Back Assist, a CNG/propane option and the unveiling of the tech-filled 2016 F-150 Limited luxury truck.
In the near future, Ford plans to use the new alloy in the manufacturing of "critical strength structural parts as well as exterior panels that must meet strict surface quality requirements."
"Alcoa's breakthrough Micromill technology offers highly differentiated automotive material with strength, weight, formability and surface quality combinations previously impossible," Klaus Kleinfeld, Alcoa chairman and CEO, said in a statement. Alcoa says Micromill is the fastest aluminum casting and rolling system in the world, noting that while a traditional rolling mill takes about 20 days to turn molten metal into coil, Micromill does it in just 20 minutes.
Ford and Alcoa say their collaboration will continue in the development of more Micromill alloys that Ford plans on implementing in more of its vehicles. Ford says future alloys "will improve design flexibility on lightweight parts and provide better vehicle performance."