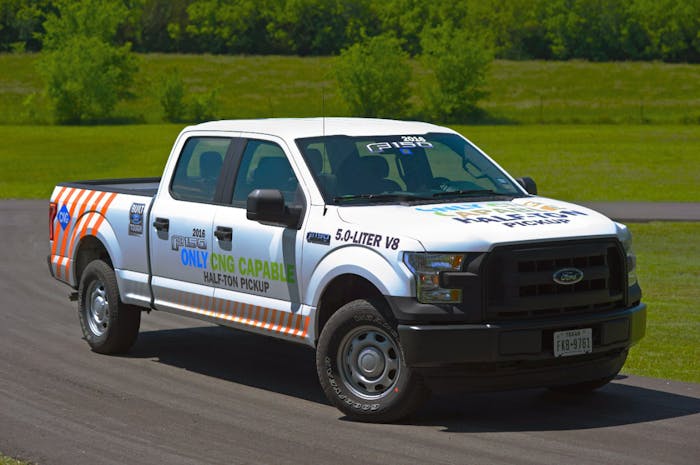 Ford unveiled its gaseous-fuel prep package that enables 5.0-liter V8-powered F-150 models to run on compressed natural gas or propane at the ACT Expo in Dallas, Texas, on Monday.
The engine upfit option will be available on the 2016 F-150, and makes Ford the only manufacturer of a CNG/propane-capable half-ton V8 pickup. The initial cost for the factory engine prep is $315.
Ford's factory-installed, gaseous-fuel prep V8 package includes upgraded intake and exhaust valves and valve seats to ensure the engine can handle the fuels.
"We surveyed customers likely to use natural gas or propane, and 72 percent told us they want to have these alternative-fuel capabilities available on F-150 with the 5.0-liter V8 engine," says Jon Coleman, Ford fleet sustainability and technology manager.
This isn't the automaker's first run at a CNG half-ton. In 2013, Ford began offering a CNG package on the 3.7L V6 2014 F-150.
Coleman said the company expects the 2016 model to be more popular due to the V8 engine, aluminum body and growing demand for CNG/propane vehicles. Since 2010, the automaker has seen its sales of CNG/propane packages quadruple to 16,821 in 2014.
Ford did not give specific fuel economy numbers on the 2016 model. The 2014 model had a range of 750 miles per gallon after the CNG and gasoline were used up. For the new model, Ford only notes that CNG is currently selling at an average of $2.11 per gallon of gasoline equivalent (GGE) as of April 30. In some parts of the country the price is as low as $1 per GGE.
Ford says 2016 F-150s running on CNG or propane will be able to tow the same amount as gasoline-fueled models. Payload capability is the same as well—minus the weight of the installed CNG or propane system.
The CNG/propane conversion itself, handled by select Ford Qualified Vehicle Modifiers on a ship-through basis, includes the installation of supply fuel tanks, fuel lines and unique fuel injectors. Such upfits run approximately $7,500 to $9,500 depending on fuel tank capacity, after the initial $315 engine prep cost.