Caterpillar has updated its pipelayer lineup with three new machines that boast increased lift capacity, better visibility, better performance on slopes and cab updates.
The new PL72 is powered by a Cat C9.3 ACERT engine rated at 257 horsepower. A Cat C15 ACERT powers the remaining machines, the PL83 and PL87, and is rated at 363 horsepower. Both engines meet Tier 4 Final emissions regulations and are paired with Cat's torque divider and 3F/3R power-shift transmission.
Rated lift capacity at tipping point on the PL72 is 90,000 pounds while the PL83 is rated at 170,000 pounds and the PL87 at 216,000 pounds.
Cat says the machines feature added stability over previous models thanks to a non-suspended, elevated-sprocket undercarriage.
The machines' feature compact-profile winch assemblies with oil-disc brakes which provide smoother operation and positive retention of the boom and hook positions. The contoured counterweight segments extend hydraulically and a new kick-out switch on the PL83 and PL87 ensure they are retracted to the correct position.
Increasing visibility are the boom's narrow design and a short-profile block set which extends the boom's working range. The new PL83 and PL87 now use two booms in common: 24-foot and 28-foot configurations. The PL72 also features two booms, a 20-footer and a 24-footer.
Easier, more comfortable operation
Operators will be happy to find a new ROPS structure and an available enclosed, quieter, pressurized cab on the new machines.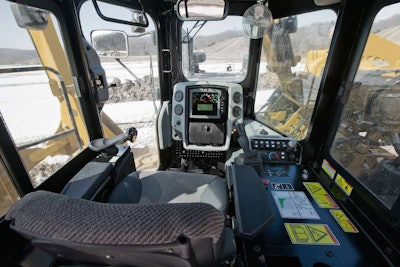 Lifting controls on the machines have been consolidated to a single joystick. Combined with a single-lever steering tiller, all controls including hook and boom, counterweight position, throttle, transmission and steering are now at the operator's fingertips.
A planetary differential turns the machine by speeding one track and slowing the other to maintain full power to both tracks for added maneuverability in congested areas and for enhanced slope capability.
Cat says the cab has been designed specifically for pipeline applications and allows for truck transport with the ROPS in place. The enclosed cab is fully sealed, provides filtered air and features more glass surfaces for better visibility, including a skylight with sliding shade for a better view of the boom and block.
The new models feature a wide-angle rearview camera and a dash-mounted LCD screen which provides machine performance and maintenance diagnostics in addition to access to multiple switch-controlled functions.
The pipelayers are also factory equipped to accept a load-monitor indicator (LMI), with new hydraulic circuitry, integrated mounting hardware, and ready-mount power supply to facilitate installation. The LMI-ready system enables installation without opening the hydraulic system, thus preventing contamination.