Herc Holdings, parent of HercRentals, reports an 8.7-increase in third quarter equipment rental revenues and a 12.8-percent growth in total revenues compared to the same period last year.
Equipment rental revenue rose from $413.1 million in 3Q 2017 to $449 million in 3Q 2018; total revenues were $516.2 million, up from $457.6 during 3Q last year. The company's adjusted EBITDA increased 14 percent to $201.5 million compared to the same 2017 period.
"We achieved strong rental revenue and adjusted EBITDA growth in the third quarter with adjusted EBITDA margin of 39 percent marking the highest quarterly level we have recorded since becoming an independent company," says Larry Silber, president and CEO, noting that strong market demand lead to a 3.2 percent price increase in the quarter.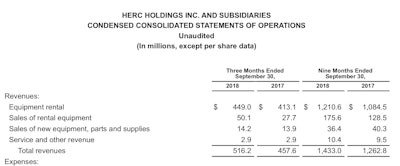 Herc Holdings says the results reflected a strong growth in rental revenues from local accounts, ProSolutions and ProContractor categories over the prior year. The company also benefited from a strong used equipment market as it focuses on improving equipment mix and reducing fleet age.
Year to date
Looking at all three quarters, Herc Holdings says equipment rental revenues increased by 11.6 percent compared to the previous year. Total revenues increased 13.5 percent. The $170.2 million year-over-year increase was aided by rental equipment sales totaling $47.1 million.
Pricing also increased 3 percent during the first nine months compared with the same period last year.
Herc Holdings says it spent $428.4 million in fleet capital expenditures. Gross fleet capital expenditures were $617.5 million, offset by $189.1 million in equipment disposals. The average fleet age declined to 46 months during the first nine months, compared to 49 months for the same period last year.
Looking forward
"The continued robust market demand along with our improved operating efficiencies support the increase in our fiscal year 2018 adjusted EBITDA guidance range well above our previous guidance," Silber says. The company's previous guidance placed adjusted EBITDA at $630 to $660 million; it has now been raised to $675 to $685 million.
In addition, the company narrowed the guidance range of its net fleet capital expenditures, going from a cap of $575 million down to $540 million.