by Marcia Doyle and Joy Powell
---
A sustained, strong construction market is pushing contractors and dealers to improvise as new equipment demand drives up prices for both new and used machines, ups rental rates and tightens supply for certain pieces.
"We're seeing the effect in backhoes mainly," says Doug Thurman, equipment manager with Castle Contracting in Webster Groves, Missouri. "It's not unusual to wait a bit for an order, but when you're looking in May for a backhoe and it has a December order fill, that's a good stretch." The civil contractor, which performs a variety of work, including excavation, direction boring and power infrastructure, primarily buys Cat and Takeuchi.

"We've decided to hang on to our machines this year because Cat is way out on backhoes," Thurman says. "It was on our radar to buy a couple this year, but because of the lead time, we decided to put it off until next year."
Nick Wylie, executive vice president of heavy contractor J Petticord in Des Moines, Iowa, says he's been affected by the demand for trucks. "I think if you ordered a spec'd truck now, you're looking at getting it in April or May next year."
Because of the wait, J Petticord ended up buying a truck that "wasn't perfect for us, but it was what they had on the lot and we needed it," Wylie says. "And there's hardly anything decent in used trucks out there, especially in heavy haul."
Waits have also increased for parts orders, says Wylie: "I don't believe equipment dealers are stocking as many parts as they did 10 years ago. So we're waiting longer to get simple things like oil filters."
Thurman has also seen the demand on the rental side, saying he's been forced to go to multiple sources and search longer distances. "We may have to go to Kansas City to fill a need in St. Louis," Thurman says.
Struggling with availability
J. T. Thomas, eastern Virginia vice president of sales at Komatsu dealer Rish Equipment, expects 2018 new equipment sales to increase 10 to 15 percent over last year.
"Equipment availability has been an issue all this year, and it's still an issue," he says. "The strong energy sector has been the reason why we've struggled with availability. Production-class machines have been hard to get your hands on. You're probably staring at every bit of 45 days now for an 80,000-pound excavator." And if one dealer in an OEM network has a major multiple-machine order, it backs up availability for all the other dealers for that OEM.
Customers are not always willing to wait for their first-choice machine to arrive at the dealership. "When a contractor signs an order, they tend to have wanted it three days ago," Thomas says. "If they've got 75,000 yards of dirt to move on a new contract, they're going to get what they need. Sometimes they'll go to a rental machine, but a lot of times, it means they're going to take a chance on another brand that they normally would not consider."
Heath Watton, vice president at Southeastern Equipment, a Case dealer in Dayton, Ohio, agrees that contractors can be less inclined to wait, especially when delivery dates for new machines can range from 45 to 189 days. His dealership is experiencing the same tight supplies for new equipment seen throughout the nation, as many construction companies are poised for their best year ever with no sign of a slowdown in 2019.
In the Midwest, for example, large contractors are telling dealers they're busier than they've ever been, including with work on roads, bridges and dams and in mining.
Federal tax cuts passed last year are also fanning the flames, says Brian Hoffman of Volvo dealer Highway Equipment and Supply in Lock Haven, Pennsylvania.
"Things are really getting tight right now and prices are going up astronomically for the new equipment," says Len Kirk, president and CEO of Hayden-Murphy Equipment, a Manitowoc dealer in Bloomington, Minnesota. The shortage is particularly acute for crawler cranes. Prices are climbing as much as 10 percent over last year, along with lead times, even as manufacturers try to cope with tariff-related costs.
"They've tried to hold off on price increases as long as they can," Kirk says.
All of this has another impact, notes Kirk: "It kicks up the price on the used equipment."
Used pricing surges
"Because new (equipment) has become so high now – which has driven up used equipment costs – used equipment prices are through the roof," Watton says.
Customers who need new equipment and can't get it are snapping up used equipment, Watton and other dealers say.
But, Thomas cautions, "if a contractor's looking for a new piece of equipment, he's looking for a new piece of equipment, so trying to sell him a used piece can be difficult."
New equipment demand in the oil patch has led to high demand for used push-pull Cat 627 scrapers and Cat D6T XW dozers, says Mike Coleman, director of sales and marketing at ProSource Machinery. Based in Billings, Montana, with a branch in Williston, North Dakota, ProSource primarily deals in used equipment. Coleman says another result of the demand is higher freight costs "because oil prices are going up, and so the surcharges are coming back in place."
"There are fewer quality used pieces out there, and that's driving the prices up," says Joe Porchetta, owner of GMP Contracting in South Brunswick, New Jersey. He recently visited an online auction searching for a specialty niche machine. "I bailed out," he says. "The price was just too high. They had it listed for $100,000, and the price ended up being around $300,000."
Used equipment demand is especially apparent on 40-ton artics, Thurman says. "I've been to three locations in the past week looking for artics that fit our need and budget, and their values are really ticking up," he said.
Best practices pay off
But not everyone has been left cooling their heels.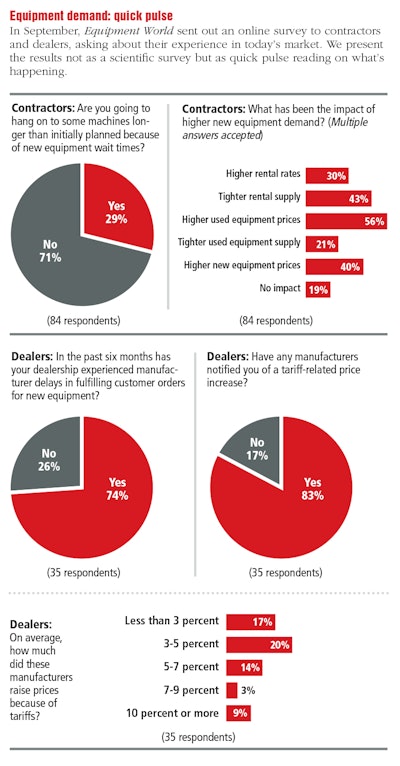 Porchetta credits his close relationship with his primary dealer, Foley Incorporated, with not having to wait for two excavators he bought this year. "I literally talk with my sales rep every week, and he let me know what he had coming down the pipeline. I also forecast about three months out that I was going to need equipment. So maybe that's why I didn't see the wait."
Thurman says two things have helped Castle Contracting stretch its fleet life: rebuilding some older machines – which resets the clock on the machine for about half the price of new – and maintenance.
"We added a full-time lube guy," Thurman explains. "That may not seem like a big thing, but he's responsible for all the oil samples, fluid checks, greasing and PM schedules, and by staying on top of it, we've been able to extend the life of some of our compact equipment, for example, from 4,000 to 6,000 hours."
Now what?
Komatsu typically raises prices once a year in January, so although Thomas expects price increases, he doesn't know yet what they will be. And because of strong demand, OEMs are less willing to participate in special pricing. "If we don't get the machine, three dealers are in line for it," he says.
Thomas sees the demand easing "a bit" in second quarter 2019 because of manufacturers increasing production and some large jobs that have taken so much equipment capacity being completed.
Watton notes that the hot-ticket machine remains the excavator. "Excavators – that's where guys are making their money," Watton says.
In fact, Porchetta says he's considering adding more excavators. "I'm holding off just to see where the year-end market is at. If I can get my backlog up, then I will probably wind up taking a couple more."