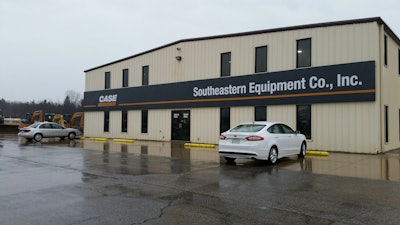 Southeastern Equipment reports it has joined the National IPA governmental purchasing cooperative, which allows discounts for government, nonprofit or educational entities covering Indiana, Kentucky, Michigan and Ohio.
Through the National IPA, "contracts are solicited, evaluated and awarded by a government entity that acts as the lead agency. Contracts utilize industry best practices, processes and procedures, ensuring maximum value and absolute security with complete transparency in the process."
The company specifically reports this will impact purchases by those agencies of the following equipment: Vacall sewer trucks and excavators, USB sewer truck nozzles and Pearpoint pipeline inspection equipment.
Concrete mixer manufacturer Cemen Tech has added G.W. Van Keppel Company to its dealer network, with a territory covering Kansas, Missouri, Oklahoma and Arkansas.
"We feel that our partnership with Cemen Tech will allow us to provide our customers with the solutions they need to grow margins in an increasingly competitive marketplace," says Taylor Killion, regional sales manager CE Group at G.W. Van Keppel.
Founded in 1926, Van Keppel carries equipment from Volvo, John Deere, Caterpillar, Cascade, Hyundai, Kawasaki, Komatsu, Toyota, Yale, Sany, New Holland and Terex Trucks. It has more than 200 employees in locations across seven states.
Morbark has added Correlli Incorporated as a dealer carrying its tree care products with responsibility for central Maryland and the District of Columbia.
"We're proud to join the Morbark family," says Patrick Correlli, president of Correlli. "To us, our family, employees, and customers are one in the same. We want to serve them by offering our resources to help them become successful. Morbark shares this commitment to its customers' success."
Correlli Incorporated began in 1999 as an independent repair shop. It supports repairs on "all makes and models of construction equipment" as well as serves as a dealer for ASV, Perkins, Terex, Genie, FRD, VEI, Airman and Kent.
Compact Power Equipment Rental, which has primarily operated equipment rental through Home Depot stores, has opened its first standalone rental center in Jacksonville, Florida.
"Our business grew by leaps and bounds in 2016," says COO Richard Porter. "It was a year during which we leveraged GPS technology to better manage our fleet, reached more customers in more markets and improved the equipment available to rent. With this location in Jacksonville we're taking another step to improve the rental experience and offer our customers the most convenient way to tackle their jobs."
The company plans to open two additional standalone centers this year, including one in Dallas, Texas, and another in Fort Mill, South Carolina.
When Jack Bailey was a boy, his father took him to a piece of property he had bought and sold, tripling his money in only 90 days. "He said, 'Son get out of construction. Development is where the money is at,'" as Bailey recalls.
The boy listened, but the man has been unable to pull himself away.
Put on a bulldozer for the first time when he was 9 years old and mentored by a father and grandfather who provided for their families the same way, Bailey says he just has too much dirt in his blood.
"When I tell people 'I've been around this business all my life, there's the proof," Bailey says, pointing to a black and white photograph taken in March of 1959 where a 3-year-old Jack Bailey, his father and grandfather are all present.