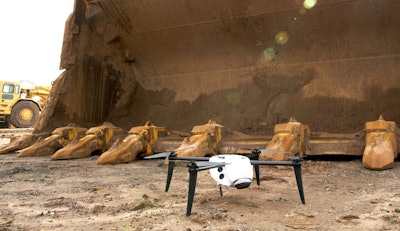 Against the backdrop of ConExpo 2017, a show which highlighted drone technology with a drone aviary in its Tech Experience area, John Deere and Kespry announced an exclusive global strategic alliance through which Deere Construction & Forestry dealers will provide the Kespry Aerial Intelligence System to their customers on jobsites around the world, beginning in North America.
"This technology will help our dealers offer a seamless workflow to site development and road building contractors from project planning through grading dirt," says Andrew Kahler, product marketing manager for John Deere's WorkSight platform. "The data gathered from the Kespry system will help our customers and equipment operators make decisions that reduce costs and improve productivity as they optimize the job site and spend less time on jobs."
Kespry chairman and CEO George Mathew tells Equipment World that the partnership is a multi-year deal initiated by Deere that will immediately place his company's hardware in more than 400 distribution locations. Mathew says Deere was attracted to the Kespry platform's ease of use. Kespry integrates drone hardware and cloud-based image rendering software in order to provide a drone that not only flies itself, but delivers ready-to-use imagery with almost no operator intervention required.
"A lot of the heavy equipment providers have expressed interest in partnering with drone makers, including ourselves," Mathew says. "Deere expressed interest starting about a year ago. They were looking at the variety of solutions in the market and Kespry's focus on delivering an autonomous drone was a more natural fit than the other options out there."
Mathew says the deal with Deere brings about "a major change" for the company "in terms of our ability to scale." Until now the company has used a direct sales model, which leases customers the drone hardware and access to all the associated software for around $30,000 per year.
The transforming jobsite
With the addition of Kespry drones at its dealerships, Deere becomes the second major heavy equipment manufacturer to strike a deal with a drone company. In February Caterpillar announced an investment in Airware, a company that offers end-to-end commercial drone solutions. Cat intends to offer Airware services at its dealerships as well. That deal differs in a big way from Deere's however: Airware is primarily a software company while the Kespry platform provides customers with both a drone and easy-to-use software.
"The (Kespry) drone is designed so that a customer can take it out the box and be flying it in 5 minutes," says David Shearer vice president of marketing for Kespry, noting that the only prior skill required is knowledge of how to use an iPad. Dealer training will focus on educating dealers on topics such as FAA regulations, highlighting the interface, demonstrating drone calibration.
Shearer describes the agreement as a 'transformational moment' for the construction and aggregates industries, noting that his company's partnership with a major mainstream manufacturer underscores how the industry is beginning to retool for the age of change.
"Operators are spending less time having to do the repetitive, often very dangerous, and very physical tasks at the work site and being able to focus more on the data and the outputs, and, therefore, where the value proposition is for the business in terms of better equipment insights, better inventory, better quality, and better use of data," Shearer explains.
"This is all converging to a much more digitized jobsite than we've ever seen and Kespry is thrilled about that," added Mathew.
As part of the alliance agreement, Kespry will conduct certification with all the John Deere dealerships so that each has certified and knowledgeable staff onsite.
"The expectation of the agreement is that it's going to be transformative—not just for the industry – but also for Kespry," Shearer says.
Kespry has been growing at 300 percent year over year since it began in 2013. "We've been working with four or five of the top aggregate companies in North America, and we have had momentum behind the business," Shearer says, adding that this deal is offer growth that matches last year's volume in a single stroke.
Earlier this year, the company upgraded its Drone 2 with a 2s version that integrated a Global Navigation Satellite System base receiver that serves as a single survey control point. With the addition of the ground receiver the system can achieve accuracy of just over 3/4 of an inch to 4 inches. Imagery from the drone is collected and uploaded to the cloud, where survey-grade data is generated. Post-processed kinematic technology increases the accuracy of the aerial images.
To date, the company has focused on creating a 'friction free' experience that allows operators to quickly pick up the technology and put it to use without having to become an expert in drone technology rather than their own job.
Moving forward, Shearer says that the next era of drone technology innovation will focus on data analysis and downstream functions. "We operate on the premise that while the drone is very important to the solution, it's a data capture device," he says. "The information is where the real value is." Looking forward, a focus on downstream functions – as well as machine learning and artificial intelligence – represents the next era of innovation.
"What's particularly exciting is that it affords the construction, mining, and aggregates industries with the ability to become more efficient and more effective," Shearer says, "and for the workers who are out in the field to very easily be able to start retooling and reselling for the digital age that we are now living in."
---
Editor's Note: Online Editor Wayne Grayson contributed to this report.