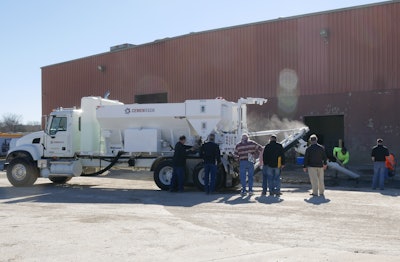 Concrete mixer manufacturer Cemen Tech has added G.W. Van Keppel Company to its dealer network, with a territory covering Kansas, Missouri, Oklahoma and Arkansas.
"We feel that our partnership with Cemen Tech will allow us to provide our customers with the solutions they need to grow margins in an increasingly competitive marketplace," says Taylor Killion, regional sales manager CE Group at G.W. Van Keppel.
Founded in 1926, Van Keppel carries equipment from Volvo, John Deere, Caterpillar, Cascade, Hyundai, Kawasaki, Komatsu, Toyota, Yale, Sany, New Holland and Terex Trucks. It has more than 200 employees in locations across seven states.
"The addition of Van Keppel is an exciting next step to the expansion of our global dealer network," says Mark Rinehart, Director of Sales and Marketing for Cemen Tech. "Partnering with Van Keppel will allow us to greatly expand the number of businesses who can benefit from using volumetric mixers."