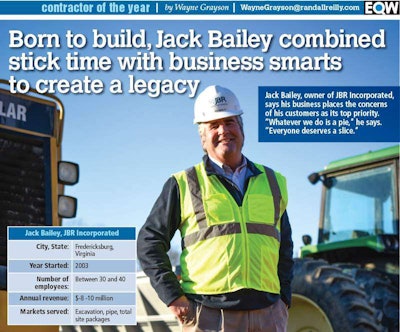 When Jack Bailey was a boy, his father took him to a piece of property he had bought and sold, tripling his money in only 90 days. "He said, 'Son get out of construction. Development is where the money is at,'" as Bailey recalls.
The boy listened, but the man has been unable to pull himself away.
Put on a bulldozer for the first time when he was 9 years old and mentored by a father and grandfather who provided for their families the same way, Bailey says he just has too much dirt in his blood.
"When I tell people 'I've been around this business all my life, there's the proof," Bailey says, pointing to a black and white photograph taken in March of 1959 where a 3-year-old Jack Bailey, his father and grandfather are all present.
After dropping out of college due to what he calls "impatience," Jack started a small grading company with a partner who eventually bought him out. He then went to work for a development firm in Virginia Beach where he was placed in charge of construction. In the early 1980s he bought that company's Fredericksburg-based division and built Bailey Hassell and Associates, a construction firm 120 employees strong.
However, "the stress almost killed me," Jack recalls. "I remember the first time we hit $3 million in sales and I looked at the margin and thought 'That's pretty sporty,'" he says. "Then I hit $10 million in sales and the margin was the same frickin' number."
In early 2001 he liquidated that business. "We had some clients go broke on us and we took a hit for almost $5 million," he says. "What I learned from that experience though was that when you get to a certain size, you stop building projects and start building files. I hated it. Years later, I had a conversation with the Lord one day in a Denver hotel room that if the opportunity ever comes up to get back into that business, I said I'm going to do it differently and I'm going to do more with less."
After working a couple of years traveling the country as a consultant for an international bank, he got a call from a client asking if he'd be interested in partnering, buying some equipment and starting a business. In 2003, JBR was formed.
"Anybody that's in this business – and some people work their entire life in a cubicle and never have anything to show for it – deep down inside that's what drives us," Bailey explains. "We leave something behind for the betterment of mankind. It sure as hell ain't the money and the risk. Many times, the risk is far greater than the reward."
Consulting gives JBR an edge
The company steadily grew, incorporating the consulting skills Jack polished up, and continued to make money through the recession. Today JBR employs between 40 and 50 employees and pulls in revenues between $8 million and $10 million.
"If you look at our logo it says 'construction/consulting.' What we do today is we rely on the hundreds of years of collective experience my lead team has. While certain jobs are always different, it's just dirt, pipe and roads. So everything I see today is a similar situation to what I saw somewhere else," Bailey says.
However, though the company does account for consulting revenue, that element of the business only brought in between $12,000 and $15,000 in 2015. But Bailey says that's because the company has become fairly adept at converting consulting calls into winning bids.
"If you pay for the construction, you get the consulting for free. Once we get a customer we never lose them," he says, explaining how much intangible value his consulting experience brings to the business.
"If someone needs help getting their plans pushed through, I'm awfully good at that. If someone needs to sit down with their engineer and bring some suggestions to the table as to how to cost benefit the owner, this gray hair is worth something there," he says, pointing to his head. "And Young Jack is now part of that because he's seen some things. And we've built a reputation for being fair and looking out for the customer."
"Young Jack" is Bailey's son. Though a passion for stock car racing led him on a path to driving in NASCAR's Craftsman Truck Series (now known as the Camping World Truck Series), in 2010 he returned to the family business and is now the vice president of JBR. Bailey says he plans to exit the business within the next 10 years and let Jack Jr. buy him out.
People first
Beyond the edge that consulting provides, Bailey says the thing that differentiates his company from others is that he puts the concerns of his customers first.
"I walked into a competitor's office one day and saw a picture of a boat and on the back of it, it said 'Change Order.' And that's the mindset of most contractors," Bailey says. "Our approach is that whatever we do is a pie. Everyone deserves a slice. Everyone deserves to make something for what they do, but let's not gouge the customer."
Bailey says another top priority is sharing the wealth with his employees.
"The guys here, if you tell them to suck it up, they know you're not BS'ing them," he says. "Because the flip side of that is in good years when we do make money I share it with them. I've lived in the same house for 32 years. I don't have a boat or an airplane. We had a great year last year and I shared it with our employees. We do more with less. I pay them well, give them the proper tools to work with and then don't want to hear about the labor pains, just show me the baby."