Despite slashing its sales outlook in tandem with an October announcement of a sweeping cost reduction plan, Caterpillar's full-year sales still fell below that most recent forecast after sales fell $3 billion year over year in the fourth quarter.
The company reported 4Q sales and revenues of $11 billion, down 23 percent from the same quarter in 2014. Cat lost $87 million during the quarter, down 111% from the $757 million in profit made in Q4 2014.
The company noted that restructuring costs amounted to $682 million for the quarter.
Full-year sales fell 15 percent to $47 billion—$1 billion below the $48 billion forecast in the company's October cost reduction announcement. Profit for the year fell 43 percent to $2.1 billion. The year is the company's third-straight of declining sales.
Cat chairman and CEO Doug Oberhelman attributed the missed forecast to "steeper than expected declines in oil prices, a stronger U.S. dollar, weaker construction equipment sales and lower than expected mining-related sales in Resource Industries."
"Cost management, restructuring actions and operational execution are helping the company while sales and revenues remain under pressure from weak commodity prices and slowing economic growth in developing countries," said Oberhelman. "We took tough but necessary restructuring actions in 2015—and they were significant. I am proud that our team stayed focused on our customers in this difficult environment."
Caterpillar began a cost reduction plan in 4Q designed to save the company $1.5 billion over the next few years. As part of the plan, workforce cuts could reach as high as 10,000 by 2018.
As of November, thousands of the company's white collar employees had accepted early retirement packages and upwards of another 1,000 have been laid off.
The consolidation or closure of up to 20 facilities is also part of the plan. In addition to the closure of a facility in Danville, Ky., Cat has announced that it will close its global mining headquarters in Oak Creek, Wisc., moving the 250 jobs there to a facility in South Milwaukee.
"Our balance sheet is strong; our product quality remained at high levels; we gained market position for machines for the fifth year in a row; inventory levels have declined and are well positioned as we look forward to 2016; and our safety levels are world class," Oberhelman continued in his statement. "We are benefiting now and expect to even more in the future when markets rebound."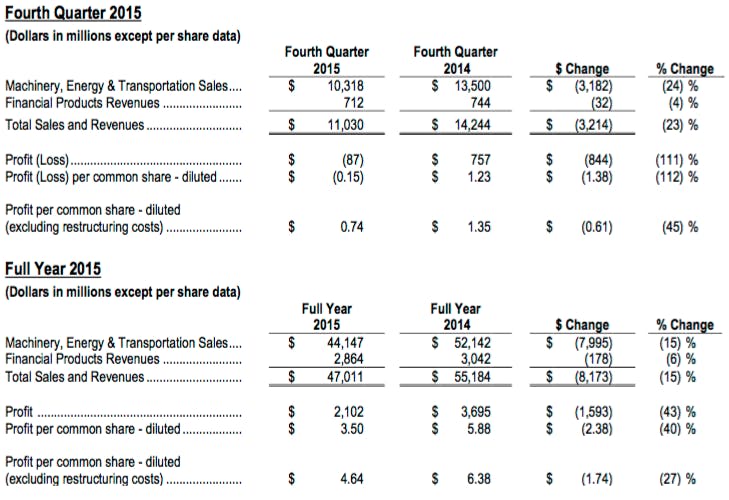 2016 Outlook
Looking forward to the rest of this year, as the company does not expect "improvement in world economic growth or commodity prices," Cat has also dropped its 2016 outlook from figures it offered in its October announcement.
The company now expects sales and revenues between $40 billion and $44 billion. The midpoint of that range would be $3.5 billion less than the preliminary outlook given in October and would be a year-over-year decline of 10 percent from 2015.
Cat expects construction sales to fall between 5 and 10 percent in 2016 due to weakness in developing countries and lower activity in oil-producing regions. Meanwhile, mining sales are expected to fall between 15 and 20 percent due to continued reductions in commodity prices and "difficult financial conditions for many mining customers around the world."
"Our outlook reflects struggling oil and other commodity markets, and continued economic weakness in developing countries. While the U.S. and European economies are showing signs of stability, the global economy remains under pressure. While we manage through these difficult economic times with substantial restructuring actions to lower costs, we are also preparing for the long term," said Oberhelman.
A major part of that preparation, Oberhelman says, is the company's investments. A big story for the company last year was its investment in and collaboration with analytics firm Uptake to bring predictive diagnostics to every Cat machine in the world. Uptake landed atop Forbes's "Hottest Startups of 2015" list.
Beyond the cost reduction plan and job cuts, technology has been the predominant trend for Cat in the last year.
The company announced a drone study; released improved remote control modules for skid-steers and compact loaders; brought semi-auto grade control to the 323F excavator; released the S40 and S50c smartphones; and showed us its virtual and augmented reality development.
And in addition to Uptake, Cat has invested in Yard Club, an online contractor-to-contractor equipment rental service; ESRG an marine analytics firm and, most recently, Powerhive, an energy company delivering affordable electricity to developing nations through a smart microgrid.
"These investments will be positive for Caterpillar and our customers through connected fleets and jobsites and access to data and predictive analytics," Oberhelman said. "Investing in the future is important to improving productivity and the bottom line—for Caterpillar and our customers over the long term.
"While it is tough to predict when an economic recovery will happen, the investments we are making and the actions we are taking to lower our cost structure and improve quality and our market position will help deliver better results when a recovery comes."