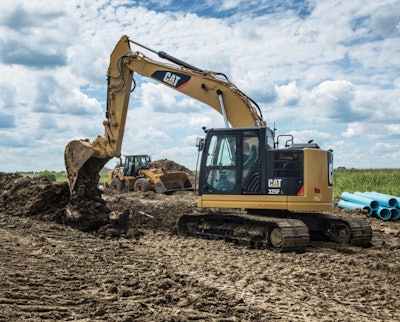 A lawsuit filed against three of the largest manufacturers of construction equipment alleging that they worked together to limit competition from Chinese manufacturers has been thrown out of federal court.
According to a report from the Wall Street Journal, U.S. District Judge Richard Andrews dismissed the lawsuit which was filed by International Construction Products (ICP) nearly one year ago in Wilmington, Delaware.
Based in Asheville, N.C., ICP works with Chinese equipment manufacturers as a marketing and sales partner, hoping to ease the minds of U.S. contractors and a long-held skepticism of Chinese-made equipment.
The suit alleged that Cat, Komatsu and Volvo conspired to exclude ICP from the U.S. market by dismantling its primary distribution channel: online sales.
Specifically, the suit alleged the three manufacturers threatened to boycott online equipment marketplace IronPlanet, a key partnership in ICP's plan to sell new equipment directly to customers at prices up to 40 percent below those of Cat, Komatsu and Volvo. The suit also alleged that the December 2014 merger of Cat Auction Services with IronPlanet was designed to make the exclusion of ICP from IronPlanet permanent.
However, in his ruling, Judge Andrews wrote ICP had not provided any "facts that directly show the existence of an agreement" between Cat, Komatsu and Volvo. Andrews added that ICP's suit also failed to prove its claim that it had no other place to sell equipment but in an online marketplace.
To ICP's claim that Cat owns 40 percent of the U.S. market for heavy equipment, Andrews wrote that "that didn't prove the company had monopoly power," the Journal reports.
In addition to alleging Cat Auction Services' merger with Iron Planet was designed to exclude ICP, the company claimed it was designed to eliminate "any possibility that IronPlanet would deal with ICP or any other new entrants in the future." ICP said the move would effectively close down the market to the current players and as a result "consumers will pay higher prices for heavy equipment."
The dismissed suit sought compensatory an punitive monetary damages as well as a court order to reverse the Cat/IronPlanet merger.