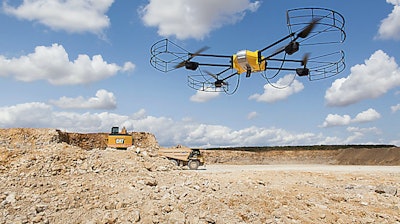 Caterpillar is continuing the emphasis it has placed on predictive machine analytics in the last year with a collaboration that will explore how drones can assist in the collection of that data and more jobsite insights.
The company recently announced a marketing agreement with French drone data analytics startup Redbird that will focus on how unmanned aircraft can both monitor machine diagnostics, project progress, material inventory management and more from the sky, and all in real time.
Caterpillar construction technology and solutions manager John Carpenter hinted at such a drone partnership during our sit-down with him in July. The company has said time and again over the last year or so, and drove the point home with an investment in and partnership with analytics firm Uptake, that it feels the collection and interpretation of construction data is key to its long-term success.
"Redbird's ability to both collect drone data and provide analysis of that data using cloud-based, proprietary algorithms offers significant benefits for customers," the company said in an announcement of the partnership.
The testing involved in the partnership won't be taking place on U.S. jobsites, however as the agreement only applies to Cat's Europe, Africa and Middle East region.
And as has been the case with Cat's autonomous machine efforts, this drone testing will initially focus mainly on mining. In Cat's announcement of the Redbird partnership, the company specifically mentions haul road optimization as an application it is interested in seeing the drone's capabilities in assisting with.
"Drones are entering a new phase, with data analytics as the heart of this evolution," said Emmanuel de Maistre, CEO and co-founder of Redbird. "Our solutions have been developed with leading construction companies and quarry operators for the past two years, helping them extract the real value out of drone data."
Caterpillar says it will take what it learns from the Redbird partnership and work with its dealer network to educate customers on the benefits of drones.
Cat isn't the only heavy equipment maker putting drones to work in tandem with its machines. Komatsu has actually created an entirely new business around the aircraft, using them to fully automate pre-foundation jobsites.