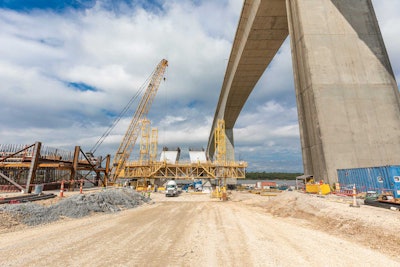 The U.S. House of Representatives passed a $1.5 trillion infrastructure bill July 1 that boosts funding for roads and bridges, schools, hospitals, water and sewer systems, broadband, rail, ports and other infrastructure.
Construction industry groups have mixed reactions to the Moving Forward Act (H.R. 2), which only three Republicans voted for and now heads to the GOP-majority Senate. President Trump has already said he'd veto it.
The groups hold out hope a bipartisan compromise can be reached, especially as the nation's main highway funding mechanism, the FAST Act, is set to expire September 30 and the Highway Trust Fund is nearing insolvency. There's also concern that states are being devastated by an estimated $50 billion in total revenue loss due to the pandemic.
The House bill would provide $494 billion for transportation projects and an immediate boost of $50 billion to states to help make up for lost revenue. (For a rundown on how the various transportation and infrastructure plans offered by the House, Senate and White House would affect road construction, click here.)
The House bill includes funding for the following infrastructure:
• Highways, $319 billion;
• Public transportation, $105 billion;
• Broadband, $100 billion;
• Low-income schools, $100 billion;
• Affordable housing, $100 billion;
• Alternative energy, $70 billion;
• Rail, $60 billion;
• Hospitals, $30 billion;
• U.S. Postal Service upgrades and improvements, $25 billion;
• Highway safety, $10 billion.
Bipartisanship urged
"The nation's economic recovery post-coronavirus would receive a huge long-term boost with the passage of a robust surface transportation investment bill," said Dave Bauer, CEO and president of the American Road & Transportation Builders Association.
Bauer praised the House's passage of the bill, called on the Senate to move quickly on a multi-year transportation reauthorization bill and urged a bipartisan agreement. "Short-term program extensions are not the solution and would only add insult to injury."
The Associated General Contractors acknowledged the bill's potential to boost much-needed infrastructure funding but argued that bipartisanship is needed for successful infrastructure legislation. The AGC also disapproved of measures it deemed to be geared toward special interests.
"Unfortunately, today's vote makes it clear that this measure does not have the same widespread support as its predecessors," AGC CEO Stephen Sandherr said. "One reason is that many of the measure's provisions do more to accommodate the wishes of special interests than solve infrastructure needs."
Union and wage controversy
The Associated Builders and Contractors says it supports an infrastructure plan, but not this bill, charging that it includes unfair union and prevailing-wage mandates.
"By requiring anti-competitive provisions, such as government-mandated project labor agreements and inflationary Davis-Bacon prevailing wage requirements, this bill will dissuade contractors from bidding on projects, drive up overall costs and exclude the overwhelming majority of America's construction industry professionals who choose not to join a union," ABC's statement says. "These measures would also have a devastating impact on small construction businesses that are seeking to recover from the ongoing health and economic crisis caused by COVID-19."
The North America's Building Trades Unions, however, supported those provisions and said the bill would create jobs and provide job training.
"We commend the commitment to local prevailing wage rates and those who demonstrated that infrastructure is not a partisan issue or political issue, but an American issue with broad support, and a policy we should advance to strengthen us globally," said NABTU President Sean McGarvey. "I also want to thank the bipartisan group of members who resoundingly defeated an amendment that would have stripped Davis-Bacon labor protections from millions of construction workers. In a time of economic uncertainty brought on by COVID-19, an effort to reduce the wages and benefits of those who literally build our nation is simply cruel."
The Associated Equipment Distributors was also concerned about the mandates in the H.R. 2 bill, and it had strong words for the Senate, where a bipartisan $287 billion transportation bill has been stuck at the committee level since July 30, 2019.
"While there's a great deal not to like both in substance about H.R. 2 and the excessively partisan process taken by House leadership, the House did its job and passed an infrastructure bill," said Brian McGuire, AED president and CEO. "The time is long overdue for the Senate to take similar action and approve legislation to provide long-term, robust infrastructure investments."
Widespread approach
The National Utility Contractors Association especially praised the House bill's inclusion of water, sewer and telecommunications infrastructure.
"NUCA and the American utility constructions industry applaud the U.S. House for passing a bill that authorizes billions in much-needed funding to construct or renew a wide range of infrastructure projects across the nation," said NUCA CEO Doug Carlson. "The $40 billion provided especially for the Clean Water State Revolving Fund will be used to repair or build wastewater systems, some of which are over a century old. This bill's funding levels could help reconstruct dilapidated community water and wastewater systems and expand a telecommunications infrastructure that is called on more each day to support our economic recovery."
The American Society of Civil Engineers also praised the bill's broad approach and for serving as a first step in the process.
"This comprehensive legislation takes a holistic approach to investing in and modernizing all infrastructure sectors from roads and bridges, to ports, rail networks, inland waterways and airports – all which drive our economy – in addition to the drinking water and wastewater systems that keep Americans safe and the schools and parks on which our children rely," said K.N. Gunalan, ASCE president. "H.R. 2 is a first step toward making investments in these sectors a priority."
Green provisions
Along with traditional infrastructure funding, the bill includes multiple environmental initiatives. It calls for reducing greenhouse gas through a variety of means, such as adding more electric vehicle charging stations, public transit, innovative pavements, research of green construction materials and a new apportionment program to reduce carbon pollution.
The environmental provisions won praise from the BlueGreen Alliance, made up of trade unions and environmental groups including the United Steel Workers and the Sierra Club.
"The investments included in the Moving Forward Act will create good, family-sustaining jobs across the nation, while improving public health and reducing the emissions driving climate change," said Executive Director Jason Walsh. "We applaud the House for its leadership on this important issue and urge Majority Leader Mitch McConnell and Senate Republicans to move past their tradition of inaction and act now, not only to pass this critical piece of legislation, but to protect workers during the COVID-19 crisis and boost economic recovery."
The bill now heads to the Senate, where it awaits fierce opposition.
McConnell linked it to the Green New Deal initiative unveiled last year by liberal House Democrats and said it was not a serious proposal worth the Senate's time.
"This so-called infrastructure bill would siphon billions in funding from actual infrastructure to funnel into climate change policies," McConnell said in a statement. "…So naturally, this nonsense is not going anywhere in the Senate. It will just join the list of absurd House proposals that were only drawn up to show fealty to the radical left."
Roadbuilding and construction industry groups are looking to the Senate transportation bill that was approved in a unanimous, bipartisan committee vote last July. It is not a broader infrastructure bill, however, and its price tag has been criticized by Republican senators. Trump is reportedly working on a $1 trillion infrastructure plan, a price that has also met opposition.